Shopify makes it very easy for online sellers to set up stores and establish their small-scale businesses.
Luckily, you can get started with limited expertise as there are many apps for increasing a store's sales, visibility, and growth.
Quite understandably, it becomes hectic to filter through numerous apps and find the ones that are fit for your business.
We have curated this list to help you find the best Shopify apps in 2020!
What to Look for in a Shopify App in 2020?
When you have to choose one app from a hundred of the same kind, a selection criterion helps narrow down the options.
Here are a few things to consider when selecting a Shopify app for business:
How do you intend to use the app? Are you looking for a marketing or management app? All apps serve different purposes, depending on their features.
Before you select an app, you have to determine the kind of function you want to perform.
An app suitable for site optimization will have different features than one made for promoting or managing inventory.
Another thing to look for in an app is the customer support provided by the developers. While using the app, if you have any trouble, you should be able to get it resolved urgently.
The support options available are listed on the sidebar of every app.
You can see the contact channels, read the privacy policy, and scan through the FAQs to get additional information.
Of course, the developers will sing songs in praise of their app, but this is not the case with users.
You can learn a lot about the performance of an app by reading customer reviews. Some reviewers also mention issues or glitches they faced so you can stay warned rather than meet surprises when using the app yourself.
The apps' interface is often a turn-off for users. If you don't want to be disappointed later, see the screenshots to get an idea of how the interface looks.
Shopify Apps for Marketing:
Without marketing, your app will not grow. Here are some marketing apps to help you increase sales, build an email list, and turn your visitors into customers.
1- Tada

When it comes to marketing and increasing sales, Tada is the best helping hand you can get as the app gamifies pop-ups to bring customers to your ecommerce store.
According to the developers, the app increases sales by 35% and subscribers by $500%.
By playing fun games, your customers can win discounts and vouchers for purchase. In return, they will happily give you their email addresses to grow your email marketing list.
Similarly, customers can play Wheel of Coupons to win coupons in exchange for their email addresses or pick a lucky discounted gift box.
Tada does more than boosting your sales, it enhances your brand image and your customer loyalty!
Moreover, the app offers seamless Klaviyo and Mailchimp integration, allowing you to instantly feed email addresses to your marketing campaign.
You no longer have to worry about wrong or invalid email addresses contaminating your email list as the app filters them out.
If your brand has a particular theme or vibe, you can customize the pop-ups accordingly using the design features.
Most importantly, customer action, subscriber number, click-through rate, and revenue are displayed on the dashboard for regular monitoring.
Features:
Real-time data analysis
Customization for pop-ups
Repeat cycle availability
Klaviyo and Mailchimp integration
Email validation in the free plan
Why Do We Love It?
It's hard to find an app that has it all, especially in the free plan. Tada exceeds expectations by offering real-time analysis, email validation, pop-up customization, and much more. Plus, the user-friendly interface is a huge hit among the users.
Price:
The free plan offers up to 5000 impressions per month with countdown timer, custom logo, Klaviyo integration, interactive charts, and much more.
By just paying $9.99 a month, you can get all the free plan features, remove the watermark, and get dedicated support.
2- TrustPulse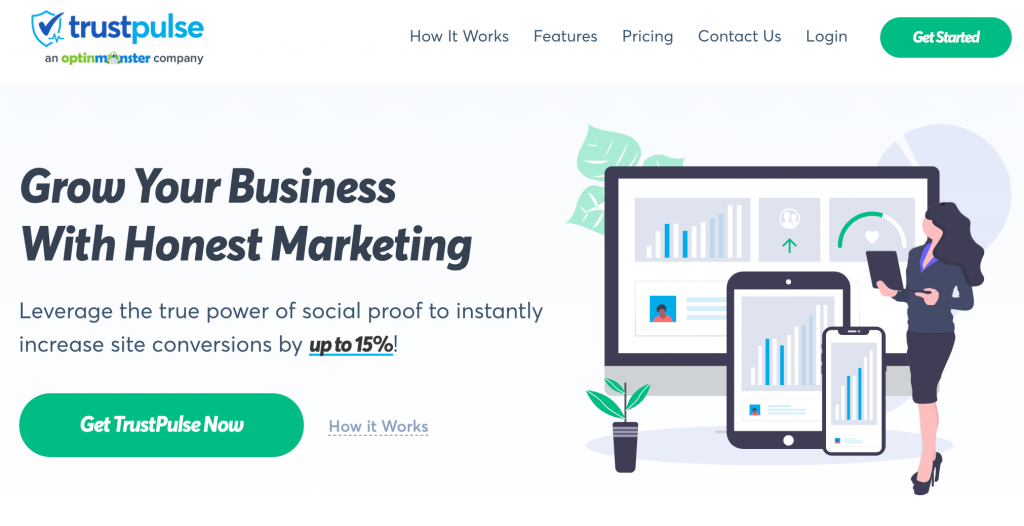 TrustPulse shows pop-up notifications to your customers and lets them know what other visitors are doing on your page.
Since 66% of customers trust other consumers' opinions, these pop-ups can help boost your image and trust among the new visitors.
The app lets you employ smart targeting for boosting conversions. Besides, you can use analytic tools to see how well your strategy is doing.
Without any coding knowledge, you can set it up on your site and turn on 'on fire' notifications to see audience response at a particular time.
Features:
Multiple design options
Analytic tools for monitoring conversions
'On fire' notification alert
Smart targeting and timing controls
Real-time sales tracking
Trusted by Tumblr, Squarespace, Magento and Drupal
Why Do We Love It?
We believe that other consumers' purchases influence visitors, and statistics show this too. TrustPulse helps you put this approach to action and win customers.
Price:
The app offers 500 sessions per month for free. You can update to $4 per month for 1000 sessions or $350/month for a million sessions. If your business lies somewhere between these limits, get a customized plan.
3- Referral Candy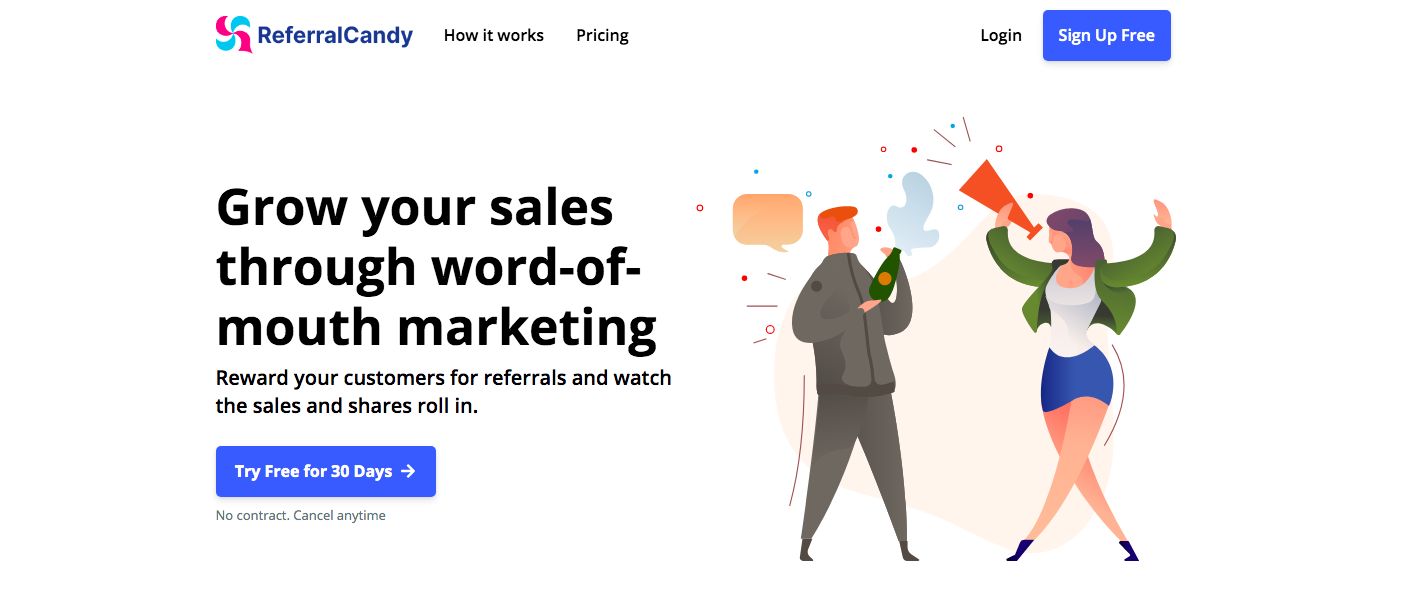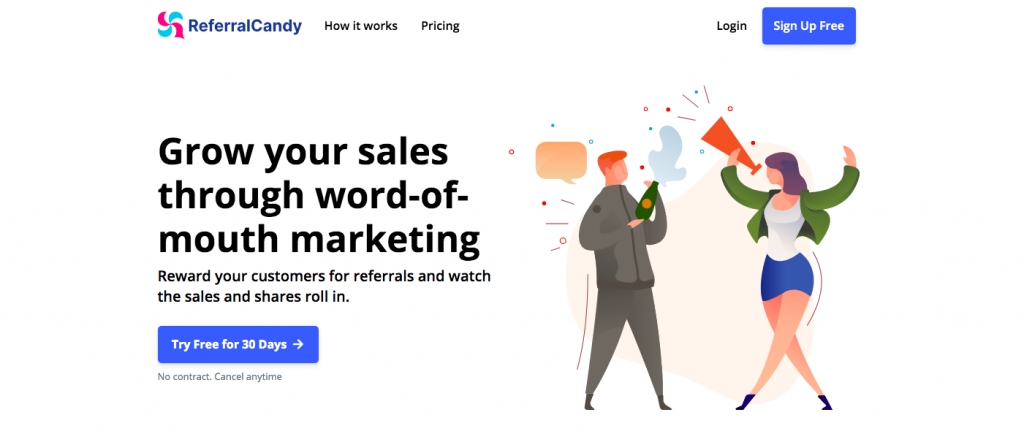 Referral Candy increases sales by allowing your customers to refer products to their friends.
Since 90% of customers trust referrals given by their friends and relatives, you'll be missing out on sales if you don't use this app to let your customers refer products to others.
In exchange for referrals, you can choose the incentive of your choice for customers.
After getting new customers, retarget your leads using Facebook and Google Ads. Furthermore, add referral links in your brand's Mailchimp newsletters.
You can track the referral numbers and get reminders through the dashboard. If anything goes wrong, use the 24/7 live chat customer service to get your business running again.
Features:
Referral reminders
Google Analytics for performance tracking
24/7 customer support
Incentives and rewards for customers
Why Do We Love It?
50% of the people give a referral if they get an incentive in return. Referral Candy lets you increase sales through your existing customers by giving them rewards to further refer your brand to friends, and family.
Price:
After the 30-day free trial, you have to pay $49 a month for the app.
Shopify Apps for SEO:
Just like SEO helps your blog or website get noticed on the web, it also assists in increasing your store's visibility on Shopify.
1- Plug in SEO



Plug in SEO is among the best Shopify apps for fixing SEO issues, troubleshooting, and getting optimization instructions.
Fortunately, you do not have to find what's wrong with your SEO anymore as the app does it for you.
After installation, it detects SEO flaws such as slow speed, broken links, and poor keyword quality.
Since the app does the work for you, it saves you the hassle and time needed to check individual pages.
To keep you updated, the app sends email notifications in case of an SEO issue. From fixing 404 broken links, meta titles to bulk editing pages, Plug in SEO does it all.
Features:
Templates for SEO meta title and meta description
Blog optimization features
Keyword search tools
Multilingual SEO
Email notifications for SEO issues
Bulk SEO data editing
Headings, filters, tags, image ALT tags fixes
Why Do We Love It?
Plug in SEO is an excellent app for sellers who do not have much time to spend on SEO. Thanks to its multilingual SEO availability, the app is suitable for non-English businesses too.
Price:
Unlimited SEO checking for your store is free of charge. For $20 a month, you can watch instruction videos, get premium support, and enjoy automatic SEO improvements.
2- SEO Image Optimizer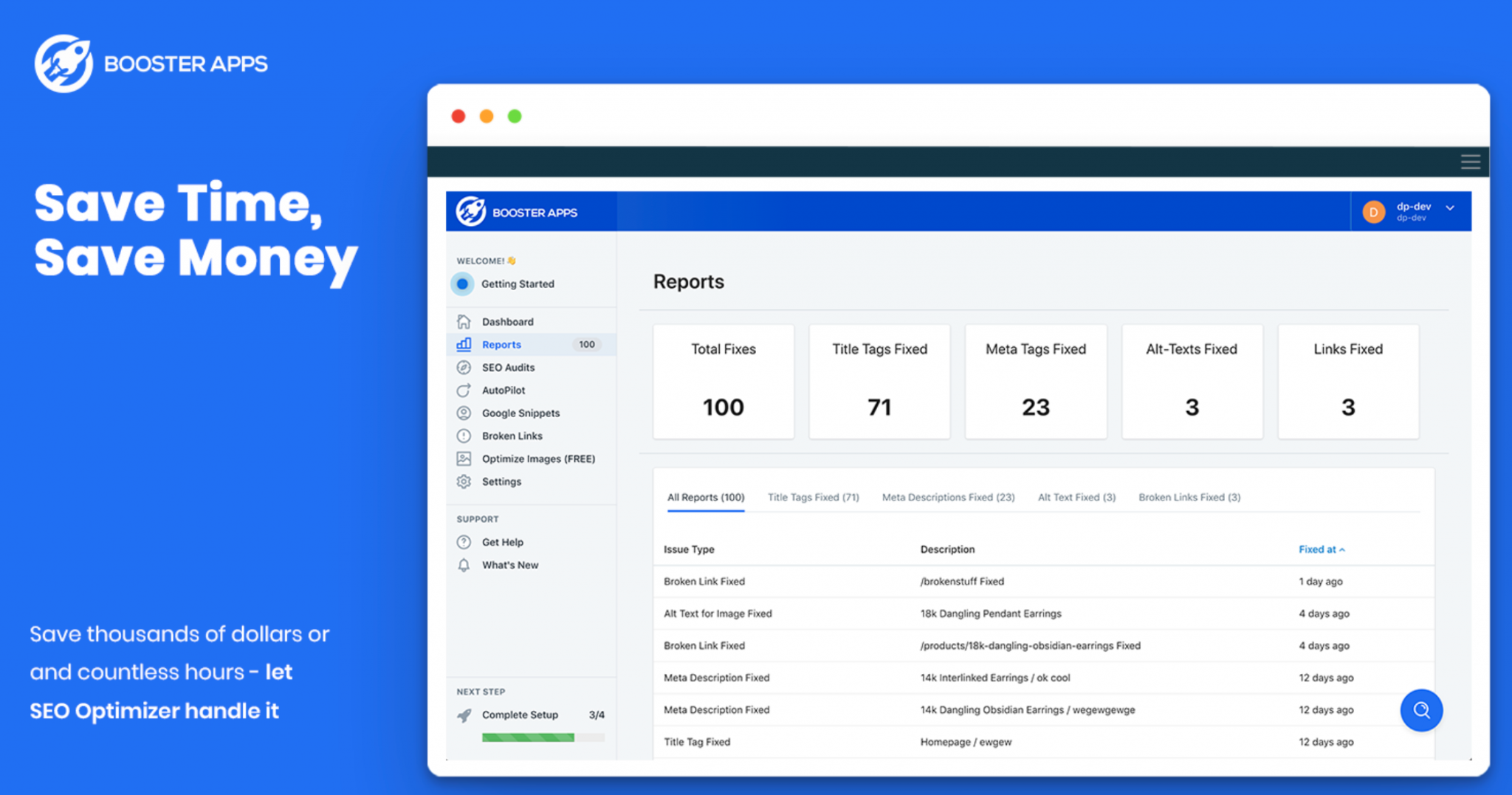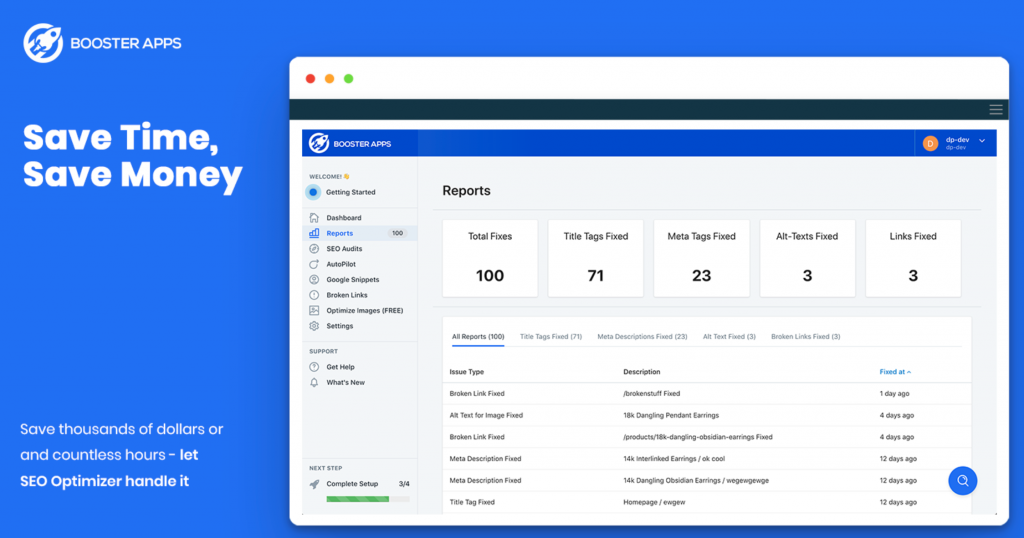 SEO Image Optimizer helps optimize the images on your online store to increase their visibility.
Since Google Images is the second largest search engine after Google in the US, this app will help you stand out by optimizing your store daily.
Additionally, the new images you add are checked every week, and their alt text is optimized automatically.
Features:
Weekly check for images
Meta tag optimization
Alt text optimization
Unlimited Image syncing
Why Do We Love It?
If you want to be on the first page of the search results, the text and images on your store need to be optimized. SEO Image Optimizer helps you do that.
Price:
The free plan lets you sync unlimited images and get a check every week. By paying $24.99, you can get broken links fixed, meta tag optimization, SEO fixes, and complete SEO for your store.
3- Shogun Landing Page Builder



If you can't find the perfect theme template for your store, Shogun Landing Page Builder will build it.
The app lets you build the homepage, landing pages, and product pages according to your brand's personalized theme.
You can make new pages or edit the ones already created. With 24/7 customer support availability, established in more than six countries, you can resolve your problems on short notice.
Using over 30-page templates, specifically optimized for mobile phones, you can instantly launch your online store.
You can also optimize your store using built-in SEO elements, analytic tools, JavaScript, and A/B testing.
Features:
30+ mobile phone templates
Templates for contact pages, promotion pages, sales funnel, about Us and homepage
On-page SEO elements
In-built analytic tools and A/B testing
Custom forms and Add to Cart buttons
Why Do We Love It?
Shogun Landing Page Builder makes building landing pages a breeze. With multiple in-built designs and optimization features, the app is suitable for quick-launching a store.
Price:
The app offers a 10-day free trial, after which you have to pay $39/month for the Build package. This package includes 30+ page templates, SEO controls, email support, and lets you publish 25 pages.
For $99 a month, you can publish 100 pages, schedule content, and avail analytic tools.
Shopify Apps for Inventory:
Once your business takes off, it becomes almost impossible to keep track of the incoming and outgoing products on paper. Use the following apps to make the workflow easier.
1- Oberlo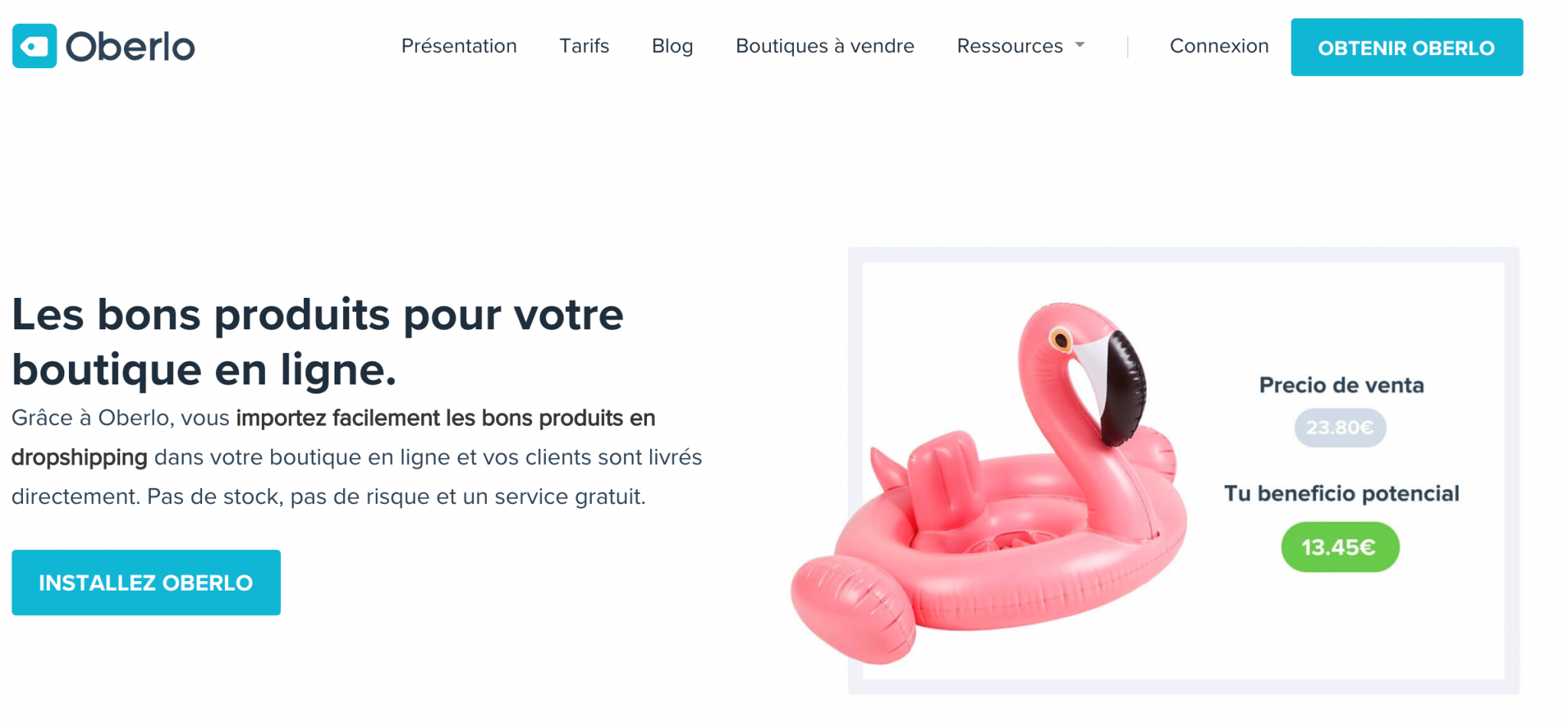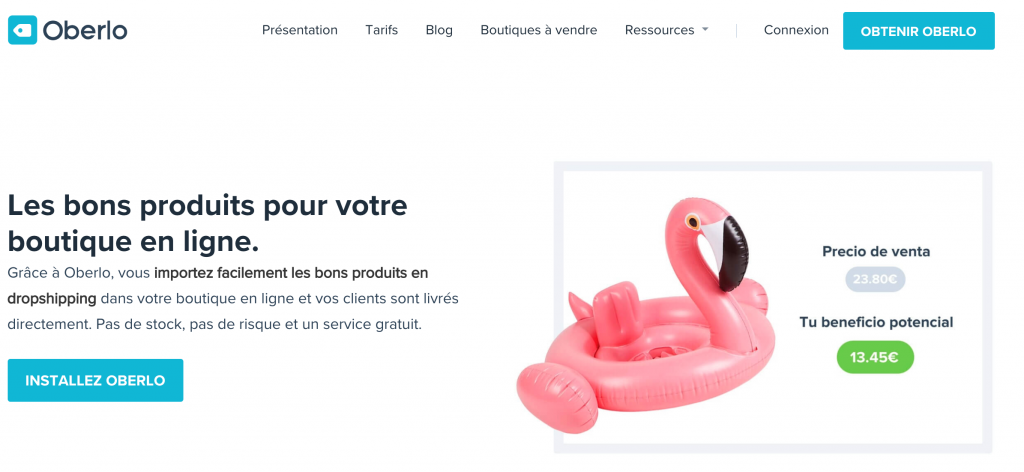 Oberlo allows you to add products from dropshipping suppliers to your store with a few clicks, making it one of the best Shopify apps 2020.
Firstly, you can add products from suppliers such as AliExpress to your Shopify store.
Secondly, it makes shipping much easier by letting you ship from the supplier's warehouse to the customers.
Despite not being directly involved in shipping and handling, you'll have full control over order tracking.
In particular, new businesses can benefit massively from Oberlo as it offers a Forever Free plan for operating a dropshipping business with no cost involved.
Besides, you can take a data-driven approach for business by using product statistics.
To make adding products to your store easier, download the Google Chrome extension and grow your store with a few clicks.
Features:
Order tracking
Sales monitoring on dashboard
Free chrome extensions
In-depth statistics for product selection
Direct shipping from supplier to customer
24/7 customer support
Why Do We Love It?
Oberlo lets you operate your dropshipping business smoothly with no hassle of managing deliveries. Besides, you can use data to decide the probability of a product's popularity and selling potential.
Price:
The free plan is suitable for startups, while the Basic plan, for $29.90 a month, is for businesses with a sale of 10,000 products a month. To avail unlimited dropshipping and sales channels integration, opt for the Pro plan for $79.90/month.
2- Spocket



Spocket is a dropshipping app that allows quick shipping of hundreds of products daily. You can choose products from thousands of suppliers around the world for dropshipping.
Over 50,000 sellers are using the app to manage drop shipping for their ecommerce businesses using Spocket. After choosing the products, you can get samples to try for yourself before advertising them to your customers to maintain reliability.
Moreover, you can sync it with your Shopify store to see all delivered and in-process orders.
Since 60% of the app's suppliers are based in Europe and the US, you can offer quick shipping.
Features:
Faster deliveries from US and EU suppliers
Brand invoicing
No upfront cost
Heavy discounts on products
Why Do We Love It?
Even if you are not manufacturing products, Spocket's dropshipping grows your online business. Furthermore, it lets you provide high-quality, discounted products to your customers.
Price:
Spocket is free as there are no registration fees, and you can sign up without entering credit card information.
Best Payment Gateway on Shopify:
26% of the customers abandon their carts if the checkout process is too complex, while 6% of the shoppers do not buy from an online site offering limited payment options.
These statistics shed light on how important it is to make payment easier for customers.
1- Partial.ly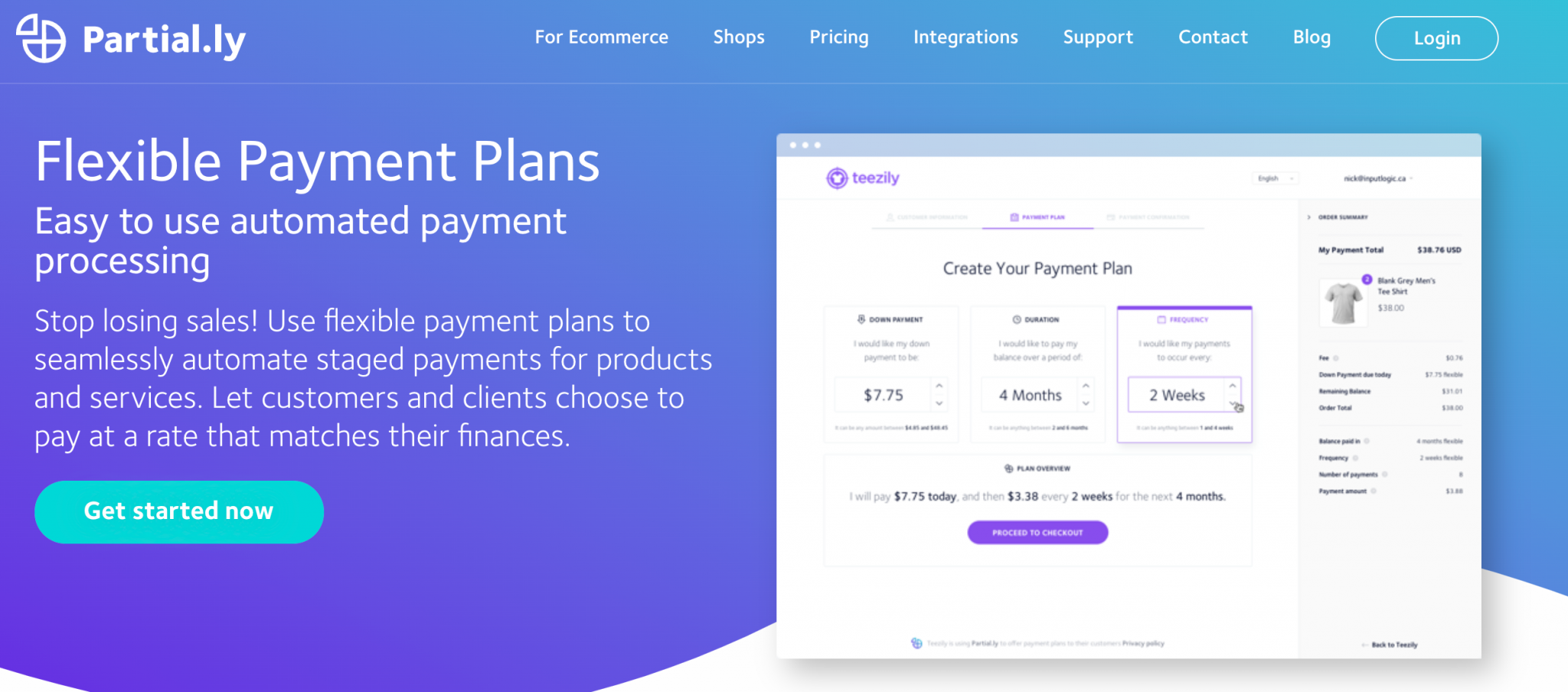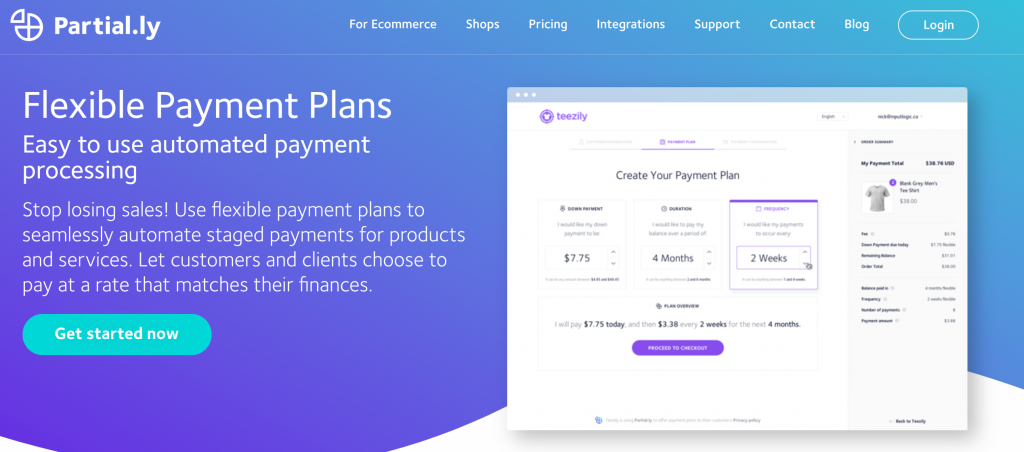 Partial.ly is a payment app that makes it easy for your customers to pay, and for you to manage the payments.
Since the app is compatible with all major credit card payments, it reduces card abandonment due to a lack of payment options.
Also, it lets you control the down payment, frequency, and fee on every purchase.
Once the customer shops from your store and enters their information, it gets stored automatically, eliminating the need to enter payment details on future purchases.
Features:
Shopify, Woocommerce and Bigcommerce integration
Major credit cards acceptance
Seller control over payment fees and down payment
Free Stripe integration
Same pricing for all currencies
Why Do We Love It?
It's hard to grow as a business if you're not offering easy payment methods to your customers. Partial.ly helps make payments easier for buyers and sellers, both.
Price:
The app is free to install, and you pay 5% + $0.30 per transaction. Pricing is the same for 135 currencies supported. Free Stripe integration is subjected to availability in your country.
Final Words
To make your store a success on Shopify, you must have the best Shopify apps for marketing, managing orders, payments, and all other aspects of a business.
Hopefully, this list of best Shopify apps 2020 would have helped you find the apps to boost your sales and conversions.