When growing a business, you can't rely on Gmail's CC field, which only allows 100 participants. Instead, you need e-mail marketing tools that you can use to spread the word about your business to thousands of people.
Despite social media being a preferred method of engagement, e-mail marketing is still as big as ever!
When done right, it helps boost sales, increase conversions, and improve customer loyalty towards your business.
In this article, we mention some of the best e-mail marketing apps that you can use to grow your business in 2020!

What to Look for in an e-mail Marketing App?
While there are a lot of e-mail marketing apps out there, not all are fit for every business. Depending on your particular business needs, you need to find the app that helps you step up your game.
Since e-mail marketing gets a staggering 4,30% ROI annually in the US, you must choose the right tool for marketing your business.
By picking the right e-mail marketing tool for the job, you can get a 40 times better response than you'd get from Facebook and Twitter marketing.
Having said that, here are some things you should consider when choosing an e-mail marketing app:
Apps that come with ready-made templates give you the liberty of choosing a design shell and molding it according to your business theme.
It also saves the cost of hiring a designer, which is something every small business can use.
You can drag and drop things like images, text, and spacers wherever you want. Also, most apps offer customization options like adding your logo and changing text font.
Incorrect or expired e-mail addresses can contaminate your e-mail list. To prevent that, opt for apps with an e-mail verification system.
Through verification, useless e-mail addresses will be weeded out, leaving the active ones behind.
Since most people have set up their e-mails on mobile phones, they see your e-mails on those tiny screens.
Statistics show that 30% of the clicks within an e-mail are coming from mobile phones.
So, you should choose an e-mail marketing app that has mobile-friendly templates and e-mail optimization.
It's not possible to manually keep track of the three thousand e-mails you sent out and how much ROI they generated.
Thus, you should use e-mail marketing tools that have integrated analytics. A dashboard makes it easier for you to monitor the performance of your current e-mail marketing strategy.
Whether you're starting a venture or expanding your current business, you'll face issues along the way.
Having customer support at your call 24/7 helps streamline the business. Most e-mail marketing tools offer 24/7 customer support or priority support in paid plans only.
Besides these basic features, you'll find advanced features in paid plans that set one tool apart from another.
The best e-mail marketing apps for boosting sales in 2020.
1-Tada

Tada claims to increase your sales by 35% instantly. It does so by giving visitors a reason to drop their e-mail addresses.
With their inboxes filled with marketing e-mails, customers are reluctant to share their details with more businesses. Tada tackles this by giving your customers an incentive to share their e-mail address. In exchange for their e-mail address, customers win discounts and coupons for future purchases.
Along with converting customers into subscribers, Tada's method also reduces cart abandonment rates. Once you're satisfied with the pop-up on your store, you can set the pattern on repeat and let the app take care of it.
With multiple options like "Pick a Gift" and the so loved "Wheel of Coupons", the app always keeps the visitors interested.
After collecting e-mails, you can organize them with Klaviyo or Mailchimp as Tada integrates seamlessly with both.
Moreover, you can monitor the app's performance on the dashboard. It gives you a real-time analysis of revenue generation, conversions, and click-through rates.
Features:
Choose between gamified pop-ups & full-screen popups.
Mailchimp and Klaviyo Integration
E-mail validation
Customizable pop-ups
24/7 data analysis
Price:
Tada's free plan offers up to 5000 monthly impressions, Mailchimp and Klaviyo integration, drop-rate customization, and basic e-mail validation.
For a widespread business, you can get the Business plan for $29.99 a month. The Premium plan costs $9.99/mo.
2- Klaviyo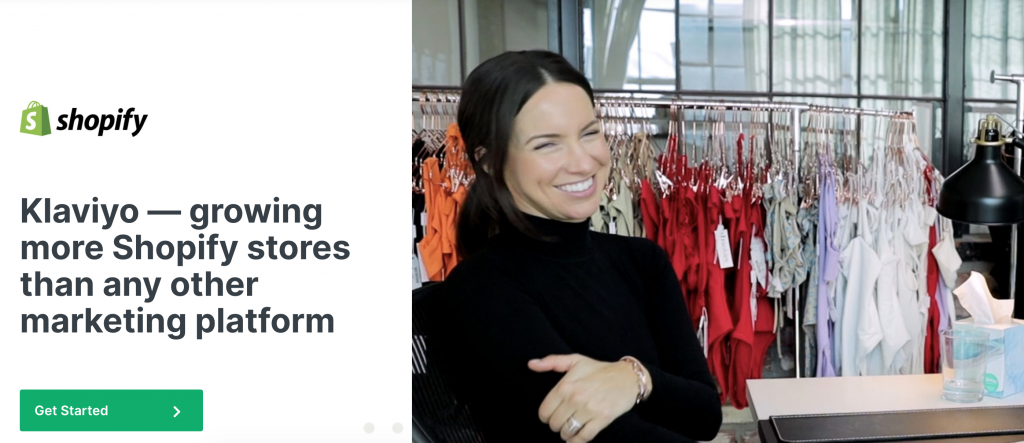 Klaviyo is one of the few marketing apps that let you form a marketing network by combining data from different tools.
Integrated with platforms, such as BigCommerce and Shopify, the app pulls in data that converts.
Probably the most notable feature of the app is segmentation. It lets you segment your audience based on behavior, engagement, or expenditure.
Furthermore, you can use the in-built Facebook Integration for building a custom audience. Basically, Klaviyo lets you target directly to the customers who are most likely to make a purchase.
Features:
Facebook, BigCommerce and Shopify integration
Audience segmentation
Web tracking to monitor customer behavior on site
Multiple customization options
Price:
You can set up Klaviyo for free and send unlimited e-mails. Instead of charging a flat annual fee, the app lets you pay for the number of contacts and messages you want to send every month.
3- Mailchimp


With features like audience dashboard, segmentation, and predicted demographics, Mailchimp is one of the best e-mail marketing apps today.
Using the growth sources, you can find out where you're getting new visitors from.
Similarly, the app also tells you the contacts' locations, ages, and gender. Using this information, you can send e-mails that cater to their particular needs.
Besides, the audience dashboard shows you how likely a customer is to make a purchase.
Like Klaviyo, Mailchimp also segments your customers based on their purchases and behavior. If a customer spends more time on a certain page, you can send them related recommendations.
Using this approach, you can get a 14.31% higher open rate than non-segmented e-mail marketing and generate more sales.
Features:
Audience dashboard for estimating customer's lifetime value
Predicted demographics and top locations
Marketing campaign segmentation
Mailing address finder
Price:
Any start-up can get Mailchimp's free plan with basic templates, custom domains, and seven marketing channels.
For more features, you can buy the Standard plan for $14.99 a month. The Premium plan is priced at $299 a month.
4- Omnisend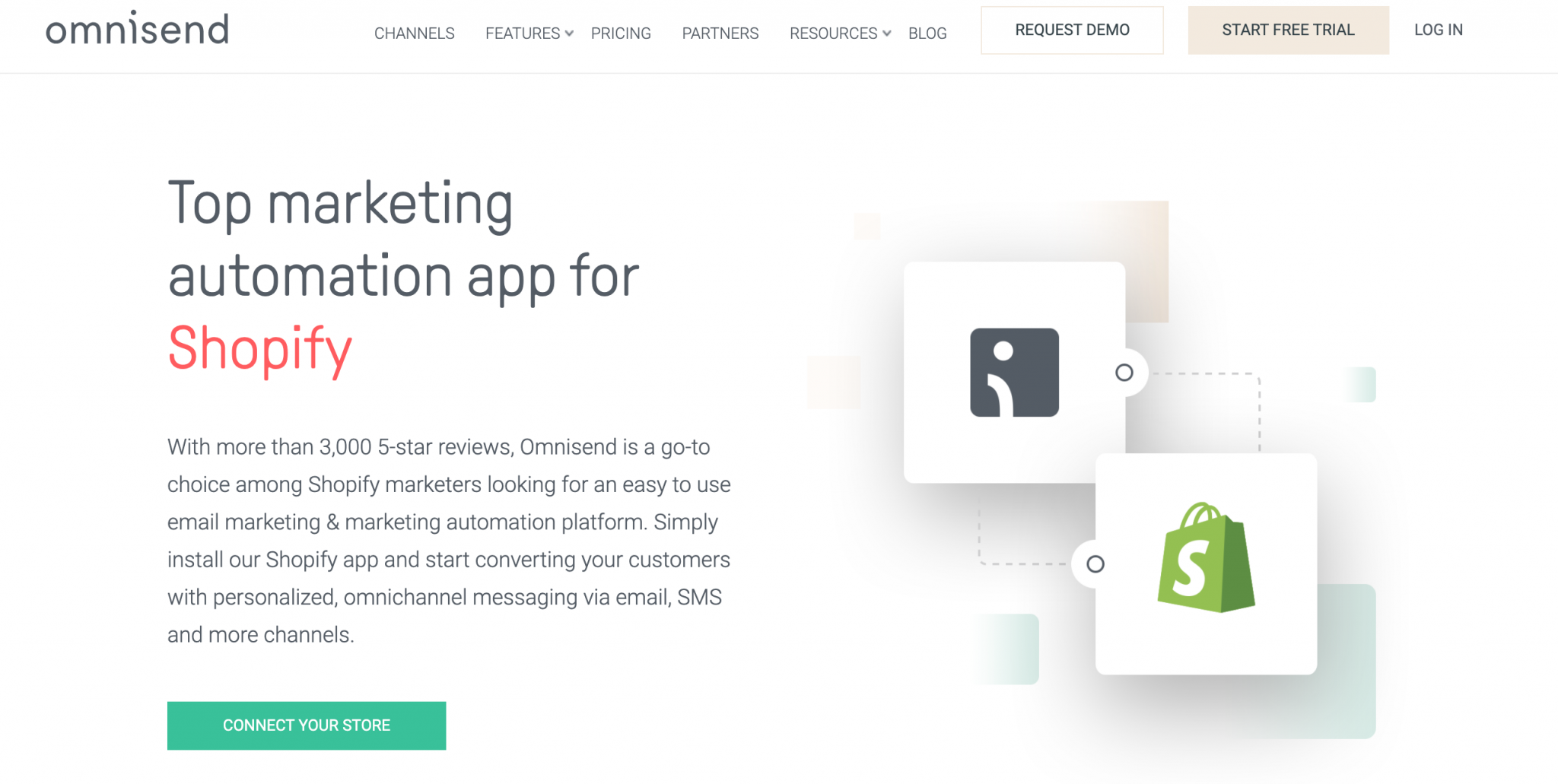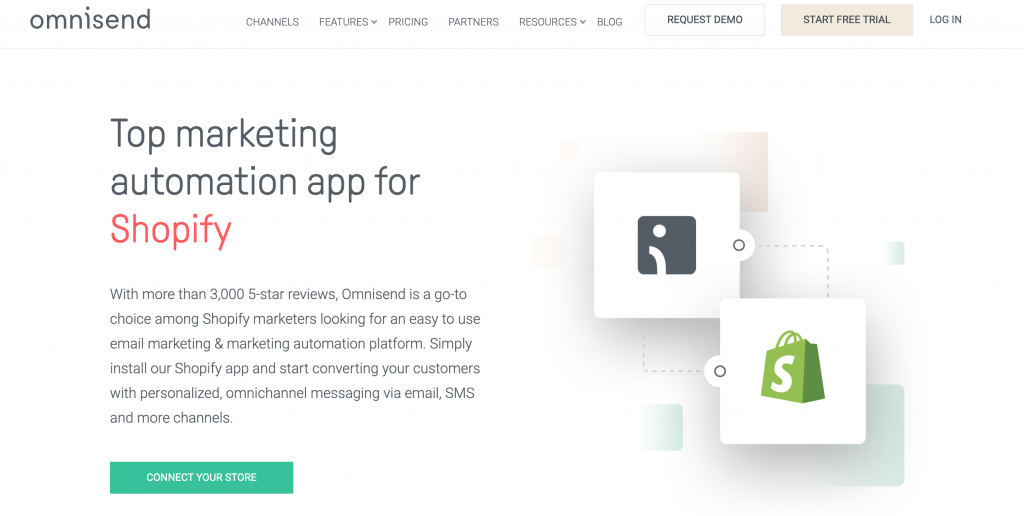 Omnisend lets you combine e-mail marketing with SMS marketing to spread your business to different platforms.
Although the price is on the steeper side, the app makes things simpler for you by letting you build automation workflows. The Product Picket lets you choose products for e-mails from your store.
Also, the interactive elements like Scratch card boost click-through rates.
Instead of setting up discount codes yourself, you can leave the hassle to the app. All you have to do is add a Discount Code block, and Omnisend will generate unique codes.
As your business grows, you can integrate other channels into your existing workflow.
Features:
Automation workflow building
Elements for boosting CTR
Integration for other channels
Integrated SMS marketing
Price:
The free plan lets you send up to 15,000 e-mails per month and create e-mail campaigns.
For advanced features like segmentation and e-mail automation, buy the Standard plan for $16 per month. The Pro plan for $99 per month has more advanced features.
5- Drip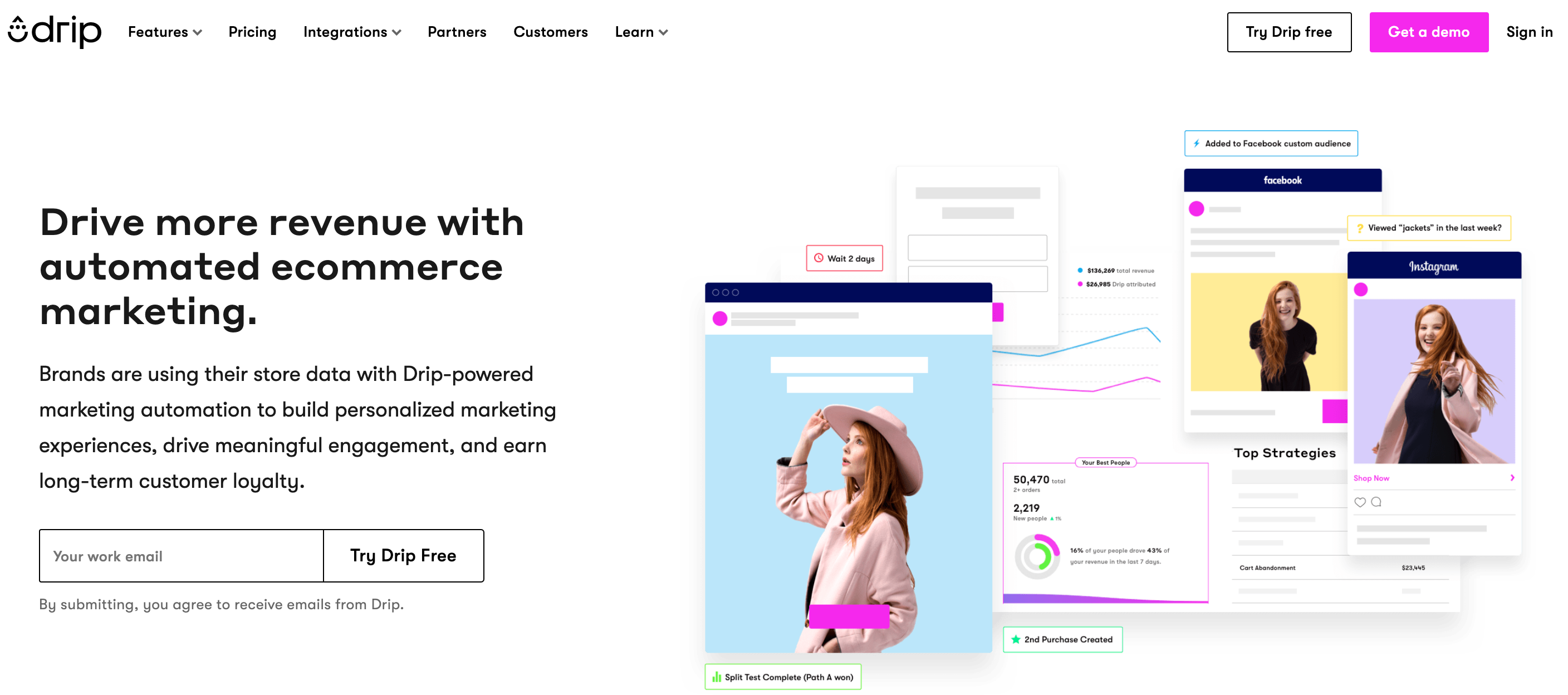 Drip lets you automate your e-mail marketing to get engagement and ensure customer loyalty.
The app lets you centralize your e-mail marketing campaign around visitors that are likely to convert. Using the Tracking Events feature, you can see what visitors are doing in your store.
Moreover, it lets you segment visitors based on whether they're buying, clicking, or opening.
By offering customers product recommendations, sales notifications, and discount codes, you gain their trust.
Besides, Drip lets you analyze engagement metrics along with revenue generation for effective optimization.
Features:
Dashboard for analyzing revenue per subscriber, workflows and engagement metrics
Third-party integrations
Multichannel automation
Audience segmentation
Price:
After a 14-day trial period, including all premium features, you have to pay according to the number of contacts in your list. On average, you spend $19 a month for 500 contacts.
If you want to get an insight into how the app works, you can get a one-week demo with an in-house expert.
6- GetResponse



GetResponse is a marketing software that lets you promote your business to the right audience and sell more products.
You can send newsletters to announce the latest price-drops or updates to customers. After that, the autoresponders take over the job of sending follow-up e-mails.
By automating workflow, you can trigger e-mails as a response to website visits and purchases.
Moreover, you can use audience segmentation to send e-mails to high-targeted visitors.
A distinct feature of the app is Perfect Timing, which ensures that your e-mail is sent at the right time.
Features:
Segment-specific e-mail sending
e-mail automation
Time Travel for sending e-mails to the right inbox
Perfect Timing
Autoresponders for follow-up e-mails
Price:
You can sign up for free and use any plan for a month. The Basic plan costs $15 a month while the Professional plan is for $99 per month.
If you run an enterprise, there's an option to customize a plan suitable for your needs.
7- MailerLite

By offering features like automation and surveys, MailerLite makes you an e-mail marketing guru in no time.
Instead of hiring a designer, you can use the in-built text and HTML editor to make newsletters.
You can direct e-mails to the right customer at the right time by using tags and personalization. Segmentation lets you categorize customers into groups according to their behavior.
On top of that, e-mail automation lets you follow a customer's journey and connect with them.
By offering optimization options, MailerLite lets you personalize e-mails according to customers' needs.
Personalization ensures that customers see what they showed interest in. Also, e-mails are sent according to their time zones.
Features:
A/B split testing
Personalization and segmentation
Promotion pop-ups
E-mail automation and tagging
Ready-made newsletter templates, rich text and HTML editor
Price:
The free plan lets you send up to 12,000 e-mails every month. If you have 1000 or fewer subscribers, you can send unlimited e-mails for $10/mo.
For 1000 to 2500 subscribers, the cost per month is $15. It goes up to $50 per month for 10,000 subscribers.
8- Campayn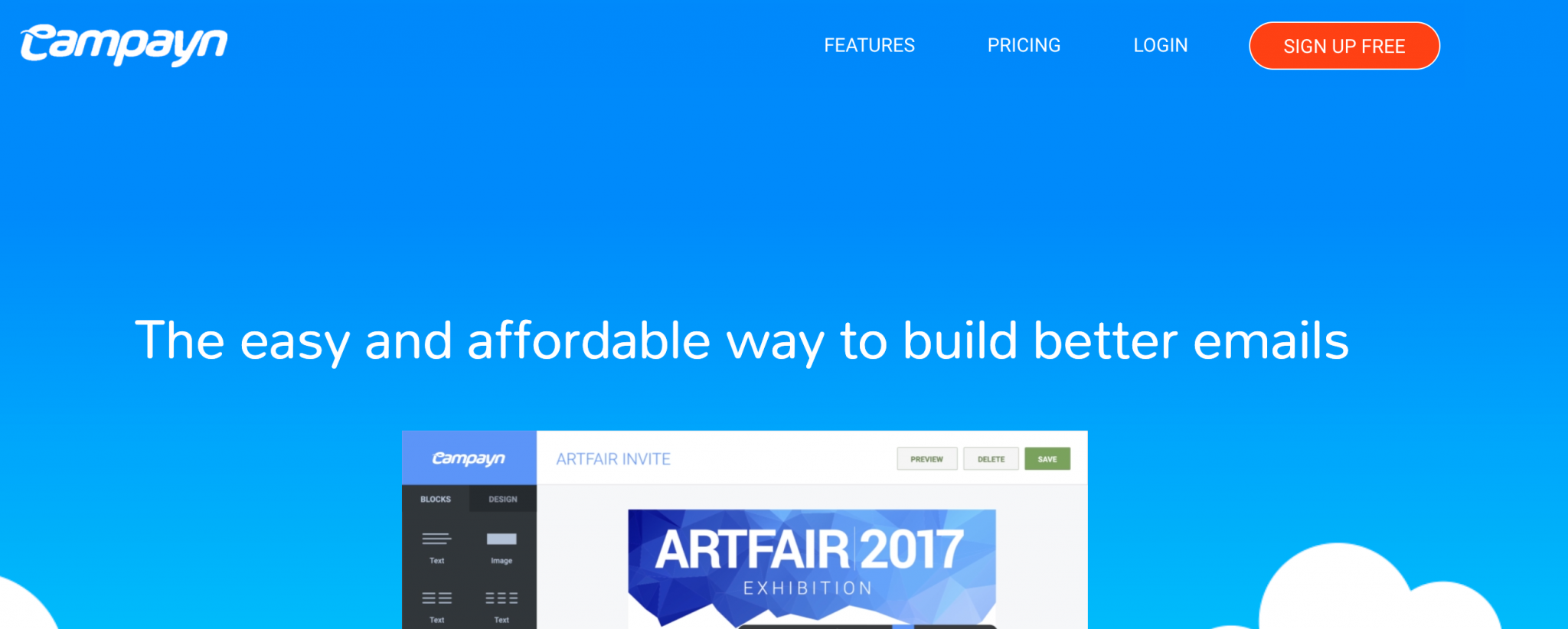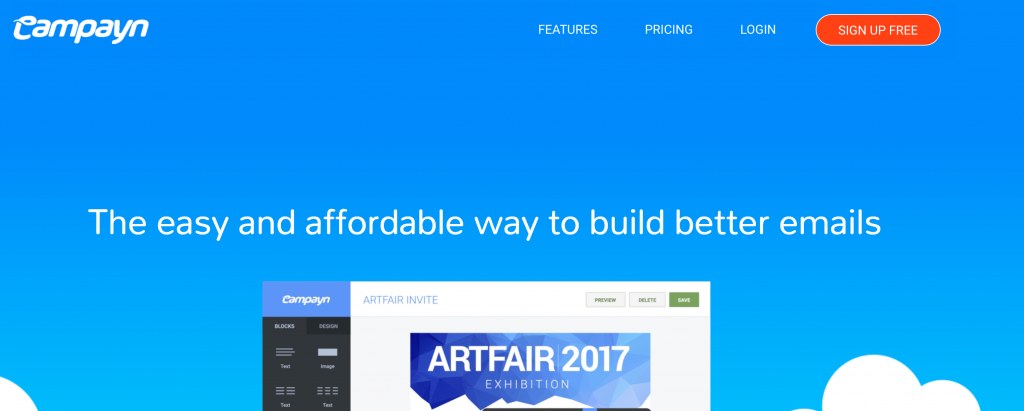 Trusted by brands like Mercedes-Benz and Avon, Campayn is an app for building interactive and effective e-mail campaigns.
Firstly, you can design e-mails using one of the many free templates available.
To get your contact list on the app, you can connect it with your Gmail account. You can also upload a spreadsheet to get your contacts on the app.
By automating workflows, you save time and stay connected with your customers. You can send personalized e-mails with newsletters or a link to the latest blog post to increase customer engagement.
If you have a physical store, add images from Google Maps to make it easier for your customers to find you.
Campayn also helps you see if your marketing tactics are effective or not. On the dashboard, it provides an in-depth analysis of customer behavior and revenue.
Features:
File attachment and embedding
Ready-made e-mail templates
Pop-up lightbox forms
Price:
You can choose a plan depending on how many e-mails you send to your contacts. For sending 15000 e-mails to a 3000-member mailing list, you have to pay $19 a month.
By paying $39 per month, you can send unlimited e-mails to 3000 subscribers. This plan also lets you upload custom HTML, attach files, and automate workflows.
9- Remarkety: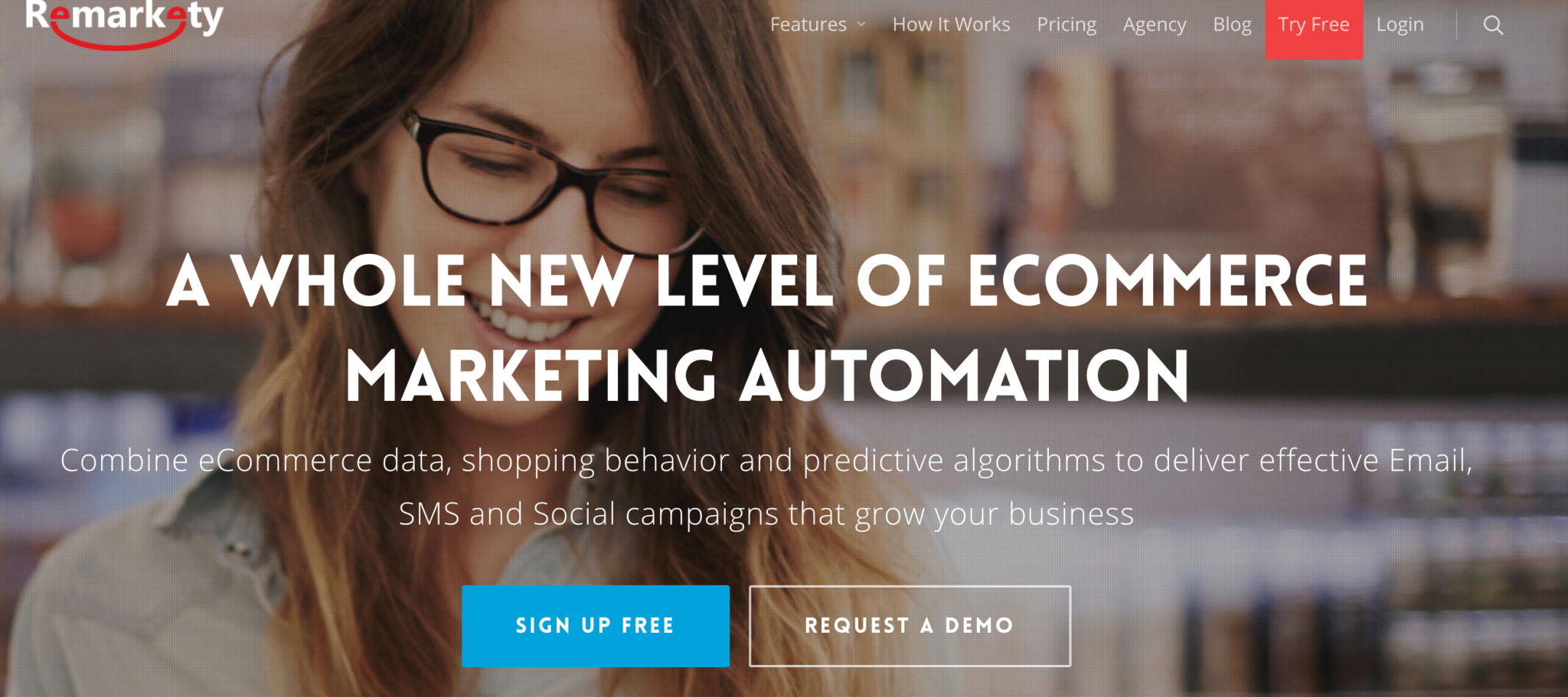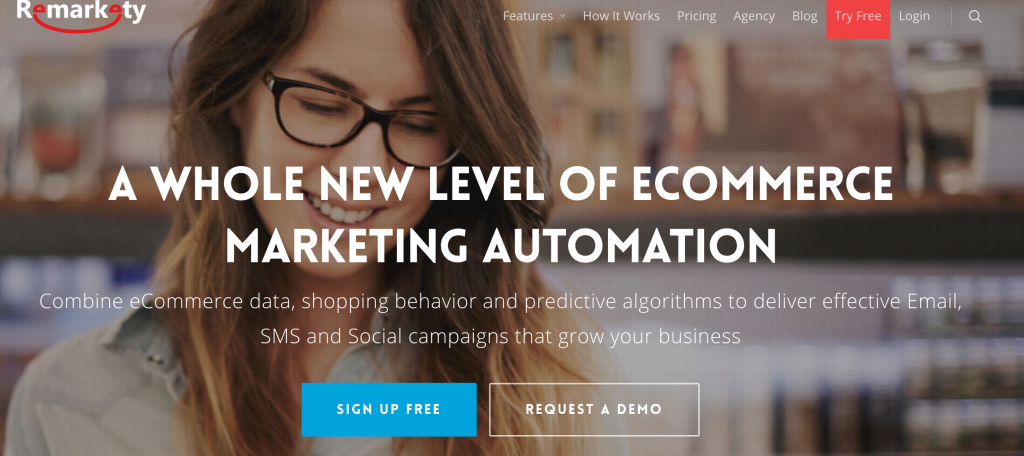 Remarkety is an all-in-one marketing app for sellers who want to streamline their SMS, social media, and e-mail marketing.
It breaks down your audience into segments and lets you send targeted e-mails to these customers. By sending personalized e-mails, you deliver at the right time.
Also, Remarkety lets you monitor customer behavior in real-time. Put this information to use and create automated workflows to send e-mails based on user behavior.
Bringing AI and ML technology into the equation, the app chooses the right product recommendations.
Get an overview of your strategy using the app's dashboard. It shows you the metric behind your success and customer response to the current e-mail strategy.
You can also use real-time customer data to optimize social media. It will help you build targeted audiences on Facebook.
Using analytics and real-time monitoring, you can increase custom LTV.
By choosing if a customer qualifies for discount coupons, you can direct the app to generate and send personalized coupons.
Furthermore, you can send personalized and segmented newsletters to drive sales. Let your customers know about sales, updates, and offers at the right time.
Since it offers a blend of features, Remarkety lets you build long-term relationships.
Features:
Automated follow-up e-mails
Personalized dynamic coupons
Customer segmentation
A/B/C testing for improving e-mail efficacy
Social media integration
Price:
Remarkety doesn't have a free plan, but it offers a 14-day free trial with premium features. The Starter plan costs $100 a month and caters to 3000 contacts.
For $3000 per month, you can send e-mails to 20,000 contacts. This plan also offers custom API, phone support, and all features of the Starter plan.
If you buy the Professional plan for $800 per month, you'll get an account manager and an expert for setting up your account. This plan is for 100,000 contacts.
Bigger businesses with over 250,000 contacts can contact the company for a quote.
10- SmartrMail


SmartrMail is another remarkable e-mail marketing app for generating revenue and optimizing sales.
With the Smart template builder, you don't have to do much. It matches your brand's theme and creates a page for you to fill. Then, you can add products and pictures as you want.
Since every customer has different needs, every e-mail must be different.
SmartrMail lets you automate e-mails containing product recommendations. First, you check the product a buyer has shown interest in or bought and then send related recommendations. If it's a buyer's first time in your store, send them welcome e-mails.
By adding product images and links to landing pages, introduce the customers to what you're offering.
Additionally, you can send abandoned cart e-mails to bring customers back to your shop. Customers who have left the site without checking out will receive e-mail reminders.
Keeping today's needs in mind, SmartrMail's e-mails are optimized for mobile viewing.
As 41% of the customers open e-mail on their mobile phones, your e-mails should be mobile-friendly.
You can create audience segments by monitoring their behavioral data and purchase history.
Moreover, you can select segmentation criteria from the many options available. Since the app is integrated with your store, the segments are updated regularly.
Features:
Welcome and abandoned cart e-mails
Product recommendation and Winback e-mails
Automated workflows
Smart segmentation
Ready-made e-mail and newsletter templates
Price:
If you have less than 1000 subscribers, you can use the free plan. It lets you send 5000 e-mails a month and get e-mail support.
The Standard plan starts at $19 per month and includes all automation and live chat support.
For sending unlimited e-mails, you can buy the Unlimited plan, which starts at $99 a month. This plan includes A/B testing, Facebook audience sync, and priority support.
The exact cost depends on the number of subscribers you have and the platform you're using. Platforms like BigCommerce, WooCommerce, and Shopify have different rates.

Final Words:
E-mail marketing is not going anywhere, and the sooner you're on the bandwagon, the better for business.
While it can put your business in action, e-mail marketing also helps in boosting sales of your existing business.
Along with that, it enables you to expand your reach. By showing customers what they want to see, you increase the chances of future sales.
In this list, we've mentioned e-mail marketing tools that check all the boxes. You can use any of these tools to enhance sales and increase your business reach in 2020.