Content marketing is a form of marketing focused on creating and promoting valuable and consistent content to attract and retain the targeted audience. It is often used by businesses to expand their customer base, generate more sales, and increase brand awareness. The main goal of content marketing is to attract new prospects and convert them into customers by sharing free and relevant content. Moreover, this form of marketing does not involve direct sales. Instead, it builds trust with the audience.
The information or content can be in any form, such as blogs, podcasts, video, newsletter, white papers, infographics, case studies, photos, e-books, how-to guides, and much more. Whatever content you may choose, make sure to keep it updated and consistent to influence your customers.
Rise of Content Marketing
Content marketing is clenching the marketing world by storm. Companies are making a huge shift from the conventional form to its content counterpart. The reason is that content marketing is a form of marketing, which does not have the product at its center. Moreover, the focus lies on the audience and on creating relevant and strategic content that resonates with them. The idea is to showcase the product and the need through the content relevant to the audience. Content interweaves the basic needs of the people, the daily routines, and regular stories of regular people. This is done to showcase the product or the service as an interlink between them.
Each year content marketing trends are growing and content marketing trends 2020 exhibit nothing different.
Top 10 content marketing trends 2020:
1.     Storytelling​
No matter how many years may go by, the art of storytelling will always stay relevant. Stories have been around for centuries, and now the marketers are tapping their potential in marketing. The social media and the ubiquitous presence and access to the same are now giving a boon to the marketers. The main requirement is to use some of the most entertaining stories to show the product as a necessity. Even startups can create a stir in the market with the most thrilling, emotional, and comedy stories. Moreover, the success of storytelling can be attributed to the fact that it touches people at the most fundamental level. No wonder, storytelling is one of the top content marketing trends 2020.
2.     Live marketing
All social media outlets like Facebook, Instagram, etc. have now enabled companies to make customers a part of their live events. Whether it is the launch of a new product or a social event sponsored by the companies, access is available. Moreover, viewers throughout the world can be a part of it simultaneously as the event goes through live streaming. Even the royal families are now staying relevant through live streaming of their charity events and weddings.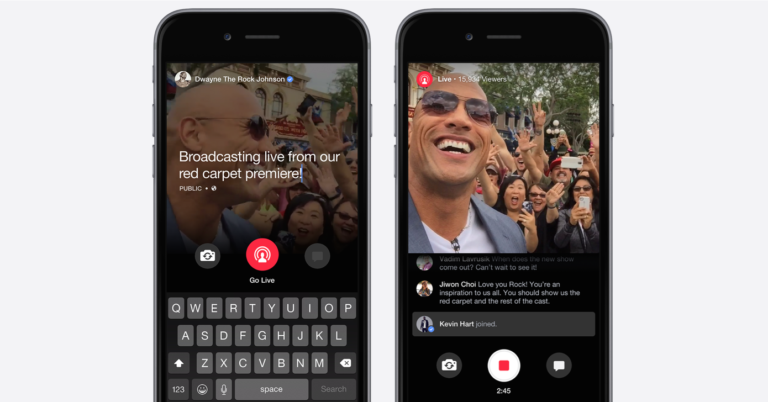 Image source: Techcrunch
3.     Viewers' Engagement
Sure, the viewers are now a part of all major live events, yet their engagement cannot be let go untapped. Viewers and followers are available through Instagram, social media, YouTube, and are always present online. Hence, the best way to market is to involve them in your posts, stories, surveys, etc. Make the audience believe that their feedback is integral to your company. For instance, Apple can organize an online forum for children to voice their requirements for the next product. This will be not only entertaining but also highly informative for the company to incorporate some unique AI features.
4.     Semantic keywords
Companies are now incorporating sophisticated AI features. Hence, the increase in this trend has allowed people to speak out their intended search keywords to the search engines. Thus, keywords no longer need to be simple. Rightfully, the companies can make a shift to verbose keywords and also incorporate euphemisms to stay relevant. "Top marketing trends "is now shifting towards "content marketing trends 2020".
5.     Unprecedented sales experience
Customers will have higher access to the product experience while making a purchase. Hence, the latest technology will make it easier for companies to offer a richer experience to their customers. Customers will have much higher access to pertinent information regarding their purchases. The gap is bridging owing to the technological advances becoming one of the top content marketing trends 2020.
6.     Gamification
Content marketers are always looking for ways to reach their target audience. Gamification is an excellent tactic that can amp up your content marketing game. But why are marketers interested in gamification? Because it attracts the attention of prospective consumers towards the brand and motivates them to perform various tasks that might be impossible in non-gamified environments.
However, with the rise of data on the internet, marketers find it really challenging to engage with their prospective customers. This is where gamification can help. Let's say you want to promote your content through emails but don't have enough subscribers. Through gamified email pop-ups, you can engage with more and more subscribers in an exciting way. If you are looking for gamified and fun email pop-ups for your website, Tada's pop-ups can help you to a great extent. In addition to being fun and interactive, these pop-ups can also help grow your subscriber list by 400%.
7.     Authenticity
Content marketing trends 2020 are calling for the companies to be authentic and relevant. The internet is flooded with content, both relevant and irrelevant, and it is easier for the audience to identify plagiarism. Moreover, the voice of the brand should resonate with the audience in terms of the content they produce. One of the examples in dealing with authenticity is TOMS' Giving Report. Famous for its "One-for-One" initiative, TOMS Shoes provides a pair of shoes to a child in need for every pair purchased by customers. This offers full transparency as to how the company's initiative has panned out.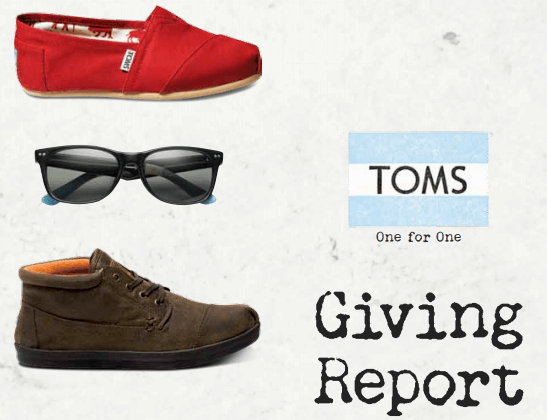 Image source: Toms
8.     Get conversational
Respect the fact that the audience segment has gone global and is continuously available over the internet. Chatbots and AI-driven chatbots have proven to be an excellent way to stay online for companies even at odd hours. The companies are always available for support. Moreover, they can drive in conversations 24×7 and can also have a "call to action" approach with a makeover.
9.     Communities based content
Keep in mind the community that you are making the content for when you are producing the same. Content marketing trends 2020 is allowing the internet to be flustered with massive content. Hence, the audience is only on a lookout for the content that is true according to their interests. The audience on each platform, like LinkedIn, Facebook, Instagram, etc. have different interests and expect different content. Hence, companies in 2020 need to respect the same and produce their marketing content accordingly.
10.     Brand collaborations
2020 is the year for brand collaborations. Hence, companies are leveraging collaborations with celebrities and their brand values for time unknown. But now the brands are marketing their products by collaborating with complementary brands and producing useful content. Cosmetic companies collaborating with apparel brands for effective styling workshops is a great example.
The example of such collaborative content is Red Bull and GoPro's "Stratos" project. Here, the companies presented Felix Baumgartner's 24-mile plunge from a space pod down to Earth.
Content marketing is here to stay and is the present, as well as the future of marketing. The main point is that the audience has a lot of content online through various social media outlets, Netflix, etc. So, the companies need to be relevant in their intended content and have to catch the audience's eye. The audience is now tending to skip direct ads owing to the limited attention span that they possess these days. Hence, only the content that they can relate to or retain for longer is relevant in the market.