Globally, people will spend nearly $5 trillion on e-commerce stores this year. If you want even the tiniest piece of that massive pie, you'll need to market your e-commerce business properly.
How do you do that? Well, you start with effective ecommerce marketing strategies.
And whether yours is a starter store or you have a well-established customer base, you'll find the following 7 ecommerce marketing strategies game-changing…that is, if you don't already implement them actively.
The 7 Best Ecommerce Marketing Strategies
1. Email marketing
Email is powerful.
Overall, email marketing can return up to $44 on every $1 spent. 
At the very basic level, email marketing is a two-step process:
Collect emails: 

If your goal is to retain customers, you likely already have your customers' emails, so there is no need to collect those.
If you want to collect visitors' emails, you can try Tada. Tada's engaging popups ⁠— exit-intent popups, 'spin to win' gamified popups, and discount gift game popups ⁠—  are the best for converting visitors into email subscribers.

Send emails: Once you have email addresses, you can send all types of emails – from newsletters and discount emails to abandoned cart emails and win-back emails. For sending, you'll need email marketing software like Conversion, Omnisend, Klaviyo, etc. 
Of course, a lot more goes into email marketing for e-commerce. You can learn all by reading Tada's blog posts, starting from the one on mastering e-commerce email marketing. 
2. Affiliate/referral marketing
Affiliate marketing, at its core, means to incentivize happy customers or professionals (read affiliate marketers, influencers, etc.) to introduce your products to their friends, family, or followers. Typically, the affiliate gets paid (10-20% of the sale amount) when the referee buys from your store using the affiliate's link or coupon code.
It's the easiest way to grow your customer base because:
It's word of mouth. And 92% of consumers say they trust earned media, such as recommendations from friends and family, above all other advertising forms.
The referee can become a referrer in the future, forming something called a "growth loop." In other words, an affiliate program will bring customers on autopilot (effectively costing lesser and converting way higher than ads).
Some of the biggest businesses in the world have a referral/affiliate program, and so should you. If you are on Shopify, try Social Snowball for automated affiliate marketing.
3. Influencer marketing
Influencer marketing means to pay people/pages/sites with a significant and relevant following to promote your e-commerce products. Businesses make $5.20 for every $1 spent on influencer marketing, according to Influencer Marketing Hub.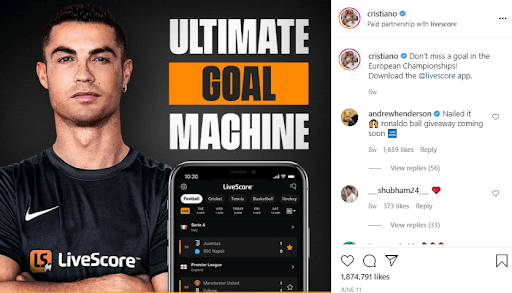 For example, here's Cristiano Ronaldo promoting the LiveScore app to his 300 million+ Instagram followers.
Yes, it won't have crazy conversions as affiliate marketing would, but it sure will help way more with brand awareness.
Here's a great article that'll help you find relevant Influencers for your e-commerce store. 
4. Search engine marketing (SEM)
Talking about relevancy, customers search on search engines for the most relevant results. And your store can be one of the top results for relevant, high-intent keywords with search engine marketing (SEM).
Search engine marketing for e-commerce is paid advertising done to display products you sell (mostly) on top of search results for relevant keywords.For example, here are Google Shopping ads for the keyword "best gym shoes for men": 
5. Search engine optimization (SEO)
Right below search engine marketing ads, you'll see organic results, such as these: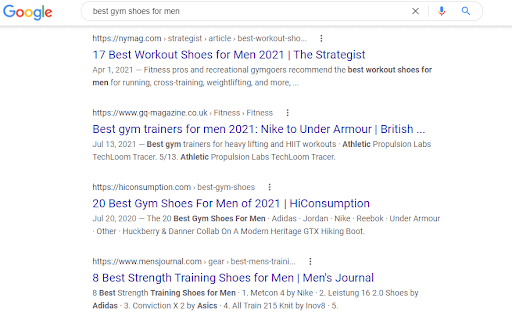 People trust these results more than any form of advertising (including influencer marketing). Plus, once you make the initial efforts and start ranking for relevant keywords, it gets easier to maintain top spots, unlike SEM (where you have to pay money to keep the spot).
You can achieve such results with something called search engine optimization (SEO). SEO is a process of improving the quality and quantity of organic traffic.
Here are a few tips for e-commerce SEO:
First, write in-depth descriptions for all products.
Do keyword research, and embed long-tail keywords in the product description and title.
Create blogs (customer stories, best-of list, how-to-guides, etc.) around your niche to create tropical relevancy.
Ensure all your pages are indexed (i.e., can be found on a search engine like Google).
Build quality backlinks to send Google trust signals.
For more info, you can read this comprehensive guide on e-commerce SEO by Backlinko.
6. Personalization
In a world where every major app people use (Netflix, YouTube, Instagram, Spotify, Amazon) gives personalized experiences, personalization becomes a vital e-commerce marketing strategy.
Even stats back the claim:
71% of consumers feel frustrated when a shopping experience is impersonal. (Segment)
74% of customers feel frustrated when website content is not personalized. (Instapage)
91% of consumers say they are more likely to shop with brands that provide relevant offers and recommendations. (Accenture)
So how do you use "personalization" as a marketing strategy and boost revenue for your store? Here are a few ways:
Send personalized recommendations through emails.
Show relevant products based on customers' previous interactions with your brand. For example, show more books to people who searched for books, even though you sell t-shirts.
Greet customers based on their time zone and geographical location.
For more details, read this in-depth guide by Bigcommerce.
7. Conversion rate optimization (CRO)
You can perform every e-commerce marketing strategy out there and bring thousands of real-time visitors to your store. Still, if you don't optimize your pages for conversions, you'll leave a lot on the table. For example, a mere difference of 0.5% conversions on a product that gets 10,000 monthly hits could mean a potential loss of 50 sales each month!
Here are a few real-life examples of CRO doing its magic (Source: Optimizely):
"Buy Now" vs. "Shop Now": Changes to button text increased click rate by 17% for Black and Decker.
Uniform product page images increased ARPV (Average Revenue Per Visitor) by 17% for Smartwool.
Simple button CTA change increased monthly revenue by 16% for LifeProof.
Removing subcategories from the homepage lifted revenue per visitor by 53.8% for FSA Store.
Top tips to increase your store's conversions:
Add customer reviews under each product. The detailed the review, the better. For example, you can ask customers to upload photos of them using the product and upload them with the review.
Offer multiple payment methods on the checkout page. (At least, keep the most common ones: Paypal, GPay, ApplePay, Credit card). If possible, let people guest checkout ⁠— the lower the friction, the faster they pay, the higher the conversion.
Use live chat, push notifications, emails, SMSs, etc., to reduce cart abandonment.
A/B test everything – product description copy, product images, CTA, website layout, customer support methods, free shipping vs. express shipping, discounted vs. non-discounted, etc
Here's another great blog by Bigcommerce you can read to learn CRO in detail.
Closing Thoughts
All game-changing e-commerce marketing strategies are fundamentally solid strategies practiced over a long time. In this article, you learned 7 of those:
Email marketing
Affiliate marketing
Influencer marketing
Search Engine Marketing
Search Engine Optimization
Personalization
And Conversion Rate Optimization
Implement, and your store is bound to succeed…unless, of course, you mess up with any of the many moving parts of each strategy (like copy, structure, etc.) and other parts of your ecommerce business (pricing, product, brand image, etc.).
Good luck!