Winning back your lost customers is as essential as acquiring new ones! In reality, many researchers prove that it is easier to retain existing buyers than to grab new ones. It is because maintaining consumers on the edge of abrasion is crucial for several aspects of your business.  Moreover, it includes longevity, growth, and revenue.
"There is only one boss. The customer. And he can fire everybody in the company from the chairman on down, simply by spending his money somewhere else." – Sam Walton, founder of Walmart
It is challenging to recover lapsing customers, especially when you fail to know what makes them leave your company. Fortunately, marketing offers heaps of possibilities to win back lost customers. Some creative apps like TADA offer interactive pop-ups that allow e-commerce customers to play games and win attractive prizes, which boost the relationship between the brand and its target. In 2020, the customer is at the centre of every marketing strategy!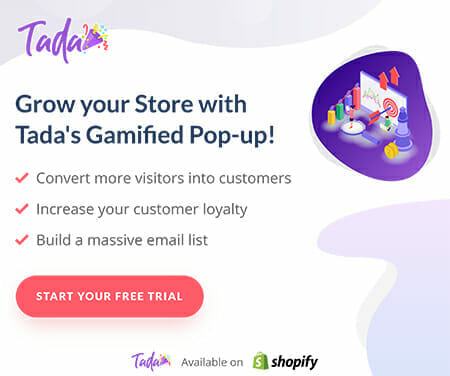 Why do you want to win back lost customers?
Almost everyone knows that loyal customers are considered as profitable individuals because they are offering more returns on your marketing. Hence, it is essential to win back lost customers.
Know why customers are going away
Luckily, there is always evidence for almost every pattern. When customers are backing out of your deal or canceling the membership, there is a deeper-level problem there. It makes customers leave your business. If you are business owners, you should discover an answer to a few questions for acquiring the right solutions.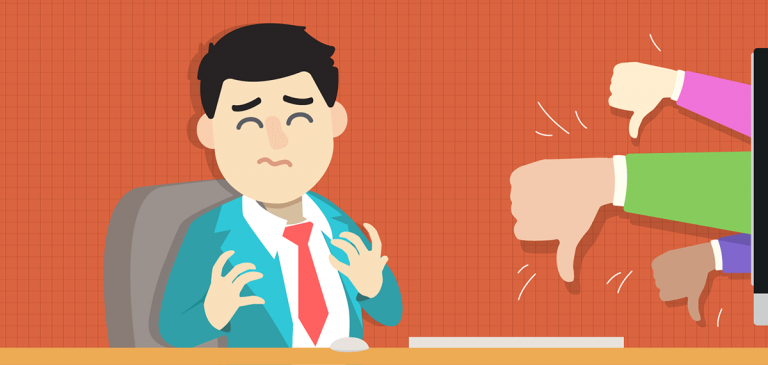 Is it due to customer is not acquire value out of your products?
Is it your pricing model, which is developing an issue?
Did customers discover an affordable, better alternative?
Is it due to customers had any worst experience like lack of customer support?
It is always helpful to create many other questions and directly pose them to your business customers who can consider leaving your business.
Surveying your customers is an excellent way of understanding the grievances of lost customers.  Also, it helps you to know the customer problems. They suggest you interact with customers and defined their experiences and needs. The proper understanding helps you to make the desired changes in your business.
What is a win-back strategy?
It is a calculated marketing technique to get the lost customers back on your business and retain them as your active users. The win-back strategy also helps you to reduce the churn rate. It is detrimental to the winning of your business. For having a successful business, you must have more new users than the number of customers who leave.
Also read: Top 5 rules to design the best email subscription pop up
How do I re-engage my email subscribers?
Winning back your lapsed users start with researching what went wrong. The precise data helps you to start a win-back process. It is vital to know that many brands have already used the win-back strategies which are explained below:
1- Create an irresistible offer
If you send an email in the win-back campaign for the first time, ensure that it contains some suggestions for recapturing your customer's attention. Only then, most of the individuals sign up successfully to your email lists for receiving discounts.
The inactive subscribers or viewers are not interested in reading the wordy and dense copy in the win-back email.  When it comes to a minimal copy of American Apparel's email, it is concise and helps to regain the attention of subscribers easily by offering sharp and short messages.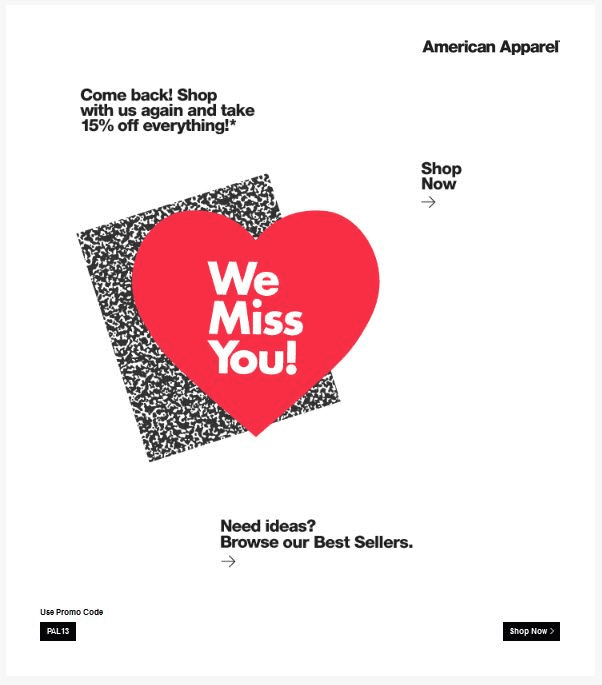 Image: Source
The email of Sephora contains a clear offer.  Similar to its competitors, they offer both offline and online options for the gift card of $15, making it more attractive for customers.
With the help of a separate button for various calls to action, the email layout makes it easier and neater to read than others. There is a button available at the top of the email that aids readers in navigating to various sections of the Sephora website quickly.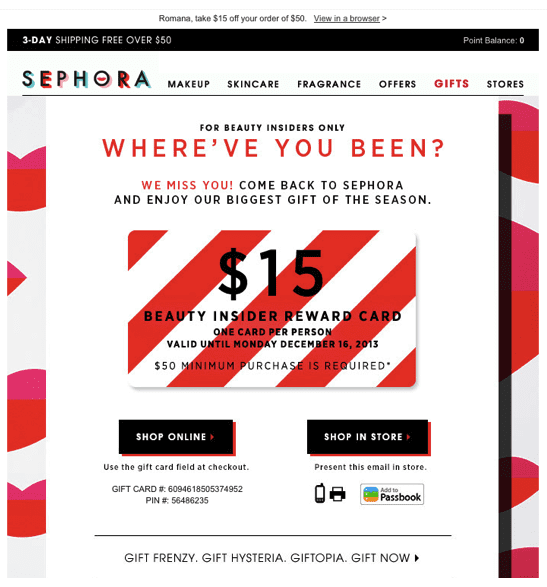 Image: Source
2- Remove your inactive customers
It is always essential to keep the email list completely clean.  At first, you can clean the list that aids you in keeping the best deliverability rate. Also, it means that you never waste money on sending newsletters for subscribing who never open them.
In this method, you should perform two different things. The first thing is to ask the inactive subscribers when they desire to exist on the email list. After that, you can unsubscribe or manage the preferences. It let subscribes to choose actively whether they wish to receive the emails. The next thing you need to do is removing them from the email list. After that, you can give a choice to resubscribe.
The email design of this brand comes with a Messenger format that helps it to feel current. The subscribers may feel inclined to interact with the email due to its engaging copy and design.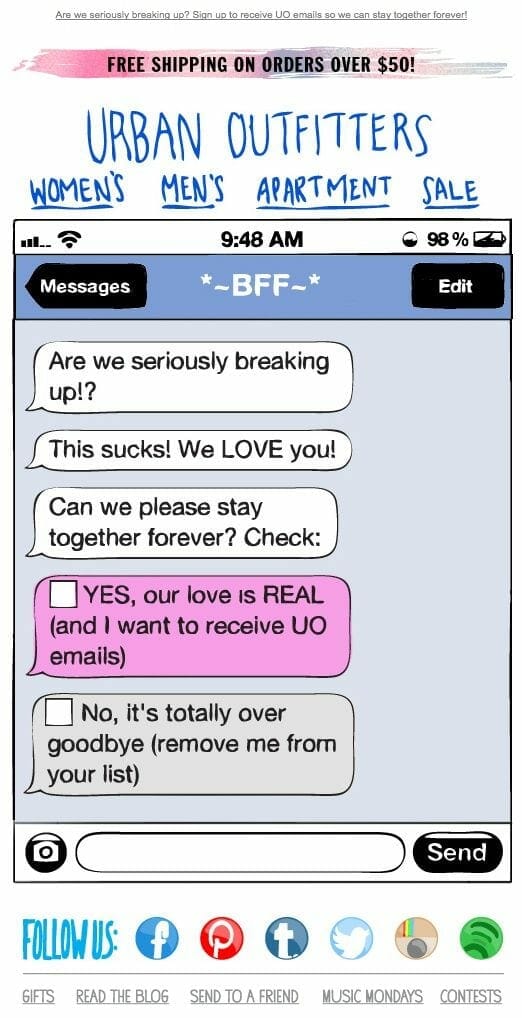 Image: Source
This brand does its last win-back email properly. This precise copy is capable of reading easily and quickly and also working well with a picture in an email. Also, the call to action is accurate and welcomes the subscribers for engaging actively with an email.
If the inactive users have attained this thing in the Win-Back Email Campaigns, it means they are not opening the previous emails. Unluckily, it means that they never open the last win-back email.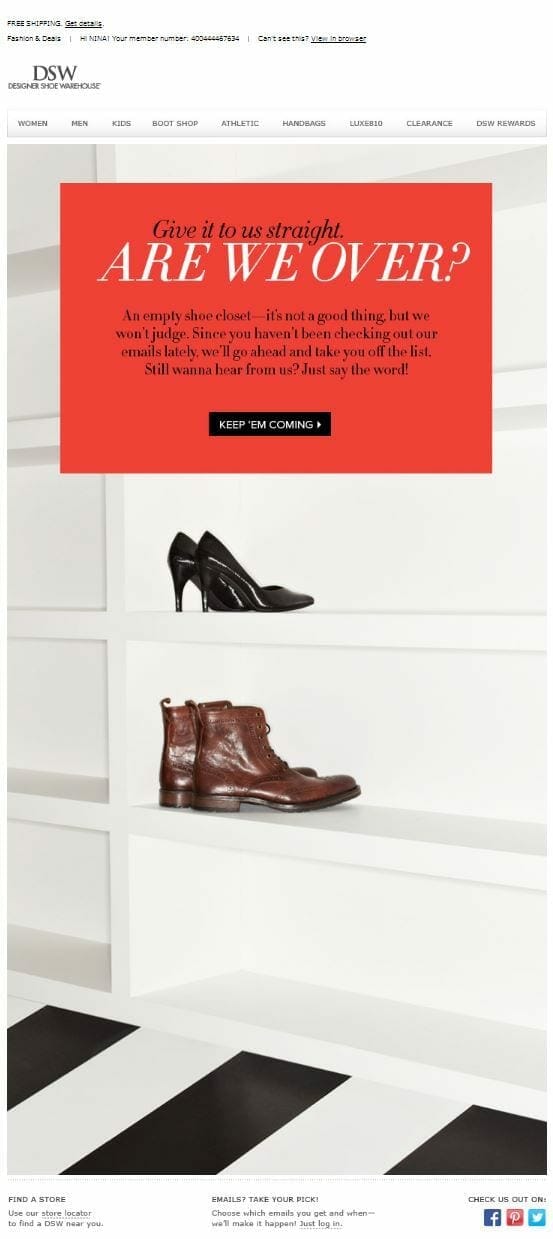 Image: Source 
3- Benefits
It is another method for achieving success in the win-back.   It is your chance to let the inactive customers and subscribers recognize whey they are shopping at the e-commerce store. Generally, the goal of the email is to convince them to come back to you.
It is a win-back email that is visually appealing. It helps to position the brands as updated. Also, it is simple for readers to follow as well as subscribers are motivated to read via an email by simply following the conversation. When it comes to call-to-action, it is weaved into a design of the email3.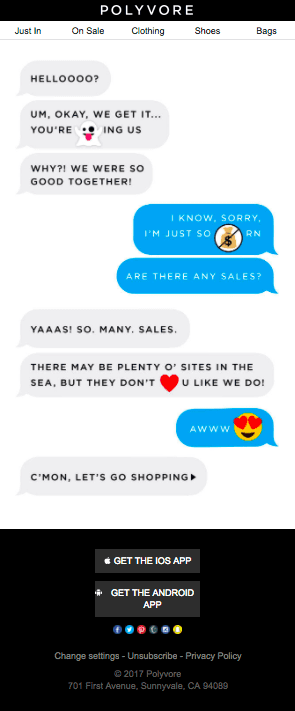 Image: Source
Final words
Research your sales, which you previously won, and what it is about satisfied customers who get them for choosing your business over others. After that, you can dig into the lost customers and learn why they left. It is the right time to focus on increasing brand promise as well as nurturing the customer experience. Also, you can make only a few changes which will have a better impact on your business profit. For example, you can use email pop-up apps, like Tada, to attract and engage both old and new subscribers.