They say you can make the first impression only once.
The same rule applies to eCommerce. Makes a great first impression and customers will be more likely to buy and keep you in mind for future purchases.
Welcome emails are how you make that impression.
The initial email interaction sets the tone of the relationship with customers and lets you show your e-store in a flattering light. A good way to think of welcome emails as business calls that are actually interesting.
Keep reading to know how to make welcome email series that convert like crazy. But first, let's see what makes them a great way to sell.
Why Are Welcome Emails Important?
The first reason to add welcome emails into your eCommerce email marketing strategy is better client engagement. Marketing automation is intended to be clickable, and what's a better way to do it than through a greeting message?
Your audience's expectations are an opportunity that's not to be disregarded. A welcome email is both a short but convincing introduction and a promise (and sometimes already a delivery) of what the future holds.
Here is some proof (source: Investp):
Welcome emails have a conversion rate of 0.94% in contrast to 0.10% for general marketing emails
Click rate of welcome emails is five times better compared to other email types
Offer in a welcome email can boost revenue up to 30% per email
After receiving a welcoming email, customers engage 33% more times
7 Tips for Effective eCommerce Welcome Emails
Here are seven proven tips to get the most out of your welcome emails, plus some welcome email examples for inspiration. Let's get started.
1. Get the Timing Right
That's why consider sending your welcome emails within an hour after the sign-up or email confirmation, while the memory of subscribing is still fresh.
The person's interest has just peaked, and we don't want to lose it. When a person subscribes to your newsletter, they expect confirmation right away; otherwise, they might think their email address is being collected for some shady purposes.
2. Give Thanks for Subscribing
Thank customers for signing up to receive your emails. Saying "thank you" is more than just politeness and proper manners—we're trying to make that amazing first impression, remember?
If your sign-up form requires a person's name, be sure to use it or any other personalized greeting. A simple kind of personalization shows your thoughtfulness.
To show you an idea, take a look at this welcome email from the home decor and furniture store Brooklinen. The first two lines in their welcoming letter are words of gratitude and them calling you a friend. Even without the name, that email feels very warm and personal.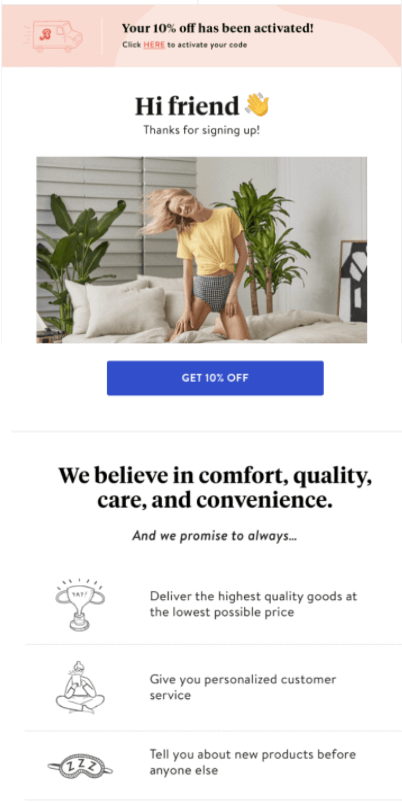 3. Share Information about Upcoming Content
Will you be sending emails with info about upcoming sales, discounts, or blog posts? Your customers don't know, and they should.
It's always helpful to set expectations right away by sharing information about what goodies they will receive from you. Perhaps tease an exclusive deal coming or a launch of a new product?
By providing information about upcoming content in your welcome emails, you might reduce the unsubscription levels. Sure, some people may unsubscribe but most will be glad to know what you have for them.
Check out this email from the wine shop and blog Wine Enthusiast. Right off the bat, the brand explains what to expect from them, starting with exclusive offers and first access to new items, followed by wine news and recipes.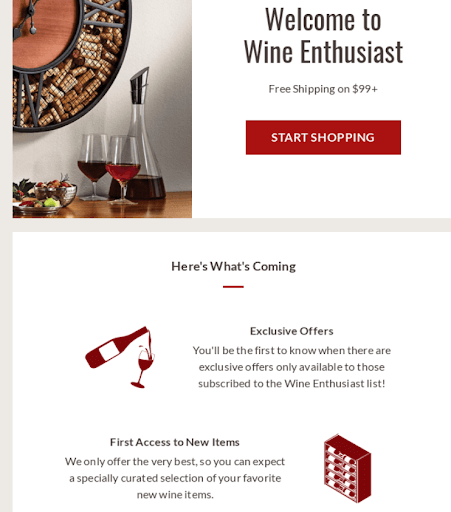 4. Introduce Your Brand
Consider writing a short intro to your brand's history, mission, principles, and goals. People love to buy from brands they share some values with, so it could be a good idea to establish trust.
So, consider sharing some interesting facts about your company or transform its history into a fascinating tale of effort and success.
Need inspiration? Take a look at this email from Jeni's – an online ice cream shop. They crafted a mini-story and an explanation of what makes their ice creams unique and legit.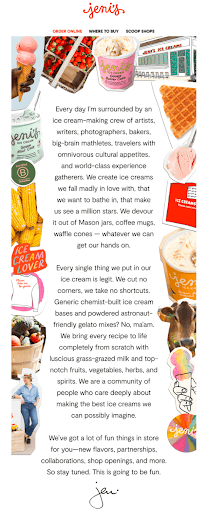 5. Give a Gift
Welcome emails are a wonderful place to share discounts or coupon codes and encourage buying, especially if you promised that in the sign-up form. That's why so many welcome email examples contain discounts and perks like free shipping.
Even if you didn't promise any gift beforehand, give it regardless – perhaps an exclusive offer or a free download. This sort of unexpected but pleasant surprise will guarantee you a loyal customer more than vague promises of the future.
Below is an example of a welcome email from Ralph Lauren, a large luxury clothes and accessories brand.
The email offers 10% off on the next order with a unique coupon code that wasn't previously mentioned in the sign-up form (yes, we checked). So, make sure you have discounts for members only, those being, as they put it, a token of appreciation.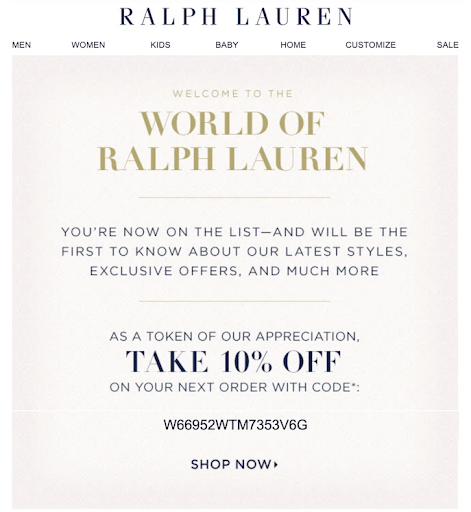 6. Offer Helpful Resources
Make yourself accessible. Share links to your blog, social media profiles, customers support pages, and other ways to stay in touch. Your blogs and social media accounts are an excellent tool for product promotions, but don't use them excessively.
The more different types and formats of staying in touch you have, the better. Not everyone likes to read blogs – they may wish to watch YouTube videos or Instagram stories. Maybe include a few customer support emails or popular messengers for approachability.To illustrate this tip, take a look at the email from a fashion brand New Look. They have seven links under "daily inspiration," while others usually have two or three at most.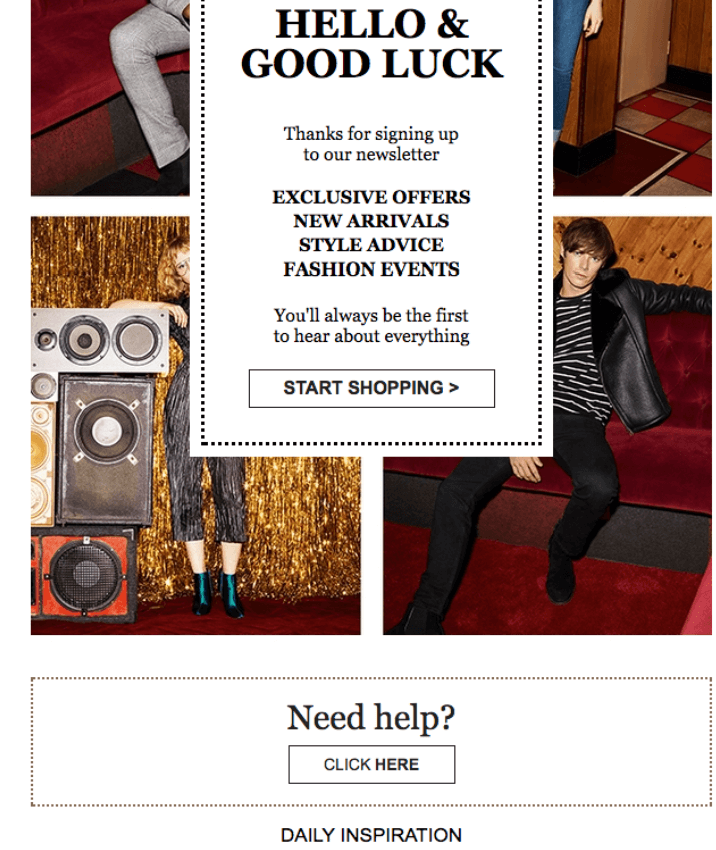 7. Share Customer Reviews
Consider adding reviews from loyal clients or review platforms to build customer trust and encourage the first purchase. Do it humbly but confidently, without too much bragging. Customer testimonials should be, at best, unbiased.
Check out an email from Oros, a scientifically insulated outerwear brand – short and concise praising messages about their customer favorite parka. It doesn't look like showing off because they are not just praising themselves. In addition, it shows the suggestion for the first purchase.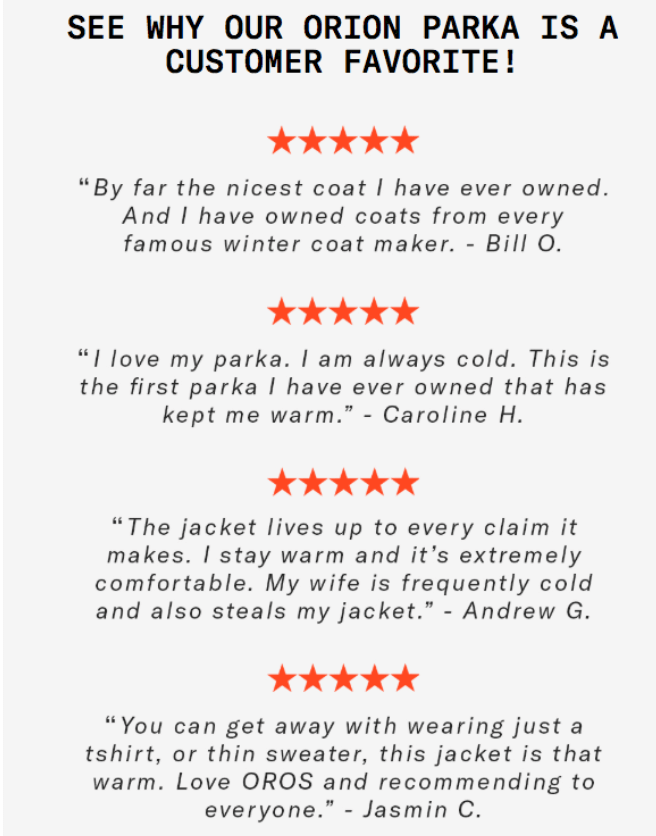 Ecommerce Welcome Emails: Summary
The welcome email can be a single occurrence with a straight-to-business attitude afterward, or it can be a bonus-packed 4 to 6 email series of introductory desserts. Regardless of the option, our seven tips will ensure that you give you a great chance to make that great first impression.