Have you ever tried to click the exit button on a website only to be welcomed by a full-screen pop-up ad? If your answer is no, then you're probably living under a rock.
Exit-intent technology, a unique method that tracks a visitor's cursor movements to see if they will leave the website, is one of the most productive customer retention techniques.
Pioneered back in 2010, the technology has been further enhanced by multiple platforms on the internet and boasts a 20% increase in conversions. 
However, what is the technology, and does it live up to the hype? Read this detailed discourse to get further insight on the subject.
What is Exit Intent Technology?
Did you know that 70 to 96% of people who leave your website on the first visit never return? This means you're losing precious organic traffic and potential customers without even knowing it.
Remember, visitors who clicked on your web page were interested in your products or services. But, once they landed on your homepage, they didn't find what they expected or saw something that had them lose trust in your brand.
To stop these potential customers from leaving your site, you'll have to give them an incentive that gets them to spend more time on your website. That's where exit-intent technology comes in.
Offered by numerous platforms such as Tada, OptinMonster, Poptin, and many more, the technology works by displaying lead-generating pop-ups at the right time. As the name suggests, the technology tracks the user's cursor movements through AI and detects their intent to leave without conducting any productive activity on the website.
After that, it uses engaging pop-ups that capture their attention and give them a reason to stay. While the technology started with primary lead capturing techniques, today, exit-intent pop-ups range from gamified notifications to time-sensitive subscription offers.
Moreover, as a business owner, you can segmentize your target audience based on their activity on the website and devise personalized exit-intent strategies. Also, platforms like Tada help you customize your pop-ups to blend with your brand identity.
Apart from your homepage, you can also use this technology on product pages and shopping cart pages.
However, with 82% of visitors saying they hate pop-up ads and rarely respond to them, the technology is quite controversial. So does it work, or are the numbers just a hoax? Let's find out.
How Does Exit Intent Work?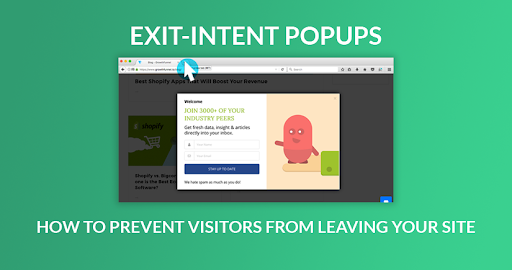 Imagine walking into a physical store or retail shop to check out their merchandise. After you look through the stuff and find nothing quite interesting, you start walking out of the store. Then, suddenly, a sales representative grabs you to ask, 'are you sure you don't want to purchase our stuff'?
The experience can be pretty intimidating and cause you to run out of the store. Now, picture this scenario in another way. Instead of grabbing you by the arm and forcing you to purchase their products, the salesperson politely offers you a discount or gift card.
Now that is a deal worth staying for. Simply enough, that's how efficient exit-intent technology works.
It is proven that when combined with productive offers and engaging designs, exit-intent pop-ups improve a website's user experience compared to other pop-ups. That's because they don't disturb the navigation process and only come up when the user is about to leave the site.
On the technical side, this technology tracks the movement of your cursor using AI. This way, it can detect when you're looking to leave the website. Also, enhanced exit-intent technology can track your activity on the website and personalize the pop-ups accordingly.
Now, when the technology sees a visitor leaving the website, it triggers a pop-up notification into action. The pop-up can deliver any message intended to make the visitor spend more time or conduct a specific action on the website.
That doesn't mean you'll increase your conversions as soon as you subscribe to an exit-intent technology provider. There are several reasons why some exit-intent campaigns work while others don't. However, when executed correctly, exit-intent technology works wonders because,
A visitor's mind is quite evident when they intend to leave your website. Therefore, placing an attractive offer simultaneously can increase their chances of considering it and deciding against leaving.
Moreover, most exit-intent pop-ups are displayed in full-screen mode in the middle of the page. This effectively catches their attention and eliminates distractions to engage with the information quickly.
If your landing page does not lure the customer in, the exit-intent pop-up gives you a second chance to convert them. You can use a different CTA or engage them using other modes to change their mind.
Also read: 5 Tried and Tested Lead Magnet Ideas and Examples
How Does it Help in Website Conversions?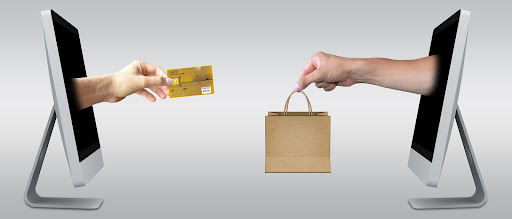 Yes, exit-intent technology can add annoying pop-ups to your website, which might irritate your customers. So, how can it help increase website conversions?
Remember, your visitors will only get irritated by the pop-up ad if they fund nothing productive or beneficial in its content.
You see, when you use exit-intent technology to trigger a pop-up when a customer decides to leave, you're actually buying an extra two to three seconds of their time. So, it is better that you don't waste it on further repetitions of the content on your landing page. Instead, if used effectively, exit-intent pop-ups can increase your conversions organically and bring you a considerable ROI. Here are some ways you can use exit-intent technology to your advantage and make sure no visitor leaves without making a purchase.
Get a Second Chance to Grab Attention
If a user intends to leave your website, they have already decided against making a purchase. In this case, exit-intent technology helps you increase conversions by giving your business a second chance to grab their attention.
Your exit-intent pop-up will engage your visitors and keep them from clicking that red button. If a person has already interacted with your products, you can provide discounts, coupons, or free shipping to get them to complete their purchase. Similarly, if they have checked out specific product pages, you can show a stock inventory urgency regarding the particular product or a sale ending timer. This way, even if they procrastinate the purchase for later, they will do it now.
Generate Leads and Devise an Email Campaign
Even if you cannot get your customers to complete their purchases immediately using exit-intent technology, that does not mean the technique went in vain. On the contrary, exit-intent pop-ups provide various long-term benefits for your business that increase conversions in the long run.
Remember, users who visit your landing page are already interested in your brand. You just have to fuel that interest enough to have them click the buy button on your website.
Commonly, such customers are called 'leads.' Exit-intent pop-ups give you a chance to nurture those leads and re-engage them through email and any other contact details they provide.
For example, if you offer a coupon in a gamified exit-intent pop-up, you can ask them to provide their contact details to avail their winnings. This way, they get an incentive to share their contact details, and you get an organic lead for productive remarketing.
Reopen Abandoned Carts
Abandoned carts are perhaps the most pressing problem for eCommerce business owners. Did you know that out of every 100 people you manage to get to your website, almost 70 of them leave without making a purchase?
If visitors like your products, they usually add products to their carts to never retake another look at them. However, all they need is a little push with a touch of personalization to reopen their carts and complete the deed.
That's where exit-intent technology can help and increase your conversions in the long run. For example, gamified exit-intent pop-ups from Tada let you offer loyalty points to your customers. As a result, they are bound to return and use them as discounts for their abandoned purchases by receiving rewards.
Similarly, shipping charges are the biggest obstacle that stops customers from completing the checkout process. If you notice customers opting out of their carts at the brink of completing the process, offering free shipping through exit-intent technology can convert them easily.
Improve Your Techniques
While professional A/B testing is essential for eCommerce businesses targeting growth, exit-intent technology can also help you detect which marketing technique works for you. By creating multiple exit-intent pop-ups for diverse segments of customers, you can find out which one leads to the most conversions and revamp your marketing technique. This, in turn, will help you convert more customers and increase sales.
What Content Should Exit-Intent Pop-Ups Have?
Exit-intent pop-ups can have different content based on your target audience and marketing strategy. While you can quickly devise different exit-intent pop-ups for various segments of your audience, here are some content ideas you should place on exit-intent pop-ups to increase conversions.
Offer Free Stuff
This is the best way to nurture leads and build your email list through exit-intent pop-ups. If you're a blogger, you can offer free resources such as courses and ebooks. This will entice customers to provide their email addresses for reinforcement.
Similarly, as an eCommerce store owner, you can give free stuff such as coupons, rewards, bundle offers, and discount codes. Again, this will ensure that your visitors don't leave without making a purchase.
Encourage Engagement
Another content element you can add to your exit-intent pop-ups is to increase conversions. Ask questions that encourage users to provide insight that can help improve your marketing strategy. You can include a survey form or a few yes or no questions to determine why users are leaving your website without interacting with your products and services. Not only will it help you pinpoint your mistake, but it will also make your customers feel valued and make them visit again.
Provide Information
If visitors leave your website, it does not mean your products and services are not attractive enough. Instead, it is possible that you are not providing enough information for your customers to trust your brand and make a purchase. In this case, adding content such as newsletter links, tutorials, testimonials, and case studies can speed up the decision-making process for your visitors and increase your conversions.
Redirect Your Customers
Exit-intent technology involves tracking your visitor's cursor movements to detect when they intend to leave. Now, this technology is not always foolproof. However, it can trigger an exit-intent pop-up even if the cursor has strayed unintentionally towards the exit button. That's why adding a redirect option to your exit-intent pop-up that will let them continue browsing is a great idea. This way, you can leave the decision-making process to them and allow them to interact with your products easily.
Remind Them About Abandoned Carts
Customers abandon about 69% of all online shopping carts. To reduce cart abandonment rates in your business, you can place reminders about forgotten products in exit-intent pop-ups. Along with reminders, you can add stock inventory updates or discount offers to entice your visitors to reopen their carts and complete their purchases.
Introduce New Features
You can use exit-intent pop-ups simply to let visitors know what's going on with your brand. As a result, regular visitors can learn what they are missing out on and spend more time on your website.
These updates can be about anything from new content, features, and tools that visitors would find valuable and exciting on your website.
Final Words
Exit-intent technology is an automated system that tracks your visitor's activities and triggers a pop-up when they intend to leave the website. Using exit-intent technology, website owners can devise strategies to rope in their customers and get them to stay on their website.
This practice ultimately turns more visitors into buyers and increases sales. In addition, compared to other on-site pop-up ads, exit-intent pop-ups are less intrusive and don't spoil the user experience.
However, depending on your target audience, you should devise a proper exit-intent strategy so that you don't drive away potential customers. Your plan should focus on customer retention, lead generation, email list building, and reducing cart abandonment.
You may also like: 10 Exit-Intent Popup Examples for Your Online Store