Over 333.2 billion emails are sent and received daily. While this sounds promising for marketers considering email marketing for a business boost, it has a massive downside.
Gaining recognition among numerous emails is not a piece of cake. Even if you came up with an intriguing email design, it would entice the customers for the first time.
We all know that even the most incredible stories sound boring when we hear them repeatedly. Therefore, surprising your customers with engaging content time and again will help, and gamification can be your best bet.
Find what it is and how you can implement it in your next email marketing campaign.
What Is Gamification?
Gamification involves using games to resolve non-gaming tasks. For instance, you can use it to educate others, motivate your employees, engage your audience, etc.
The core principles of gamification include:
Competition
Engagement
Award
This signifies that individuals would prefer participating in a game if they get to compete with others or like the game process per se. Besides, they'd be intrigued like anything if it involves a prize.
How Does Gamification Relate to Email Marketing?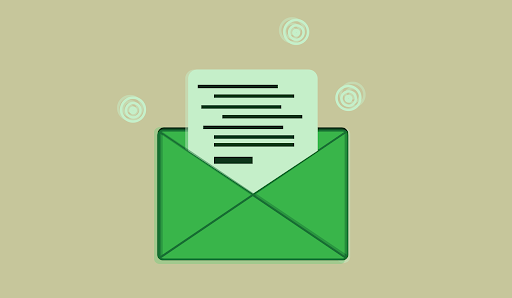 But, the question remains, "How does gamification relate to email marketing, and how can you execute one?"
Because games attract people, it offers an opportunity for marketers to draw the audience's attention. You can use surveys, tests, and quizzes in your emails.
While you can include the game directly in your email, you also have the choice to provide a link directing to another website for a game.
Note that gamification is not meant to produce direct sales. Instead, it aims to boost sales as a secondary impact of customer engagement.
However, because its primary goal is to pique the user interest, it holds a substantial value in email marketing.
Consider your audience is no longer interested in viewing emails. You notice your open rates reducing drastically – only because of lack of engagement.
Designing a strategic gamification email is your chance to draw their attention while reminding them you exist.
You may also like: 6 Tips For Creating Your Shopify Rewards Program
7 Top Reasons to Gamify Your Email Marketing Campaigns
Although gamification isn't as popular as other conventional email marketing methods, it is incredibly powerful if you execute it right. Also, because it is less common among marketers, you have a competitive edge.
By creating engaging email marketing campaigns, you can outpace your competitors in business and make an impact. Here are some other convincing reasons to gamify your next email marketing campaign.
1.   Increase Customer Engagement
From the achievement component to the chance of beating competitors, various reasons make up why individuals like playing games.
People are naturally attracted to games, and even if they aren't interested in playing one, they'll still most likely click on the link to see what happens next. So, there is excitement packed with curiosity. Even if they don't play the game, they will spend time interacting with the email, which is highly likely to go unnoticed without gamification.
2.   Build Brand Awareness
Successful gamification in email marketing campaigns will boost your brand awareness. Because you are going the extra mile to offer something unique to the audience, they'll associate it with your brand.
Besides, loyal customers would also share their opinions on social media, spreading a positive image of your brand – a win-win for you.
3.   Stimulate Interest
Let's face it: discounts are a bit old-school. Many individuals today tend to ignore deals – Maybe because it's a relatively older marketing tactic or perhaps because every single brand is offering them.
While we are not undermining the importance of discounts, complementing them with games and related prizes will be in your best interests.
You can offer customers a discount but make it more exciting through games. Encourage them to win it through games and make the prizes more desirable for them.
4. Attract New Subscribers
Word of mouth is a powerful tool, and brands who've had a positive – or a negative – experience know its worth. Friends, for instance, are quick to suggest a brand because they liked an item they purchased recently.
If you offer something uncommon yet distinctive, it won't take long for others to recommend your brand to someone. Yes, gamification might not be the next extravagant product of your company, but it certainly is exciting.
The exhilaration surrounding it can encourage your existing customers to casually mention it to their friends, "Hey, did you check the recent gamification feature in emails from the XYZ brand?"
The nosiness and curiosity convince others to take action to at least check it out.
Congratulations, you just gained a new subscriber.
5.   Strengthen Relationships With Existing Customers
Data reveals that 49% of customers prefer receiving weekly promotional emails from their favorite brands. This sounds positive because your existing customers are interested in your brand.
You must aim to augment their interest by adding gamification to your emails. Your current customers will realize you have something unique to offer, which makes them feel valued, eventually strengthening your bond.
6.   Boost Open Rates
Gaining a new subscriber appears rewarding, but it isn't fruitful if your subscribers barely open your emails or rarely make purchases.
So what good is your email in their inbox when they do not open it? You need to go above and beyond to ensure they do, and gamification can be your best bet. By adding exciting games to your emails, you cultivate a habit in them. Your subscribers are more likely to pay attention to your emails when it offers them an incentive.
7.   Affordability
Companies spend thousands of dollars for marketing purposes, and it's all a risk. Unfortunately but paying a hefty amount doesn't guarantee their success. However, gamification doesn't burn a hole in your pocket.
Instead, you'll find numerous affordable tools to implement this inexpensive marketing technique.
For instance, Tada offers gamified and full-screen pop-ups at affordable rates. In fact, it allows a free trial.
Spin and Win is one popular gamification feature by Tada. The customer only needs to add their email to play the game and win a discount.
Tips to Gamify Your Email Marketing Campaigns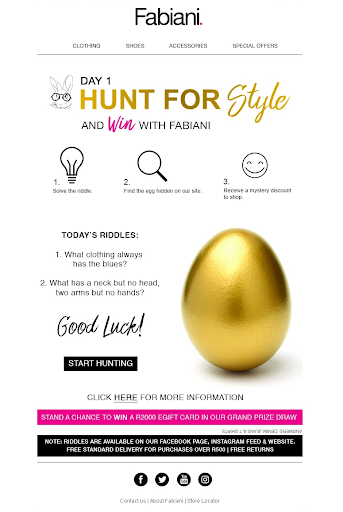 Adding games to emails presents numerous opportunities, but only if you implement them right. You need to be strategic about your gamified campaigns to see what works for your audience. Here are a few tips to consider.
Consider Visuals
Our brains process visuals 60,000 times faster than text – visuals matter!
While many individuals believe adding visuals to emails has a drawback, they take ages to load and decrease the open rate. On the flip side, Experts are optimistic that high-quality visuals make a significant difference.
Adding a picture to your email marketing gamification makes it captivating to look at. Anyone would rarely be interested in an unsightly design, but a pleasant visual can boost their interest.
Test It
One of the biggest mistakes you can commit as a marketer is to forward emails without testing them. You spent time and money designing gamification emails, and perhaps you do not want your effort to go down the drain.
Slight negligence when crafting the email and implementing the gamification technique can cost you your reputation. A subscriber might never open your email after spotting an error.
Therefore, you must test your gamification emails before forwarding them. This will help you identify what they lack and what you can do to improve them. Besides, A/B testing comes in handy to determine the best method. 
Keep the Content Interactive
Did you know that 81% of marketers believe interactive content is more effective than static? Images in motion appeal to us because they activate specific brain parts, triggering us to take action – we're referring to GIFs.
Our reaction is better as we take more time to process the received information. Consequently, it boosts the time subscribers spend when interacting with your email and upgrades their experience.
But Don't Overdo It
Moderation is the key. Because you got your hands on some fantastic tools to implement gamification in your marketing campaign, it doesn't indicate it has to be something extraordinary.
Anything exceptional also loses its value as it gets old. Therefore, it's better to leave room for excitement and expectancy. If your email subscribers are uncertain about what's next, it'll keep them hooked.
Depict Your Brand's Personality In the Emails
Any company can design emails; what'll set yours apart is your brand and its distinctive personality. Make sure you do not let it depreciate.
You can go for the most strategic marketing tactics, but if you fail to portray your brand's personality, you'll struggle to build a positive image. Make sure your gamification elements have a unique theme and color palette depicting your brand's personality. Besides, keep it consistent to show credibility.
Email Marketing Gamification Ideas
Crafting an email with gamification requires you to put some effort – and creativity. However, you do not have to come up with something extraordinary.
As long as you create a game by drawing inspiration from the existing ideas – and keep it aligned with your brand – it'll turn out well. Below, we've shared a few ideas on how to nail your first gamification email marketing campaign.
Quizzes and Tests
This is one of the easiest gamification ideas because its implementation is pretty straightforward. You need to add questions or quizzes to draw user attention.
Everybody loves a sense of accomplishment, and your customers are no expectation. When they receive a reward for correct answers, it'll promote sharing and boost your brand awareness.
However, the quiz or test must relate to your brand or an upcoming holiday. Besides, they shouldn't be challenging to answer.
This gamification technique is ideal when announcing special events or introducing a new product.
Wheel of Fortune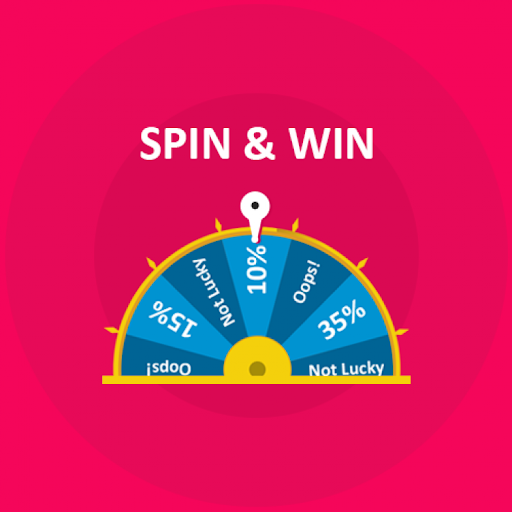 We're all familiar with the Wheel of Fortune gaming technique. It offers an exciting way to try your luck. Any subscriber would be intrigued to take time out and "spin the wheel" to check what their luck bought.
It's an interesting way to draw attention because it doesn't require an effort on their behalf. Spinning the wheel is all it takes to win a prize.
Besides, it also has a few benefits for you. First, it is quick to design and execute. Second, most email clients support it.
Quests
A series of quests boost engagement and draw more people to your brand. For instance, Litmus, an email marketing platform, offered subscribers a chance to win a ticket to their conference.
They designed a series of 5 emails with a hidden image or a text. Users who finished the task and shared the answer on Twitter won the ticket. Because competitors had 5 chances to try their luck, individuals were encouraged to open the next emails and see if they won.
Scoreboard Technique
While email marketing gamification might tempt you to boost sales every time with a clear CTA, you do not have to sound cheesy. In fact, if you'll solely focus on driving more sales and profit, your customers will turn away soon.
You must pay attention to providing them value. It'll naturally turn them into loyal customers. Therefore, make sure you often forward emails to entertain your subscribers. Scoreboard games are yet another way to encourage your customers to interact with the email. 
Puzzle
Puzzles trigger action by awakening your subscribers' critical thinking skills. Many individuals cannot resist solving puzzles. Therefore, an email encouraging your users to take action will drive high engagement.
You can go for a crossword puzzle, a riddle, or a jigsaw. However, make sure it isn't too complicated. Oftentimes, complex puzzles frustrate the users, and they'll lose interest soon.
To keep your puzzles more engaging, you must keep them simple and offer enticing prizes, discount coupons, and more.
Wrap Up
The digital world is progressing by leaps and bounds. Marketers introduce new and distinctive marketing tactics to attract the audience and gain loyal customers.
If you run social media channels and implement email marketing campaigns, you're a step away from making your business a success.
A gamification email marketing campaign ensures you climb the ladder and outshine competitors in your niche. There are endless ideas to try and implement.
However, make sure you do not complicate them and harmonize them with your brand's personality.
Also read: Top 6 Shopify exit popup apps to boost your sales instantly