When it comes to marketing, companies, particularly startups, cannot afford to leave a single stone unturned! It is imperative to build an audience in the market during the initial years for any entrepreneurial venture.
The most common way that normally business owners use is incorporating an email popup on their website. However, in today's scenario, popups accost customers on almost every website. This massive influx and common occurrence of the popup has rendered many customers unwilling to sign up. Moreover, some companies tend to flood the inbox of the customers that put in their addresses. This has further added to the delineation of the customers from the email subscription popup.
Fortunately, marketing and e-commerce are changing and following the different trends. Nowadays, some of the best Shopify apps like Tada allows e-commerce customers to play games, win attractive prizes and build a long-lasting relationship with the brand.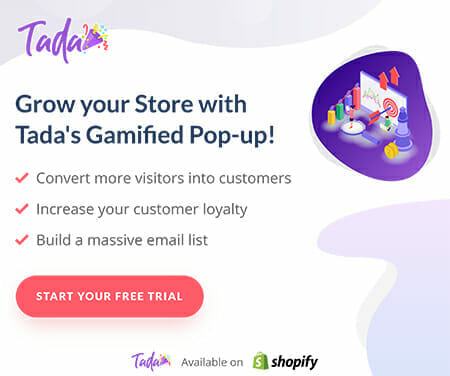 5 rules to design the best email subscription popup
Hence, business owners should follow the following rules when adding the email subscription popup on their website to build trust. 
1.     Relevant pop-up
It is advisable to ensure that the popup looks relevant and appears to be a trustworthy aspect of the website. Customers frequently accost email subscription popup on multiple websites. Hence, this has made them adept at assessing the professionalism of the company just by the design of this popup. If you have an option of an in-house developer and designer, then get it designed yourself.
Ensure that the popup has the logo of your company rather than that of any third-party. This assures the subscriber that you are genuinely interested in collecting their email addresses for your mailing list. It is a common practice that many business owners try to make their website look as attractive as possible. However, in doing so, often, websites end up looking somewhat tacky and lose the main gist of the brand. Hence, ensure that every aspect of the website remains consistent and simple.
A simple email subscription popup is not only easy to look but also to comprehend. Try to keep the fields simple and less in number. Focus only on the necessary details like birth date, country of residence, etc. Eliminate all unnecessary fields. If your utility remains confined to the email address, then stick only to it. Entering too much information also dissuades visitors from subscribing.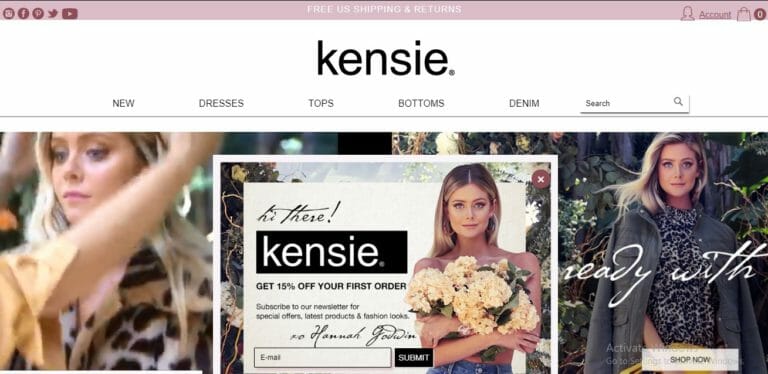 Image source: Kensie
2.     Professional design
If you have an in-house designer, then you have the endless possibility of customizing the popup as per your website. This allows you to have a popup that perfectly suits the theme of the brand along with the website. Such a popup automatically garners more trust than its third-party counterpart. Ensure that every single detail of the popup spells out professionalism for the potential subscriber.
Your design should categorically communicate to the customers that they will only receive truly pertinent mails. Stick to your brand image even in the case of email subscription popup and maintain your policy with the same. This will play a major role in building your image, which is particularly important to startups. In addition to this, such professionalism will set you aside from competitors with a lasting impression on the website visitors. Maintain consistency even in the case of brand subscribe popup design.
Also read: Top 6 Shopify exit popup apps to boost your sales instantly
3.     Confidentiality
Once, you have a professional-looking subscribe popup design subscribers will begin to trust your company and start subscribing. However, it is this time that is extremely crucial to any company. Now that you have received the email addresses of your potential customers ensure that they are safeguarded. If you intend to share the email addresses with some third-party, then it is better to get their consent beforehand. Put down all the appropriate checkboxes and terms and conditions on the popup.
In addition to this, be as transparent as possible with all your confidentiality and security clauses about the subscribers. Most subscribers put down their email addresses; hence, it is a good practice to keep the addresses safe. Such practices will work in favor of converting your subscribers into your most loyal customers.
4.     Gamification
Have you heard of e-commerce gamification? 
It is a powerful tool to engage with new visitors or to strengthen customer loyalty!
Tada gamified pop-ups allow merchants to interact with their visitors by transporting them in a gamified universe where they can win attractive prizes.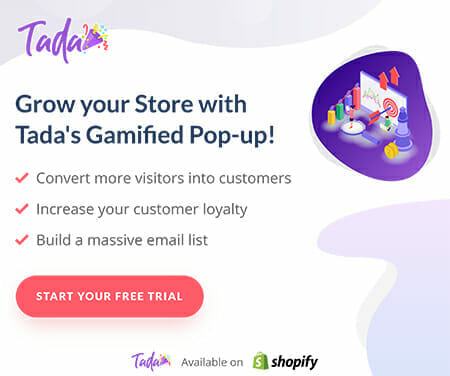 The merchant website becomes a real playground for the potential customer, who drops his eventual fear or reluctance to buy and engage!
Moreover, these interactive banners are often beautiful and elegant, which increases potential customers' interest!  
5.     Focus on Headlines
The first thing that a visitor reads once an email subscription popup comes over is the headline. Indeed, if the headline directly resonates with the visitor's primary requirements, the company gets a subscriber. Hence, focus on the deadlines and try to make them relatable and concise. The headline should be able to encompass the main message without being too repetitive. Try to grasp the attention of the visitor with as few words as possible. This not only looks more professional but is also much more impactful. Remember, less is more.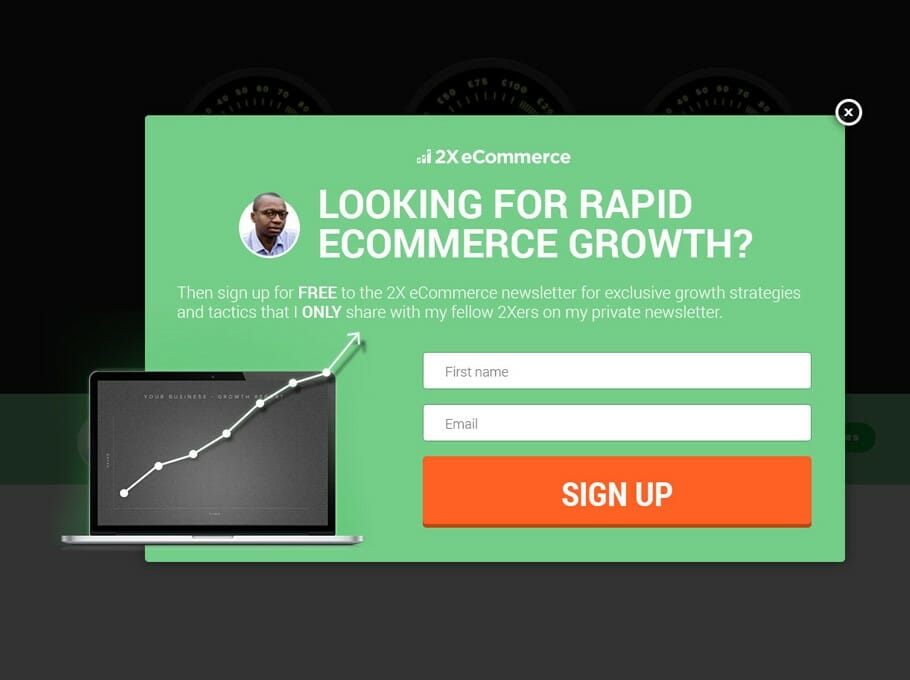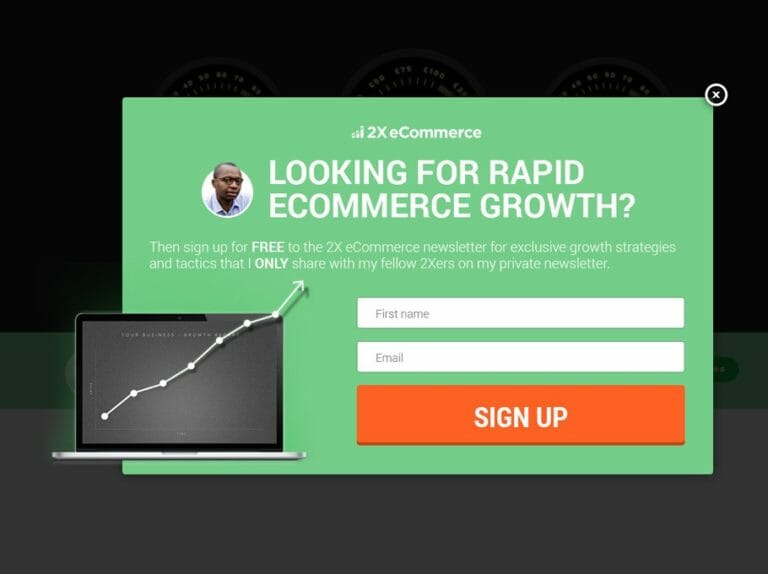 Image source: 2xecommerce
Email subscription popup has emerged as an integral part of most professional webpages. However, just like other forms of marketing, this is also a fine tread. Business owners need to be extremely thorough and careful when trying to build trust amongst consumers. Gaining more subscribers is the main idea, but focus more on building up a trustworthy brand image. Moreover, try not to overwhelm the inbox of the customers as they can opt to unsubscribe from your mailing list. Staying relevant and succinct are the key points in gaining subscribers and maintaining credibility.