Instagram is undoubtedly one of the most popular social media platforms that have ever been created. With more than a billion people using this app, Instagram comes with cool features that can help you socialize. Instagram Stories is a primary part of any social media marketing strategy. This tool enables companies to further elaborate on their brand story, empowering them to reach customers with advanced video content.
Furthermore, it is important to know whether the time you have put in your Instagram stories is helpful or not. But, proving the ROI of the efforts you have put can seem to be a really hectic task.
However, Instagram provides detailed analytics that helps you measure the impact you have been able to create all this time. While this information is really useful, different social platforms will help to measure the effect of your presence on their channel. And also, how your group of the audience reacts to you on that channel. Therefore, we will discuss some metrics that will help you measure the ROI of your Instagram stories in an effective manner.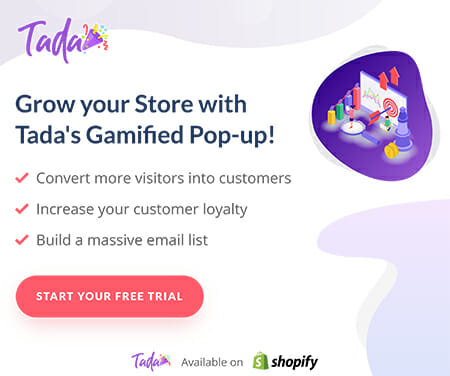 Why is it important to track your Instagram Stories metrics?
When you want to understand and analyze your audience and check the kind of impact you have tried to make, you have a lot of different KPIs that allow you to do the same. The main goal of any marketing strategy is to make sure that you can build a long relationship with your audience. Instagram is a great way to do so. When you measure them, you will be able to –
Tackle the important pain points
Analyze the Stories which help to drive the most engagement
Differentiate your audience and deliver the right message to the right people
Increase your brand awareness
How to measure Instagram Stories ROI?
The correct metrics can give you a very clear picture of what you are actually doing with your audience and marketing strategy. Here are the important metrics that will help you to measure the ROI of your Instagram stories. Make sure to check each of them out and use them. Let's dig into the metrics:
As soon as you click on your stories, you will be able to see the eye icon that will help you check how many people have seen your stories. It also shows who the viewers are. It is a really helpful feature in the long run. A few months back, Instagram also introduced a brilliant feature that shows you the viewers who have captured a screenshot of your story. This is the quickest and simple tool that you can use to check your reach and which stories get the most views.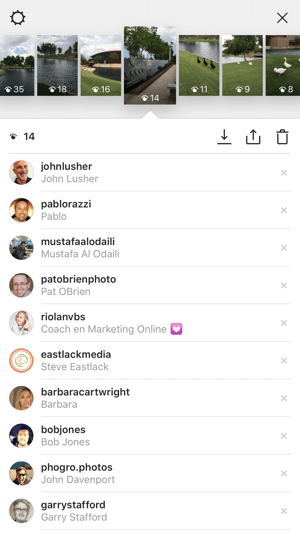 Image source: Social Media Examiner
Viewing the percentage is another excellent way to check the Instagram Stories ROI. It just takes a basic knowledge about mathematics, and you will be getting an exact percentage of the followers who are giving your stories. Divide the number of people who have seen your story by the number of followers that you have and multiply it with 100.
You will get a percentage. If you see that a small number of people are checking your stories or the numbers are decreasing as the stories grow in number, then you will need to revamp your ideas. Or you can also cut back the number of stories you give and focus more on regular Instagram posts. Make sure to keep in mind the posting time because the Instagram algorithm arranges the different posts in a person's feed according to the time the creator has published it.
As indicated by Oberlo, you need to be precise about your posting time. A good posting time ensures more viewers and allows you to get more engagement on your posts. You can use geo-labels and hashtags so new individuals might find your posts and stories.
You can easily get the completion rate of your stories by using this method. Divide the number of viewers who checked your last story by the number who viewed your first story and then multiply it by 100. As stated by Agora Pulse, this metric lets you know how effective your Stories are. Also, you will get to know if the people are finding the stories interesting or not by viewing the percentage. Do follow this metric on different days so that you can understand which kind of stories are engaging and making people more interested in a brand. 
Your viewers cannot comment on your story, but they can do a thing that is even more effective, and that is to reply to them directly. The ability to engage directly with your viewers helps you to understand what has given them to ping you up by giving your story directly. Stories allow you to strengthen the relationship with your audience and take it to a whole new level. If you get a good number of replies to your stories, then you have a good Instagram Stories ROI. So keep checking your inbox to see the number of people who have sent you a message and make a reply to them.
Conclusion
Instagram can be a productive place to promote your business. As said, "what you measure is what you get". So here are some interesting metrics that will help you to understand the Instagram Stories ROI. Make sure to not only check them out but implement them in real life as well. In this way, you can get a better understanding of your audience and deliver the best posts to them. Measure these metrics on Instagram and get the best results regularly.
Gamifying your Instagram stories is another creative trend that can attract more followers to the company's business account. However, it doesn't always mean adding games in your stories. Instead, it can be fun and interactive pop-ups that grabs the attention of the Instagram page visitors and encourages them to subscribe and make the final purchase by offering them various discounts and coupons. Tada's gamified and customizable pop-ups can help you with the same.