Instagram is irrefutably one of the top-rated and most popular social apps today. The app does not only build for young and glamorous, but for people of all ages, lifestyles, and habits.
Ever since Facebook had acquired Instagram, Instagram has become a wonderful social platform for marketers to not only connect with their followers and business customers, but also endorse their up-to-date products, services, events, and promotions. Instagram is undoubtedly the new Facebook.
The best part of Instagram is that users can register their credit cards as part of their profile and buy within Instagram. That means if you are selling profitable products online, you need to be on Instagram now!
Ads through the platform also follow the anticipated format of user ad posts, which doesn't interject the viewer's session.
Due to their capacities, more and more people are spending their money on the platform. That means you cannot miss this opportunity.
So, wondering how much it cost to advertise on Instagram?
Let's know with this in-depth guide to follow to create a budget for your Instagram campaign.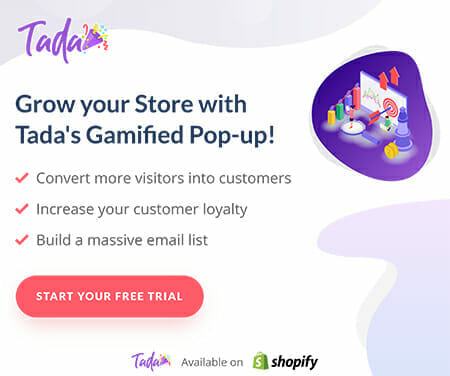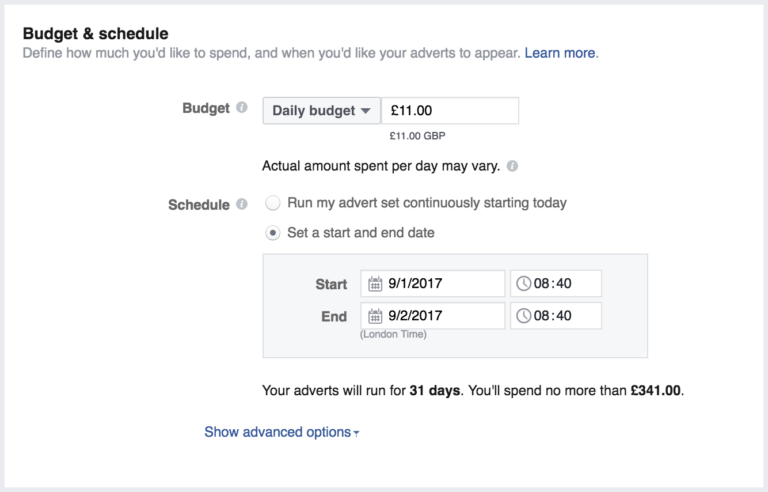 Image: Source
2. Lifetime budget
A lifetime budget includes the budget one has to pay during your ad campaign period.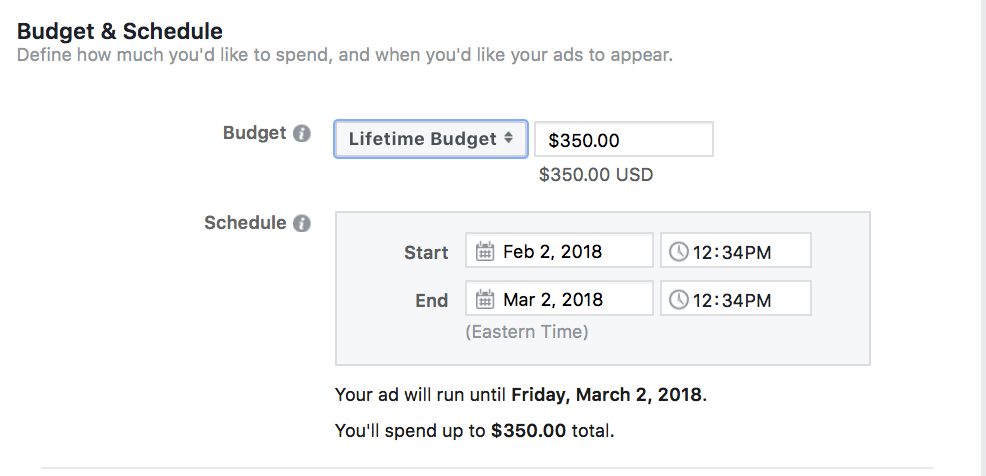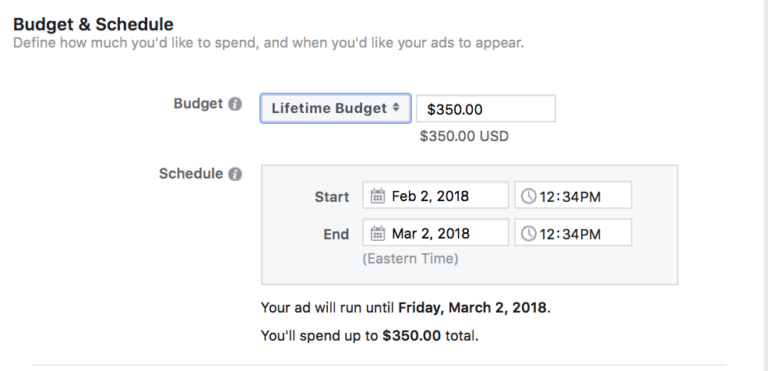 Image: Source
Why are Instagram ads better than Facebook ads?
1.     Instagram ads have good engagement 
As per Forrester research, Instagram has about 10x the communication with a brand, as a percentage of the brand's followers that Facebook does. Instagram has an even more significant lead on the other social networks. This gives abundant opportunities for brands desiring to connect with their followers.
Sprout Social found that Instagram has a female skew, together with a youthful bias. This means that you will discover that you will have to spend more for any Instagram ads that target people in those groupings – in specific, young women.
2.     Instagram Ads cost more than Facebook Ads
In partial reimbursement for Instagram's improved engagement, it is likely to spend more to place your ad there than it would on Facebook. But the change in price between a Facebook ad and Instagram ad is substantially large. This means that even though you may end up paying more to promote on Instagram, you can get better results overall.
AdEspresso analyzed Facebook and Instagram ads in 2016. They also found that the average cost to advertise (CPA) on Instagram (CPC) was $0.70. This is double Facebook's average CPC of $0.35. Recalling that Instagram often has up to 10x the engagement of Facebook, you can get better results from your ads. Costs will differ by the marketplace, though. For example, fewer business people devote more time on Instagram so that Instagram B2B budgets can be high.
How much does it cost to advertise on Instagram?
According to Keith Baumwald, founder of boutique consulting agency Leverag Consulting, online ad costs for Instagram ads are typically somewhat higher than their Facebook counterparts.
"With highly targeted ads, you likely to paying over $5 a CPM" (cost per thousand impressions) on Instagram, Baumwald said.
As per Masek, conversely, whenever Facebook checks a new ad feature, like a new creative type or a new audience type, it falls the CPM to make the feature more accessible and appealing to marketers.
Calculate your Instagram Budget
A typical CPM on Facebook Ads will be around $10 mark today; it was closer to $5 on Instagram.
"Today, the gap is getting thinner and narrower. This meant that running ads on Instagram was directly going to be more reasonable for marketers – in fact, twice as cost-effective."
At the same time, Masek said when Instagram started rolling out ads, users were clicking on them at a much higher rate than they were on Facebook.
One of the most important questions people often ask for Instagram Ad ROI- how much does a click or conversion will cost us on Instagram?
What is the difference?
When comparing to ads cost in 2017, it is found by AdEspresso that the average cost-per-click on Instagram is around $0.80.
On average, Instagram ads CPC:- $0.70 and $1.00.
Though many elements are determining your Instagram budget, for instance, there's a variance in Instagram CPC prices for many age groups.
The highest CPC age groups are 18-24, 25-34, and 35-44-year-olds are the most valued age groups when it comes to Instagram marketing.
A single image is costly in Instagram ad
It is also found that generally, a carousel or multiple image ads perform better than single image ads, and single image ads will cost you higher than the multiple-image ads. On the other hand, video ads will typically beat both single image ads along with carousel ads. In total, the targeting audience will also affect the charge of the ad.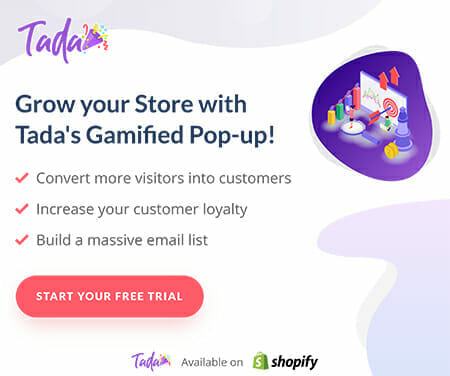 How much should you spend on Instagram ads?
CPC by Age Range
18-24 years old (with an average CPC of about $1.07 in 2017)
CPC by Country
U.S is the third most expensive CPC at $3.56.
Viet Nam's CPC was $3.73
Kenya's CPC was $3.68.
The country with the least expensive CPC in Q4 2017 was Liechtenstein at $1.37.
On average, the CPC by country is about $2.40.
CPC by Ad Placement
Instagram Ad cost will vary as per the Ads location, such as user's main mobile feed, desktop feed, right column, audience network, or Stories. In general, the right column Ad placement performed better than all other placements with an average CPC of about $0.80.
 CPC by Month
As per AdEspresso, it is found that the average CPC is about $1.10 in Q4 which is higher than the average CPC in Q3 of $1.04.
Cheapest months to advertise- January, February, and March
Most engaging months to advertise- October, November, and December
Now you are familiar with the cost of Instagram ads, which is similar to Facebook Ad, which makes it pretty easy to build advertising plans. Always make sure to consider points such as Conversions, Post engagement, Impressions, Link clicks, Daily unique reach, Daily budget, etc. to make the campaign more effective.
If you want to win the game of Instagram marketing, then using gamification in your strategy can reap great benefits. So, while planning your Instagram budget, consider how much will be spent on utilizing such game elements. And, if you are looking for some gamified pop-up apps that guarantee reasonable prices, high engagement, and increased sales, then you must give Tada a try.