As a Store Owner, you probably ask yourself, how you can grow your business without rebuilding your online shop and investing extra in marketing and sales. And you are right, it's not only traffic growth that drives sales, other ways can help you to increase your profit and achieve lasting effects.
Jay Abraham, the marketing strategist and business consultant from the United States suggests three ways to grow your business:
Get more customers
Increase the order frequency
Increase the size of the order
Whereas getting more customers and an increase of the order frequency might require investing extra in marketing and sales (some experts even claim that acquiring a new customer can cost 5 times more than retaining an existing customer), increase the size of the order is focused on getting your customers to spend more while they purchase.
AOV (Average Order Value), an e-commerce metric that tracks the average amount spent whenever a customer places the order, is often overlooked or not used effectively by the store owners.
In this article, you'll learn why your business should consider working on AOVs and discover 5 simple tactics about how to increase the size of the order on your Shopify store.
What are the benefits of AOV?
Spending huge marketing budgets to attract new customers might be ineffective if you do not try to maximize the revenue from your existing customers first. There are some obvious benefits of working on AOV that can encourage you to pay more attention to it and these are:
increasing the AOV is a quick way to increase the revenue within the current product range your store has
fewer investments in marketing campaigns required to achieve the business goal
even if there is no growth in traffic, you can still earn more from the same audience
in most cases, work on increase of the store's AOV will require a minimum of technical knowledge;
Besides, it should be noted that with effective work on various techniques that ensure the growth of the AOV, customer loyalty and the effectiveness of marketing activities also increase.
How to increase the AOV?
Now that you know the main benefits of working on your store's AOV you can learn 5 simple tactics that will help you to move forward and significantly improve your AOV.
1. Offer free shipping
About half of users abandon a purchase if they think the shipping cost is too high. But if you make delivery free of charge upon reaching a certain threshold, the situation changes dramatically. The majority of clients are ready to buy a little more to "pull up" the amount of the purchasing order and save on shipping cost.
The main thing here is to correctly determine the threshold amount. If it is too high, it will not be possible to entice customers to make additional purchases. By reducing it to a minimum, you are missing out on your income. There is no ideal recipe here – you would need to find that balance individually in each specific case. For example, if your average check is $80 – offer free shipping when ordering more than $100. If revenue hasn't increased, lower the threshold. Experimenting with it will help to find the right conditions for your customers.
Example: "Free Shipping from $25"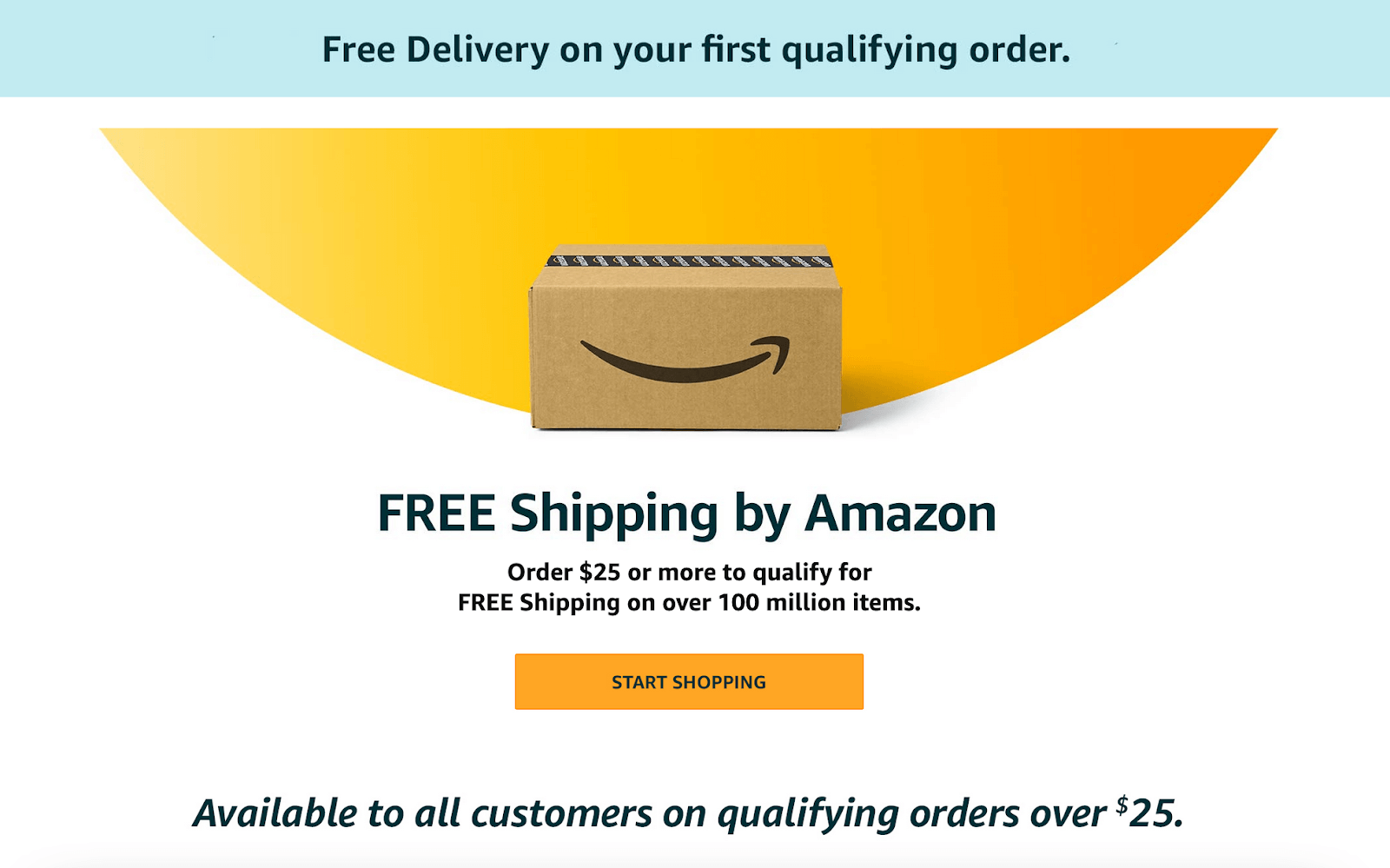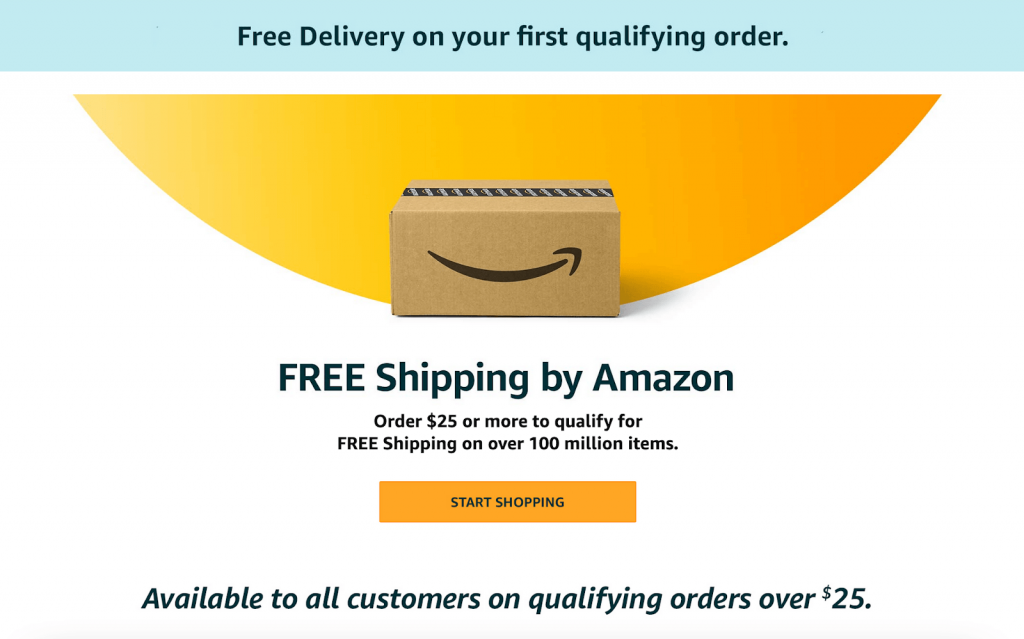 2. Highlight a customer's savings
Show your customers how much they can save if they order more than one item at once. For example, if they choose two products, it will be $40, three – $70. If there are more than three items in one order, in addition to this, they will be able to receive free shipping.
It is better to show savings in monetary terms since it works more efficiently than displaying percentages, especially when it comes to goods with a small sales margin. Such a monetary discount can delight a customer to purchase more and as a result increase AOV and hence the store profit.
Example: "$30 Off our regular price"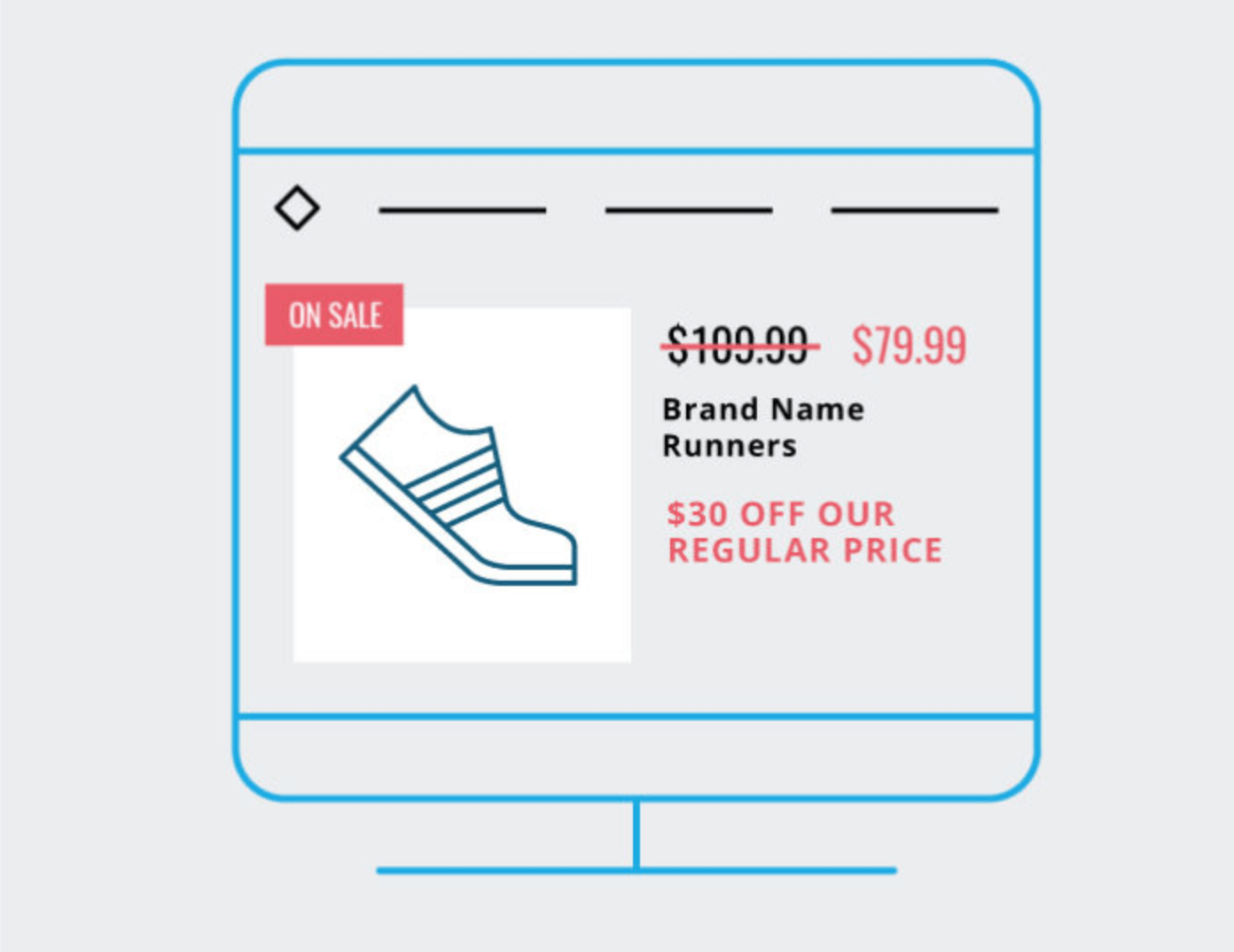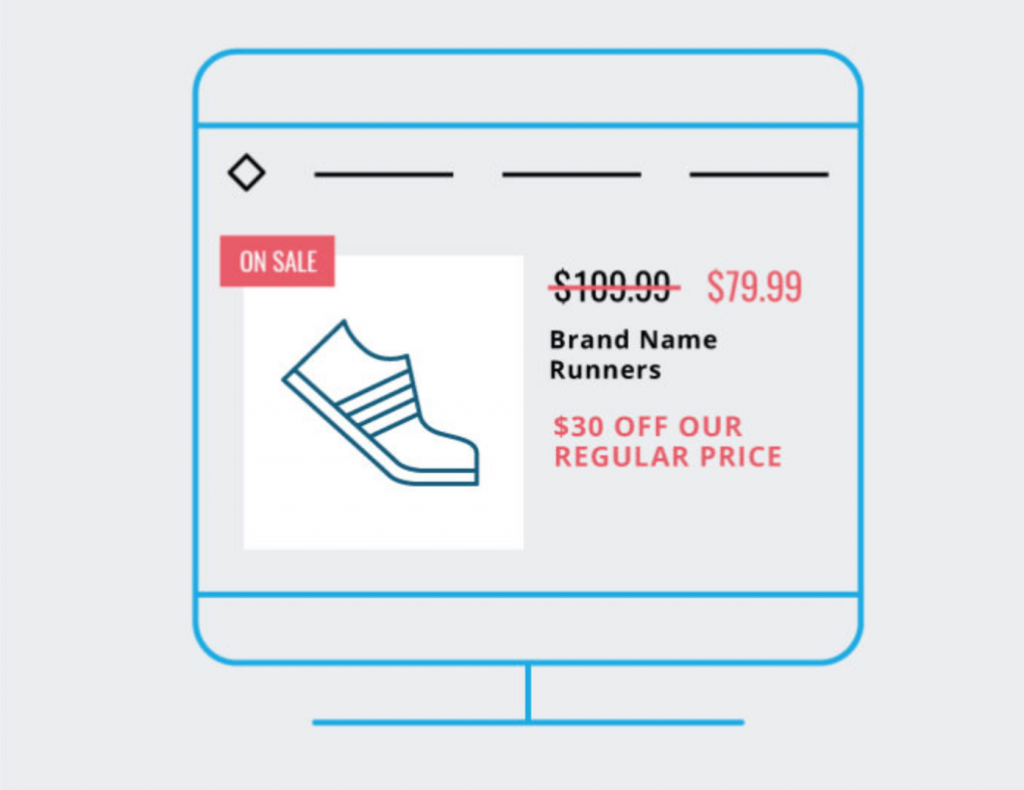 3. Create Cross-sell & Upsell offers
This point deserves special attention since it can help you to maximize your business and increase your store's AOV (Average Order Value) as a rule by up to 15-30%. By implementing Cross-Selling and Upselling techniques you can optimize the value of every sale your customer made on your store.
You are not the only one winning from offering upsells and cross-sells. Upselling and Cross-selling provide maximum value to customers and lead to a better relationship with them.
When upsell and cross-sell offers are configured correctly and displayed at the right place of a customer's purchasing journey your business can have a great chance to grow whereas your customers will also benefit from being advised what else they can buy ( whether it is complementary products or additional services).
Example: "Get extras for your product" created in Candy Rack App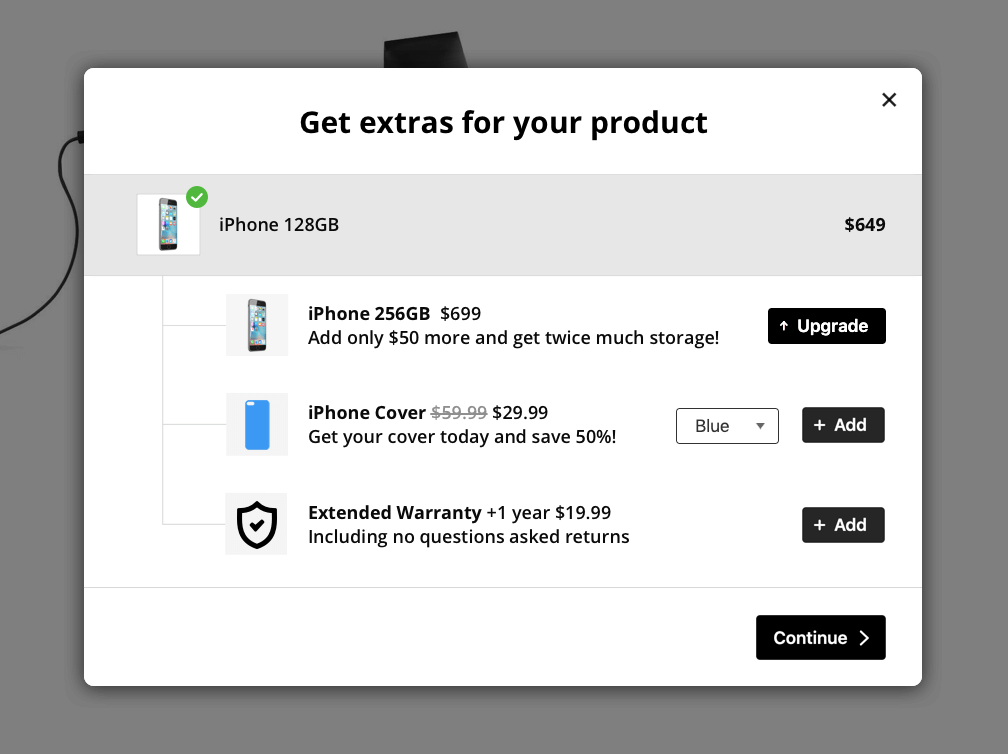 To learn more about how to create a perfect upsell offer you can check this article – The Perfect Upsell Pop-up for Your Shopify Store in 2021.
Useful tips to optimize your Upsell Offer
You want the upsell offer to be perceived as an authentic offer during your customer's purchasing journey and not like an irritating message. For example, you can set a pop-up that will be triggered when a customer clicks on the "add to cart" button on a product page offering them complementary products or products that they might need but have not thought you were having ( like an additional warranty or gift packaging).
Try to not repeat upsell offers. Once customers have added the upsell item to their cart, make sure to not show the upsell offer when the product was already added to the cart
Shopify has a great feature built-in called Product Recommendations API which enables you to add a special section to your store's product page displaying a list of auto-generated recommended products. It is a great way to help your customers to discover more products and you can make it even easier for them to find with a smart upsell triggered in a pop-up window once a customer clicks on the "add to cart" button.
Smart upsell is an effective way to benefit from the Shopify Product Recommendations API algorithm that predicts the most relevant products based on the products a customer is interacting with. You can read more about the Smart Auto-Upsells and how to use them in this article.
Make your pop-up match your storefront design
To improve your customer experience, make your upsell and cross-sell offers feel naturally as they were a part of your store. What you are trying to achieve is motivate your customers to purchase more not interfering with the natural purchasing flow.
If you are a Shopify store owner, you can simply look for an "upsell" or "one-click upsell" on Shopify App Store and you will get a list of amazing Apps that can help you to set up your upsell strategy.
4. Start a loyalty program
Another great way to increase your AOV is to offer your customers participation in your loyalty program. This technique will not only increase the average order size but will also positively affect your customer retention and CLV ( Customer Lifetime Value ). Offer your customers an opportunity to become participants in the savings program – issue them a card or create a virtual account, which will sum up the entire amount of purchases from you, and reaching a certain point will lead your clients into getting a good discount, bonus points, or pleasant gifts. This technique is very popular in the local stores, why not adopt this experience also in the online environment?
The Accenture report revealed that loyalty programs aren't generating as much of a sales uplift as many leaders believe. On the other hand, they do a decent job of keeping customers engaged. This will allow you to double down on new customer acquisition through customer retention.
Example: Sephora Community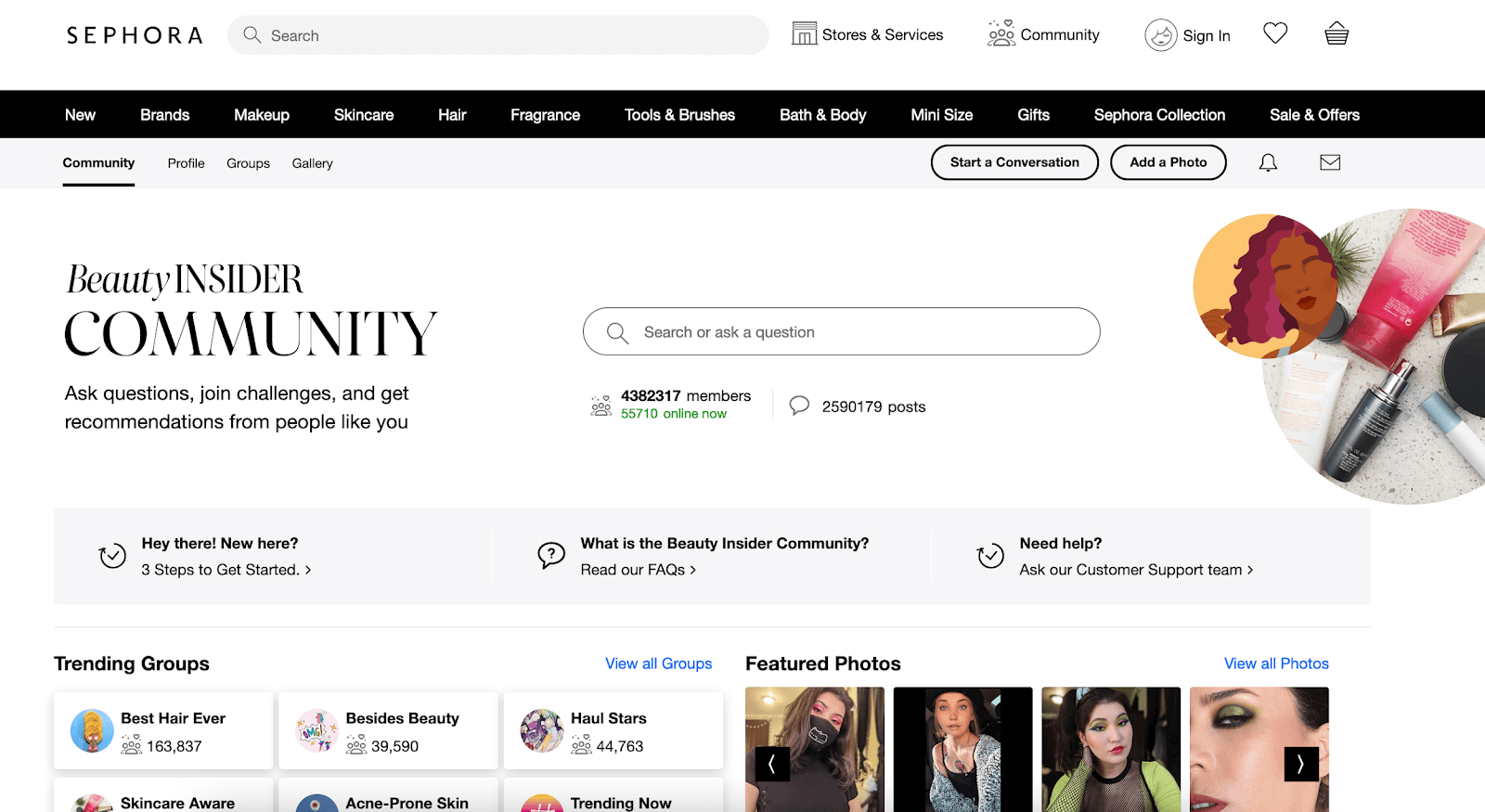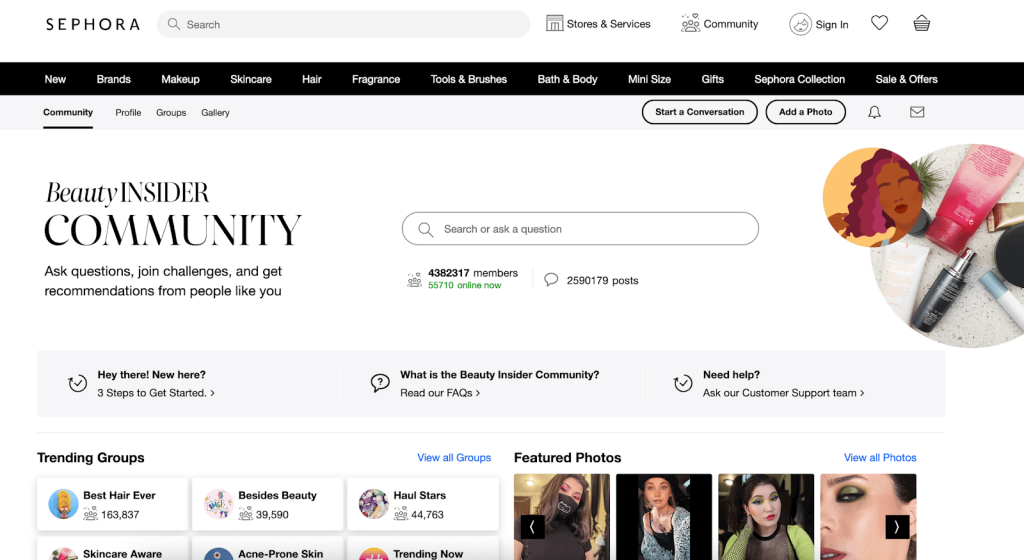 5. Integrate a Conversational Tool / a LiveChat
LiveChat is an effective way to engage with your store visitors in real-time. It is a good practice to work on your customer engagement using conversational marketing. Your customers want to have a personalized experience, they want to be involved in your business when purchasing from you.
By seeing what your customers are doing at a specific time, you can predict what they might need from you and contact them with the pop-up message in real-time. To create this personal connection online you can integrate a messaging App
Here is some main figures stated by Shopify to this topis:
Shopify's data shows businesses that respond to a customer's chat within five minutes are 69% more likely to get a sale.
Shoppers who chat with businesses via Shopify Ping are 70% more likely to convert.
Forrester reports that shoppers who chat with a brand not only convert three times as often, but their average cart value is 10%–15% higher than other shoppers.
Key Takeaways From This Article:
Keeping the focus on your store's AOV and working on it can help you not only save on your marketing and customer acquisition costs but also improve your customer experience.
Offering your customers free shipping when they reach a certain threshold will have a positive effect on your store's AOV.
Highlighting the customers saving and displaying this saving in a monetary format, rather than in percentage, can encourage your customers to purchase more.
Implementing upselling and cross-selling techniques on your store presents an amazing opportunity to grow your average order value up to 30% and increase a conversion rate of your store.
If you are a Shopify Store Owner, choosing the right App on the Shopify App store can help save you a lot of time and effort when you want to implement and easily experiment with the upselling and cross-selling tactics.
Following these simple tactics will positively affect your store performance and increase your store's AOV. For more marketing tactics that can help you to boost your sales, you can check the article about Top 10 Email Marketing Apps to Boost Your Sales in 2020.