You've identified your market. You're looking to build your dream to run a thriving eCommerce store. You've seen advertisements for eCommerce web-building platforms. And, if you get the same ones I get, then you will be aware of both Wix and Shopify.
Both Wix and Shopify are leading eCommerce website builders designed to be easy to use for entrepreneurs and businesses to spend less time creating an online store presence and more time making their products!
However, you may now find yourself asking the question: Which one is better for my eCommerce business?
This article will outline the features of Wix and Shopify, share some advantages and disadvantages, and seek to enable you to make an informed choice between the two for your eCommerce business.

1. Set up and configuration for ecommerce
Where should we start in a comparison article? How about with the initial impression a first-time user will experience when setting up and configuring Wix and Shopify.
Let's explore the key benefits of each platform in the creation phase…
a. Easy to use
Since both are geared towards non-coders, you can breathe a sigh of relief—these platforms don't require you to be a programming or design genius. In fact, Wix and Shopify were both designed with non-coders in mind, allowing you to create your website and get onto doing what you do best.

As with any new product or service, it would be remiss not to include a trusty instruction manual; the equivalent is provided in the form of tutorials and step-by-step guides.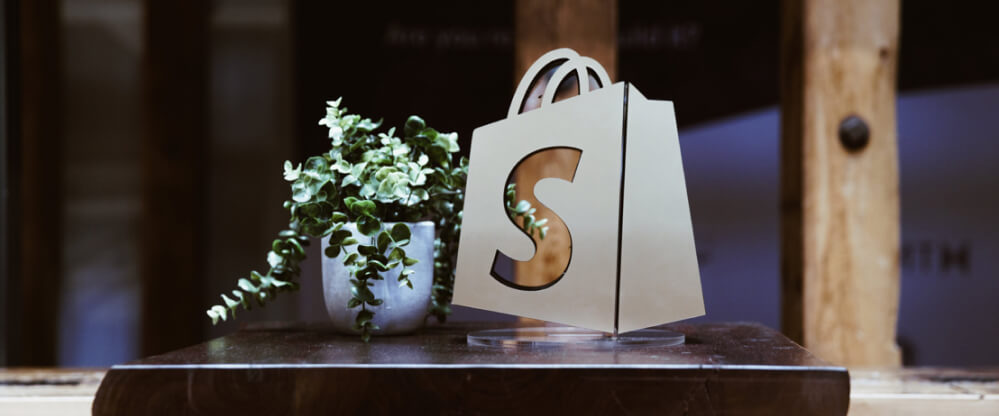 Shopify is designed to get you started quickly and as such it is fairly easy for complete beginners to create their first store. Everything has links to tutorials, plus you get the benefit of a large online community forum so, if you have a problem, chances are that someone else has already found the answer. Setting up a basic store and making it live will take you a good couple of hours, making Shopify score decent marks for ease of use.

Like Shopify, Wix also is designed for complete newbies to go from nothing to a full-blown online storefront quickly. Again, helpful tutorials abound with well-written guides to make you feel like a pro as you work. Boasting a wider range of templates than Shopify, Wix helpfully does the heavy lifting of website design for you. It pretty much gives you a ready-made website which you can customize as you wish.

Overall, Wix makes that initial challenge of setting up your online storefront less daunting. Its ready-to-use templates really take the stress out of those initial first steps.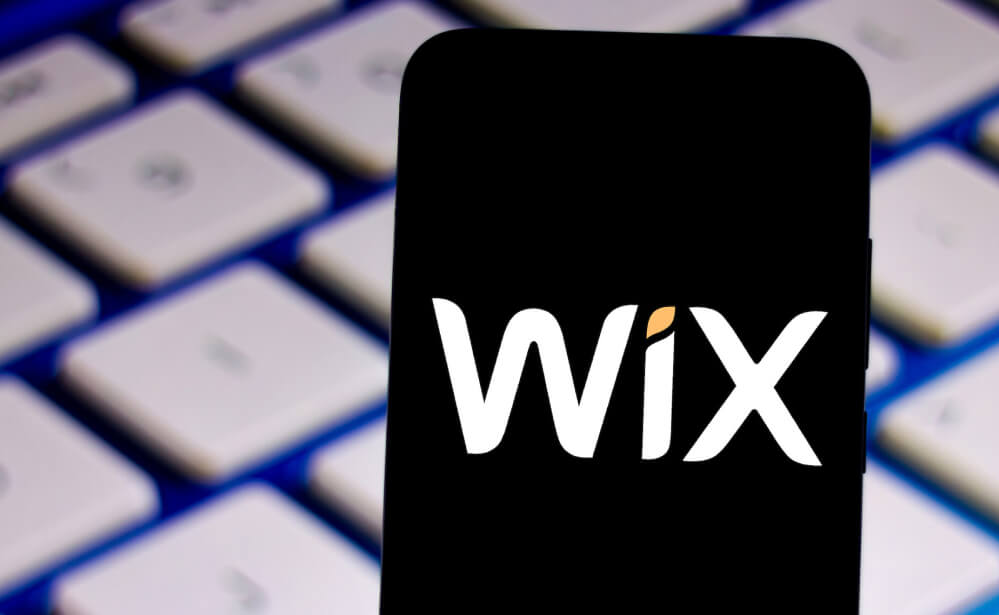 b. Template design
As mentioned, templates are a helpful feature for beginners in website creation.

Shopify gives an option for users to choose from over 60 templates. Each one is professional, sleek, and, best of all, automatically adaptive to viewing from a mobile or desktop browser. Also, they are easily customized and give options for edits in their HTML and CSS – so if you know what that is, you can get excited. The downside is that most of their templates require a fee (one-time) and only 10 are available for free.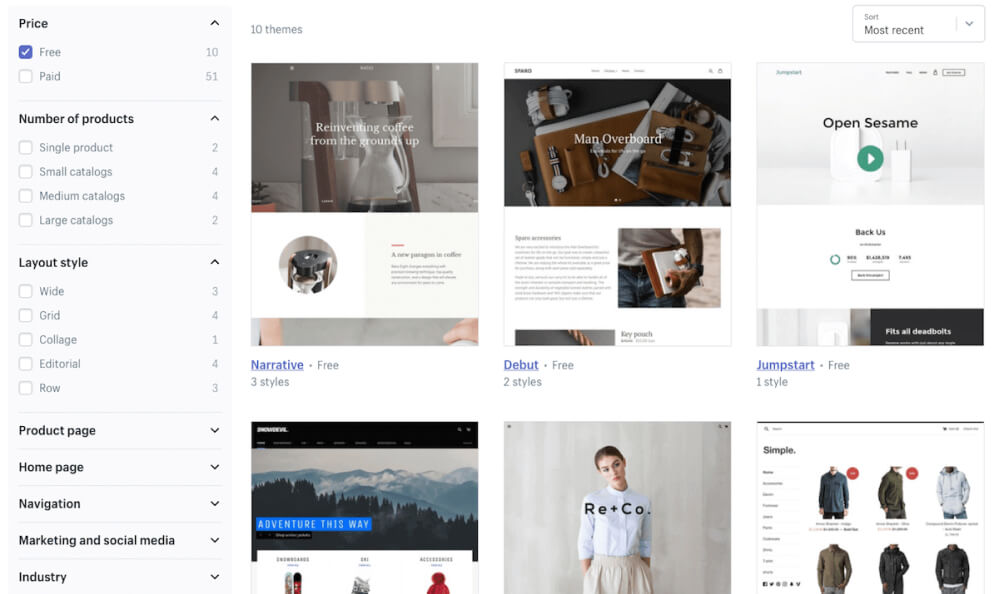 On the other hand, Wix has 60 completely free (included in their pricing plan) templates. Just like Shopify, they are modern-looking and stylish with the added bonus of having catalogue galleries for product display. Their weakness, however, is their templates aren't quite as customizable and they aren't responsive for mobile viewing. This means you are going to have to manually design a separate layout for mobile phone visitors to your site.

Both have their pros and cons here but on the balance Wix's plentiful options for free just barely wins out over Shopify's automatic optimization for mobile display.
c. Product presentation
Obviously, for eCommerce platforms, product presentation is key. Let's see how Wix and Shopify compare.

Strangely, for a platform specifically designed to present products, Shopify only gives three variations to its product display, namely, size, color, and material. This may be enough for some but a few more options would be helpful here. In the plus column, Shopify allows videos to be embedded and has a futuristic augmented reality feature which allows customers to navigate around the product to investigate its nooks and crannies. Shopify also allows reviews and with apps (paid and free) you are permitted a good range of flexibility in customizing product display.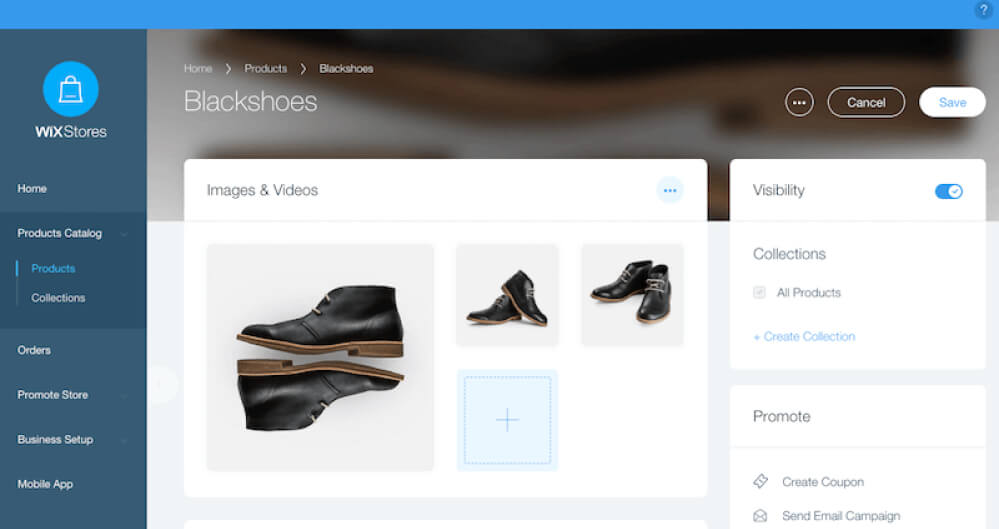 Wix blows Shopify out of the water in terms of product presentation variation with, depending on the template, between 6 and 30 options available. However, product presentation features are more "template-based" and less versatile than Shopify's.

Shopify comes out on top here with its flexibility.
d. SEO
For the marketing savvy amongst us, search engine optimization is king. This makes it worth investigating how Wix and Shopify compare on the SEO metric.

Interestingly, both mirror the other on strengths and weaknesses here. Options are available to modify page titles, description headings, alternate texts, and redirects. Facebook Pixel is also able to be configured so you can track conversions with ease.

On the negative side of the ledger, both have issues with URL creation. Shopify, seemingly randomly, adds /collections/ or /products/ to website URLs while Wix adds the clunky /product-page/ so on neither platform do you get full control. Fortunately, both do allow for redirects where you create your own URL to take to the auto-generated one.

In terms of SEO, both Shopify and Wix are neck and neck.While Shopify offers merchants a wide range of SEO apps on Shopify App Store, Wix SEO Wiz tool of Wix also supports users in optimizing their site.
2. Customer experience on the website
Any savvy business owner will tell you that customer satisfaction is the aim of the game! As such, it's worth having a look at how Shopify and Wix allow you to enhance your customer experience which in turn, hopefully, allows you to generate more sales.
a. Login and checkout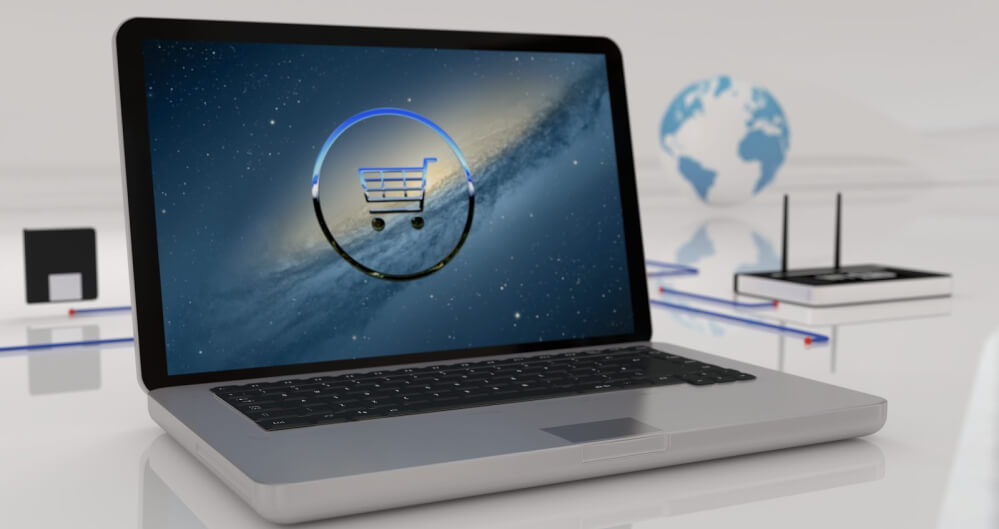 The idea with checkout is to make the process as easy as possible. Fewer hurdles means fewer reasons for the customer to change their mind about purchasing. How do Shopify and Wix compare in terms of allowing you to make that checkout process smooth for your valued customers?

First of all, Shopify gives you options for whether you want your customers to register before checking out: mandatory, optional, or prohibited. Registering is great for repeat customers so this flexibility gets a tick from us. Additionally, Shopify makes it easy for users to subscribe to email marketing—an eCommerce staple. In Shopify you can also add customers manually or import a list from a .csv file.

Wix basically offers the same but on a more basic level. Customers can become a member and create a login to save time for repeat purchases.

Wix doesn't have all the features and flexibility that Shopify offers but it is by no means faulty in this area. It's just, in this case, Shopify has the edge.
b. Payment options
Ah, payment, the key element of your online transactions. As you'd hope, both have the basics of modern currency exchange on offer. But let's dig a little deeper…

Paypal, Apple Pay, and Google Pay are all supported by both Shopify and Wix. Additionally, you can forget about having transaction fees for credit cards. Both allow for offline payments and for payment via Facebook and Instagram's system as well.

By using apps, Shopify has a slight advantage in allowing payment through a couple more social media platforms (Pinterest, Amazon, and Etsy). Also, Shopify is more flexible when it comes to paying with multiple currencies—Wix doesn't at all. This may make Shopify slightly more attractive for businesses thinking about overseas buyers. But in either case, you will find transaction fees outside of a set list of countries.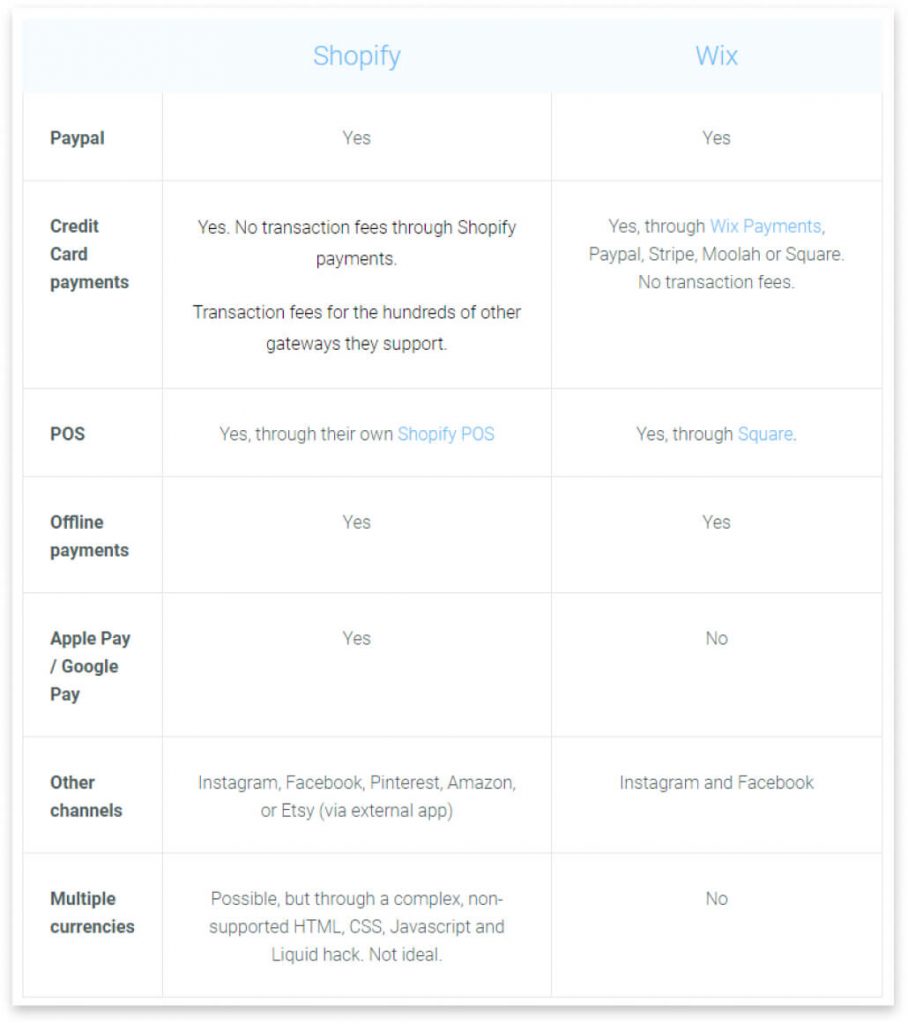 c. Multilingual capacity
The capacity to have more than one language on your website enhances your appeal with a multilingual customer base.

Apparently a long-time sore point, the only way to create a storefront with multiple languages on Shopify is through a back-door method through third-party paid apps or by investing in an expensive bilingual theme. The only other way is to opt for the Shopify Plus plan which gives you three languages and will set you back 2,000 dollars per month.

Wix does have multilingual capacity which is a bonus. However, it is lacking the ability to do SEO in other languages which negates this benefit a bit. Ultimately, Wix's capacity in this area is better than nothing but still could be better.
3. Feasibility for businesses
So, let's take stock here. We've looked at the set-up. We've looked at the customer experience. We have seen how both Shopify and Wix each have their strengths and weaknesses in this area. Let's look at the general metric of business feasibility.
a. Pricing
A key question for business feasibility is, "how much is this going to cost?" Whether the benefits outweigh the costs is a wise and necessary consideration so how Shopify and Wix compare in this regard is key.

A basic plan with Shopify costs $26/month. This will do most of what you need but if you are after more bells and whistles then there are plenty of more expensive plans with accompanying features. Sticking with the basic plan will limit your staff accounts and will add on transaction fees unless using Shopify Payments. Unfortunately, it can be a bit of an off-putting surprise to discover these fees.

Wix at its most basic for eCommerce will take $23 out of your pocket each month. Like Shopify, there are more expensive plans offering flashy features ranging up to $500/month. With all plans, there are no transaction fees and there is no limit on staff accounts. Although this seems to put Wix well ahead of Shopify, unlike Shopify, Wix does limit bandwidth and storage capacity in its more basic plans. And yes, what they give at its most basic is generous; it is still worth mentioning.

Since it's more straightforward and cheaper, Wix is the more affordably priced of the two platforms in terms of pricing. This one consideration may be enough to sway online entrepreneurs towards Wix but care should be taken to keep in mind storage and bandwidth capacity which may be of more relevance as your business grows.
b. Platform Apps and Add-Ons
Providing an incredible variety of ways to customize and optimize your online store and marketing strategy, apps and add-ons are virtually essential to success. The apps available are nearly as important as the features of the platform itself since apps can be incredibly useful at enhancing the way you sell your product.

In this evaluation, Shopify certainly comes out swinging with tons of apps—over 1,500 in fact! All of them are designed for one thing—to make you win at eCommerce.

Wix also has a huge range of apps. From website layout enhancement to marketing tools, Wix has it all! The difference comes from the fact that Shopify's apps are largely eCommerce-focused, while the apps for Wix are able to amplify the website as a whole. This may not matter too much but it is worth considering that those solely business-minded may find themselves filtering out apps on WIx that are irrelevant to them.
c. Customer support
Problems happen. No software is perfect and we expect that—the real issue is how quickly issues can get resolved. Customer support and availability is essential. A major issue could cost you thousands in missed sales while a minor issue could be inconvenient or slow down work.

Shopify's customer support game is largely on point. You can get in touch via chat, email or phone 24/7. In addition, their tutorials are helpful and their community boards often contain solutions to problems. There is also a marketing blog which is helpful.

Wix also has a valuable marketing blog and a large and resourceful community. Direct support is only available via phone calls or on their forums and only during business hours. This means night owl businesses will have to wait until the morning to get responses.

Purely based on its around the clock availability, Shopify wins this test.
4. Wix vs Shopify: Which one is better for your business?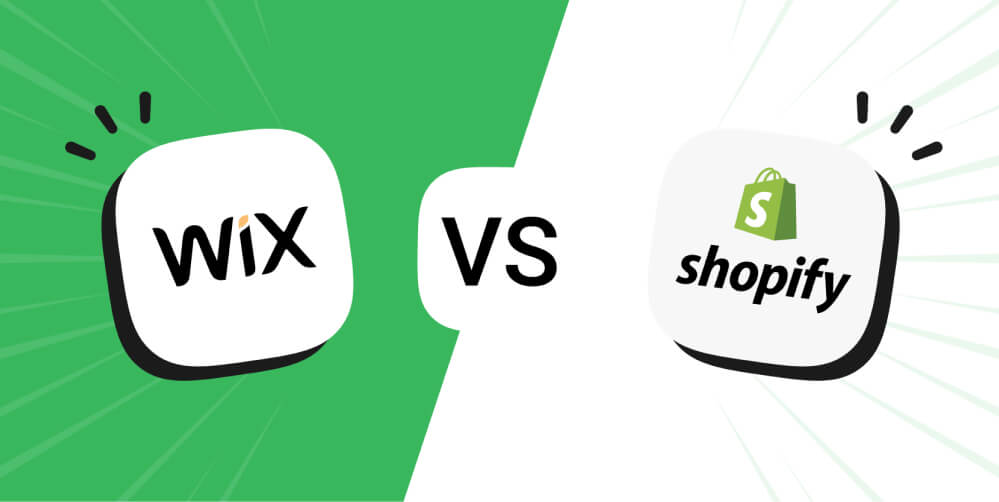 So which is better? Shopify or Wix? Both are fantastic platforms for getting your products onto the online marketplace and have great features for making your entrepreneurial dreams a reality!

They aren't the same, however, and it is worth sitting down and thinking through your business objectives before deciding on Shopify or Wix.
In case you want to migrate store data from your current eCommerce platform to Wix or Shopify, use the Cart2Cart service. It has all the necessary functionality to automatically transfer all your products, customers, orders, etc. without affecting your sales or customers.

Conclusion
With its inbuilt features and readily available customer support, Shopify seems to be the better option for serious large-scale eCommerce operations. On the other hand, if you are looking for design flexibility, content showcasing capabilities and an easy way to build then Wix is perfect for boutique online store owners.