As an eCommerce store owner, creating a good product and presenting it creatively do not ensure good sales anymore. Instead, the eCommerce market has become oversaturated and changed drastically over the years.
Simply put, whatever you're offering, ten others are doing the same with a different brand identity. So you'll have to perform and stand out on multiple fronts to generate good revenue. Luckily, the Shopify app store has thousands of apps to help you out, but trying each one out is impossible. If you want to automize your workflow, manage inventory, and devise marketing strategies using the latest technology, check out this list of best Shopify apps to get started right away.
Tada for Exit-Intent Pop-Ups and Push Notifications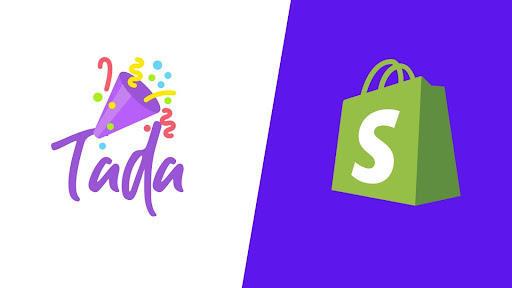 Did you know that the success rate of selling to an existing customer is around 50-60%, while the likelihood of acquiring a new customer is only 5-20%? Besides that, a typical visitor will leave your website within 10-20 seconds if you don't give them an incentive to stay back.
When a customer visits your website, they are already interested in your brand. If they are leaving for whatever reason, all you need is a little push to make them stay. An exit intent pop-up notification can easily do that for you.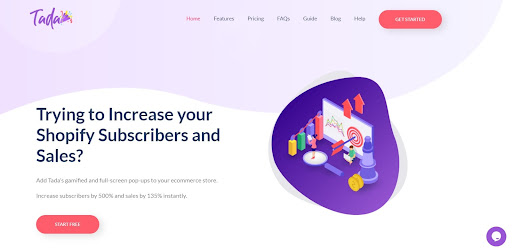 Whether you want to offer a discount code or wish to update them about the products in their cart, an exit-intent pop-up can help you do that. Using Tada, you can add catchy and customized pop-up ads that match your brand identity to keep your customers on your website for longer intervals.
Most importantly, you can add gamified push notifications with Tada. Instead of offering a discount code for free, you can engage your customers to play some games to earn loyalty points.
This keeps them on your website for longer and gives them a sense of achievement. Believe it or not, 58% of customers shop at stores where they have reward points at least once a month. So, head over to Tada and increase your conversions with gamified push notifications.
TrustPulse for Social Proof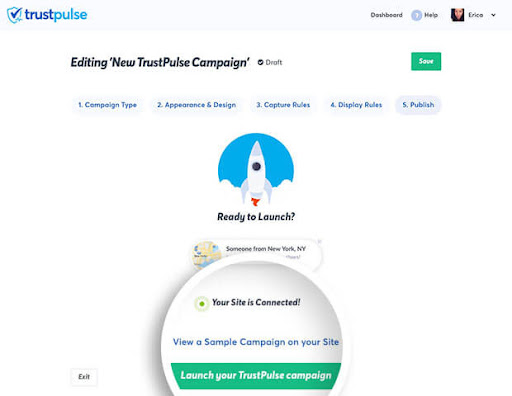 So, you've created a high-quality product that's absolutely the best in your niche? Great. But how are you planning to get your customers to take your word for it? First, you'll need a social proof extension for your Shopify store.
TrustPulse is a reliable social proof app that integrates to your homepage and various other website pages. Then, it shows pop-up notifications whenever worldwide customers conduct an activity such as making a purchase, filling their cart, or signing up on your website.
Naturally, when a new visitor sees people constantly making purchases with you, they are more likely to follow suit and trust your brand with their money. Moreover, shoppers who get recommendations from other buyers like them are 92% more likely to shop from your store compared to those who don't.
Building social proof through TrustPulse can be the ultimate solution for increasing your conversion rates. Furthermore, TrustPulse is an easy-to-use app that provides actionable stats and accessible customization options.
The best part is that it is highly affordable for new eCommerce businesses and compatible with other Shopify apps.
Easyship for Easy Shipping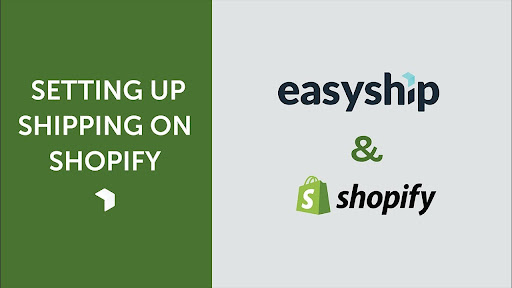 The biggest mistake eCommerce store owners make is maintaining their website appearances without paying any heed to the internal management of their business. Easyship helps you target the biggest obstacle in your business operations and extend your reach beyond local customers.
It is an all-encompassing free Shopify app that helps your products reach global customers with lower shipping costs. With around 77% of all online shoppers abandoning their cart because of high shipping costs, using this app can be a game-changer for your business.
The easy-to-use app helps you connect with delivery services worldwide and automatically negotiates the best prices with them. Besides that, the app provides you with a customized dashboard where you can monitor all your shipping details, such as order management, receipt printing, invoice generation, and product dimensions.
In short, it can help you increase customer satisfaction and ensure return orders by simplifying the shipping process.
Stocky for Inventory Management
While growing your eCommerce business, managing your inventory can become the most troublesome task.
If you expect more purchases and store lots of inventory, you'll end up wasting resources on warehouse rent and storage charges. But on the other hand, keeping your inventory low could delay your shipping process and lower overall sales.
Luckily, Stocky can help you automize your inventory management so you can track the status of all your products and get hands-on analytics within minutes. The app stores your inventory details and makes intuitive suggestions so you can make profitable decisions with ease.
You can close more sales and generate more revenue by making the correct market predictions and keeping the right mix of products in your inventory.
Conversific for Profit Analytics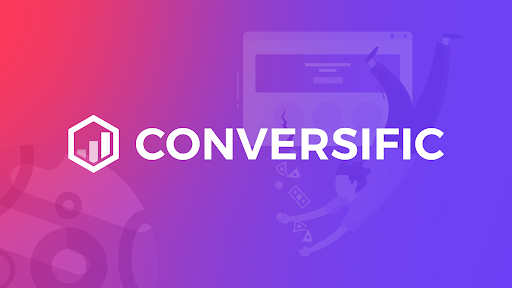 Do the concepts of gross and net profit confuse you? If you're a creative person with minimal knowledge about business, such confusion can quickly get you into trouble as you grow your business.
Conversific can help you clear the clutter by presenting intuitive profit analytics. Using the insights on this app, you can calculate your overall sales, site performance, annual conversions, and bounce rate.
This way, you can gauge the performance of your business and take measures to improve your profit metrics.
Besides that, using Conversific metrics, you can check whether your marketing and customer retention strategies are working or not. Ultimately, you can make better decisions regarding the management of your business for further growth.
Conversific offers a free plan for beginners, unlike other conversion rate analysis apps. So, you can start at once and only pay when the app proves to be beneficial for your business.
You may also like: Must-Have Shopify Apps For Ecommerce 2022 | Boost Leads & Conversions
Constant Contact for Email Marketing
Did you know that around 29% of business owners rate email marketing as their go-to marketing strategy? Similarly, the model is used to disseminate content by about 87% of all online marketers.
So, if you haven't integrated an email marketing strategy into your eCommerce store yet, you should start with Constant Contact right away. It is one of the largest email marketing apps on Shopify, with the highest ROI compared to other email marketing apps.
What we love about this app is its room for customization and personalization. For example, you can design every email to send to your customers and prospects with your unique brand identity.
Besides that, you can segment your email list and send emails accordingly. Your subscribers will never receive irrelevant emails that lead them to unsubscribe to your website.
Similarly, the app lets you monitor your email strategy metrics. For example, the app lets you know how much profit you're generating through your email campaign by displaying intuitive graphs and charts. These metrics include open rates, return purchases, and ROI. Furthermore, the app also facilitates A/B testing. You can figure out which content works well with your target audience and use it to grow your business. Unfortunately, the platform does not offer a free plan for new users, so you will have to pay for their services upfront before getting started.
Smile.io for Loyalty Programs

Who doesn't like free stuff? A simple gesture of appreciation can go a long way when you plan to grow your Shopify store. The best way to show your gratitude to existing customers and ensure they return with a return purchase is to devise an attractive loyalty program.
Smile.io is a catchy and user-intuitive rewards app that lets you engage your customers through loyalty programs. The app awards your regular customers with points for completing various tasks on your website. These tasks include creating an account, following your brand on social media, sharing product images, and conducting repeat purchases.
The more points your customers accumulate in their accounts, the higher their likelihood of making further purchases from your store.
The best part is Smile.io lets you completely customize your loyalty program. So, you can decide the tasks through which you want your customers to receive rewards and design the pop-up notifications.
While its services come at a relatively high price, Smile offers a free plan to help you get accustomed to it before you start paying.
Ultimate Sales Boost for Creating Sales Urgency
Consumers tend to procrastinate when purchasing due to various reasons. These include price uncertainty, price consciousness, confusion, and sale proneness. In this case, you'll have multiple abandoned carts whose owners were genuinely interested in your products.
Regardless of the reason for their cart abandonment, you can get them to accelerate their decision by creating sales urgency. This task can be easily accomplished by integrating Ultimate Sales Boost into your Shopify store.
The app lets you add countdown timers, stock warnings, sale end updates, and other features to your website to facilitate fast conversions.
Through these techniques, customers don't get the time to give a second thought to their purchase and fear losing out on the product. Ultimately, this increases your conversions by simplifying the decision process for procrastinating consumers.
Besides that, the app also helps you add other features that ensure your customer does not leave your store without making a purchase. These include BOGO checkout deals, free shipping urgency, accessible payment gateway icons, location targeting, and trust badges.
You can start using its basic five features for free and only pay for the app when it starts genuinely generating revenue for your store.
Tidio for Live Chabot Integration

Regardless of the attractiveness and quality of your products, it is pretty challenging to get customers to part with their money. Most importantly, their questions and queries about your services and products may lead to significant roadblocks in their decision-making process and reduce your conversions.
To solve this problem, the best way is to use Tidio and add an automated customer service program to your eCommerce store. Its live chat option lets you communicate with your customers in real-time and provide prompt responses to their queries.
Furthermore, you can save default chat flows on the app for frequent conversations and save time. With the help of AI, you can quickly figure out the most common queries your clients have and keep them to your chatbot.
Most importantly, the app lets you clear the clutter by managing the messages from multiple portals on a single panel. As a result, you don't have to worry about ignoring a customer's request and missing out on a purchase. If you're planning to grow your Shopify store globally, the chatbots can speak multiple languages. This way, customers from various nations can easily communicate with you and gain information about your products to finalize their purchases.
iCart for Upsells and Cross-Sells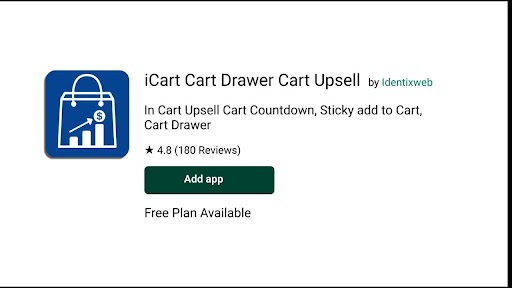 What if we told you there was a way you could get your customers to spend more on your website? Cross-sells and upsells have the potential to increase sales by 20% while boosting profits by up to 30%.
Using iCart, you can easily revolutionalize your shopping cart and entice customers to buy more from your store. The app lets you add everything from discount offers, countdown timers, inventory updates, and product bundles.
When a customer adds a product to their cart, the app recommends two or three other relevant products. These might be based on the customer's shopping habits or frequently bought products.
This way, you can optimize your conversions and increase your average cart value. Additionally, the app is easy and intuitive to use and does not require any coding knowledge to operate.
All you have to do is download the app and customize its features according to your brand aesthetics. So, none of its icons will seem out of place on your website when customers try to complete their purchase.
Final Words
While the eCommerce space is developing at an astounding rate, various Shopify apps can help you keep up with your competitors. However, you'll have a hard time selecting the apps that fit your needs from the plethora of options available.
Before downloading the best-rated apps, you find on the internet, list the aspects that need growth within your store. Similarly, jot down your brand's unique needs so you can use the ideal apps that help you grow your store the way you want.
Most importantly, consider the prices and confirm the potential ROI before integrating a new app into your store to ensure it is worth more than its cost.
Also read: How To Level Up Your Marketing Plan in 2022