With only a quarter left of 2019, marketers might want to watch out for the social media trends coming up in 2020. With the months gone by so far, one thing is for sure; social media trend space is a must-watch for any entrepreneur or company. Social media will inevitably continue to dominate the market space for all upcoming as well as contemporary brands. Hence, only the deepest knowledge of the same will leverage a brand with success. Markets may change, but social media is here to stay, and so is the rapidly increasing involvement of customers with them.
Hence, the best way to tap the potential of this wide market is becoming fully versed in the following trends.
Social media trends 2020
1.     Value interaction
No matter the year, customer interaction will never lose its value. Brands that make the maximum effort to reach out to the customers will be able to tap the market. Moreover, chatbots and messengers have enabled entrepreneurs to respond to the queries of the customers at run time. When it comes to building trust, nothing can devalue prompt communication. Companies have a highly unprecedented means of direct communication by reaching out to them on an individual basis through social media.
Companies like Uber have been responding to feedback and complaints of the consumers over Twitter. This trend is one of the most perennial ones, and it's high time that companies make use of it to their advantage.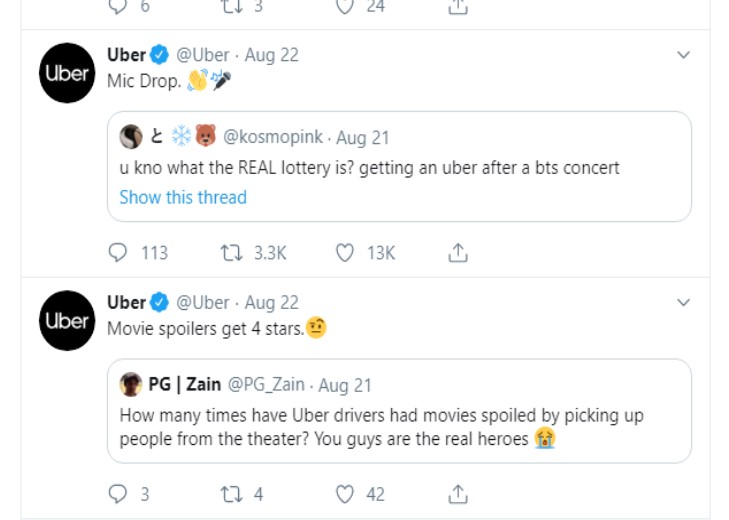 Image source: Uber
2.     Storytime
Stories are becoming the go-to social media trend not only on Snapchat but Facebook, Instagram as well as WhatsApp! Business owners, particularly the newly emerging ones, are using stories effectively to showcase some curiosity inducing media. In addition to this, the account holders can see the number of people taking out time to see their stories. With the analytics tools, this data can be utilized further to design their stories to engage with their customers with variegated interests in a much more personalized manner. Stories are proving to be a highly addictive feature for the audience owing to their transient nature. Companies can effectively use them as their online billboards.
3.     Influencing around
Influencer marketing has increased over the past few years to the extent that now consumers are over this trend. Consumers are unable to relate to the content and are also typically tired of the way products are now being marketed. This marketing strategy is no longer regarded to be the most genuine one and has lost its sheen. However, companies can switch to moderate influencers with relatively lower followers contingent.
The reason behind their popularity is the fact that they not only seem more relatable but also are pretty authentic with what they post owing to their low following. Additionally, niche influencers can also be roped in by capitalizing on their quirky and unique ways of showcasing their posts. Additionally, companies can easily use their employees as influencers.
Brands like Amway, build up their empires by building a community that not only work for them but also use their products and recruit other users based on their own experiences. Influence marketing cannot get any more real!
4.    Play upon the visuals
The popularity of Instagram over Facebook and other social media outlets has proved one point for sure that the future is all about the visuals and pictures. Even the searches will soon be employing images, and the keywords are going to become redundant. Hence, when it comes to the social media trend for 2020, marketers need to be incredibly creative with images that they share. In addition to this, companies need to plan out their content in an innovative manner by incorporating customer engagements. The idea is to include the diversity of the audience, cater to the requirements, and essentially deliver a message that resonates with the mass.
5.     Go Live
There cannot be a better time to spread the joy around. Social media is allowing people to live stream and do live videos no matter where they are. Companies can easily use this to their advantage. Let the audience share live videos at concerts or other simpler events sponsored by you. If possible, bring out a hashtag to build up a community centered around the same. Even the brands themselves can live stream events, interviews, and seminars and spread the word around. This way, the brand awareness not only reaches a larger audience but also can attract scores of trusted followers. Companies are also availing the option of coming up with sponsored filters on Snapchat, but this needs some budget.
6.     Build up the trust
With social media becoming an insightful tool for marketing, the ubiquitous tool has also enabled companies to share details like never before. Marketers can not only get a more in-depth reflection into the lives of their customers but can now play the card the other way round as well. Share background stories, pictures of employees at work, back end manufacturing, and behind-the-scenes details in 2020. There is no better way of building trust than showing the consumers as to what is going into their product. This is a great way to build up the audience, especially for food and beverage companies. Even the fashion houses are now sharing incredible behind the runway scenes, which attracts the audience even more.
7.     Data analysis
Social media has been a hub of activity for not only the end customer but also brand owners. Hence, each new social media trend can be easily fared using the analytics offered by social media. Moreover, clubbing the analysis from different platforms and then playing on them has never been this easy.
8.     Gamification
Gamification, another social media trend, is on the rise. If a business wants to offer something extraordinary and attractive to the visitors, then this is possible through gamification. But, how does this work? Many brands are combining game mechanics with social media to create the most effective marketing campaigns. It not only grabs the attention of the e-commerce store visitors but also encourages them to participate in the activities so that they can win various discounts and coupons.
Tada is a pop-up app that offers personalized pop-ups to capture the visitors before they leave the website, and directs them to the social media channels of the business. Further, these gamified and elegant pop-ups can take your social media strategy to the next level.
Social media trends are accomplished skills, and marketers need to achieve it before the onset of the New Year. With 2020 round the corner, most social trends are here with a whole new margin to master. Hence, it is becoming imperative for the brand owners to play up the opportunity to get ahead in the game.