When making shopping decisions, buyers put a lot of weight on the experiences and opinions of others.
In fact, over 70% of consumers say they look at product reviews before making a purchase.
Not only that but the case of having product reviews on your Shopify store is proved by the stats:
81% of people who seek out the opinion of others online before making a purchase are categorized as millennials
54% of shoppers read at least four product reviews prior to purchasing a product
And people are leaving reviews for businesses too
47 percent of all internet users worldwide say they post reviews about a product, company, or service each month
If you want to know how having a lot of customer reviews on your Shopify store can have a huge impact on your conversion rate, take a look at this stat:
Conversion rates of product pages with reviews are up to 3.5 times higher than those that don't
All this information proves that having reviews on your store improves trustworthiness, SEO ranking, and it may even improve your business' sales.
However, getting reviews can be a pretty challenging and daunting task, especially if you don't have any sales yet.
In our article, we will be explaining how to get more product reviews for your Shopify store with the following steps:
Make leaving a review simple
Display your reviews
Respond to reviews
Ask buyers for reviews
Offer rewards
1. Make leaving a review simple
The first way that you can increase the chances of getting customer reviews is by making the entire process as simple as possible!
You can do this by putting direct links to your review profiles in various places like emails, newsletters, and websites.
When you ask for a review via email, keep your ask brief and engaging so that the entire process becomes easy and convenient for each customer who comes to your Shopify store.
In your email, you should give simple, instructions. One of the best ways to give instructions is to say something like this
Thanks for your order [customer name],
Product reviews mean a lot to us. Could you send us a selfie with your new boots on?
We'd love to give you a $20 gift card to show our appreciation.
Just click here to leave your review|
Avoid including complicated instructions and multiple steps; customers might lose patience and leave the process in between.
Additionally, you can make a tutorial that will help your customers learn how to share their feedback and where they can post it.
Whatever you do, just make sure it is on brand and easy to understand.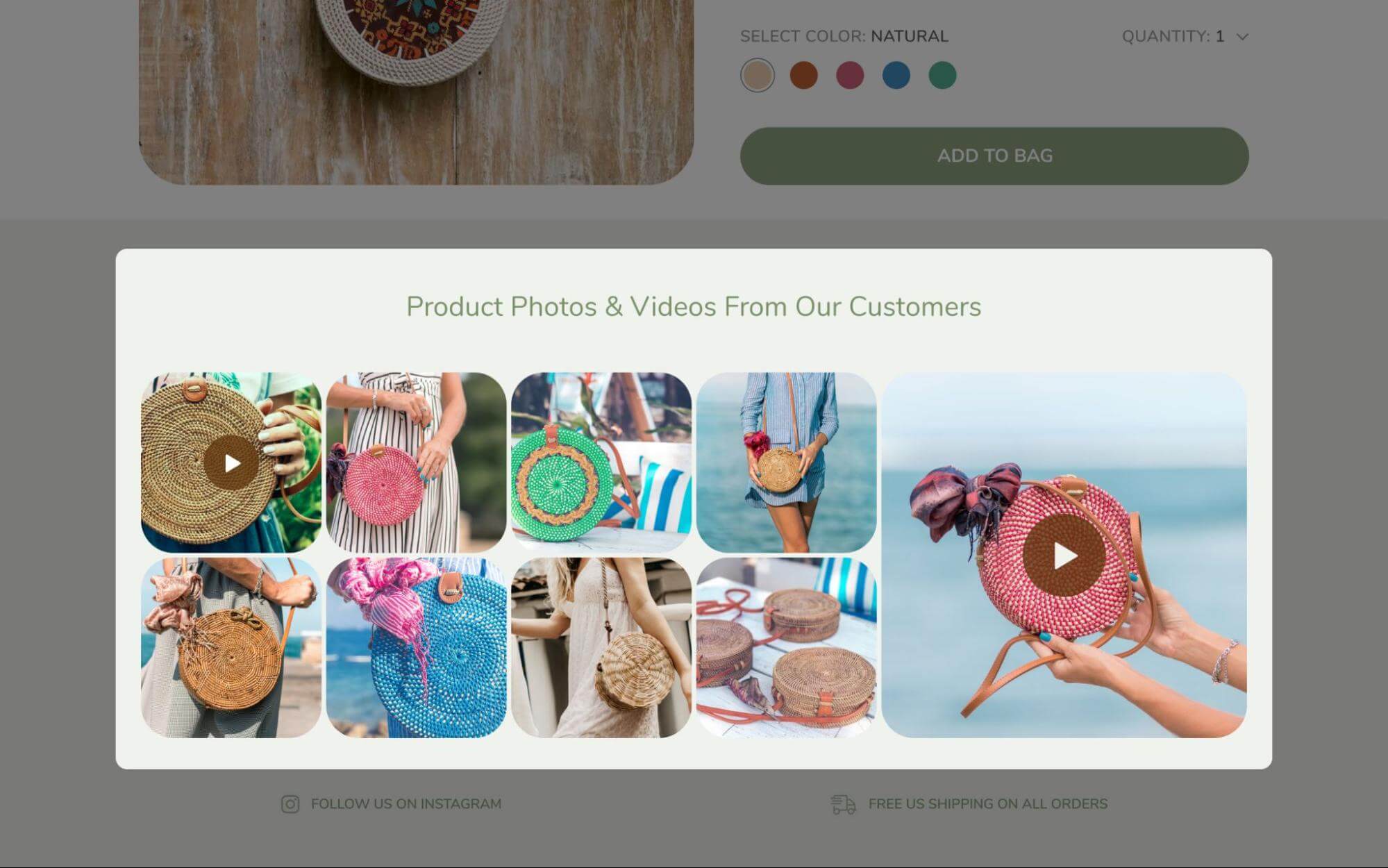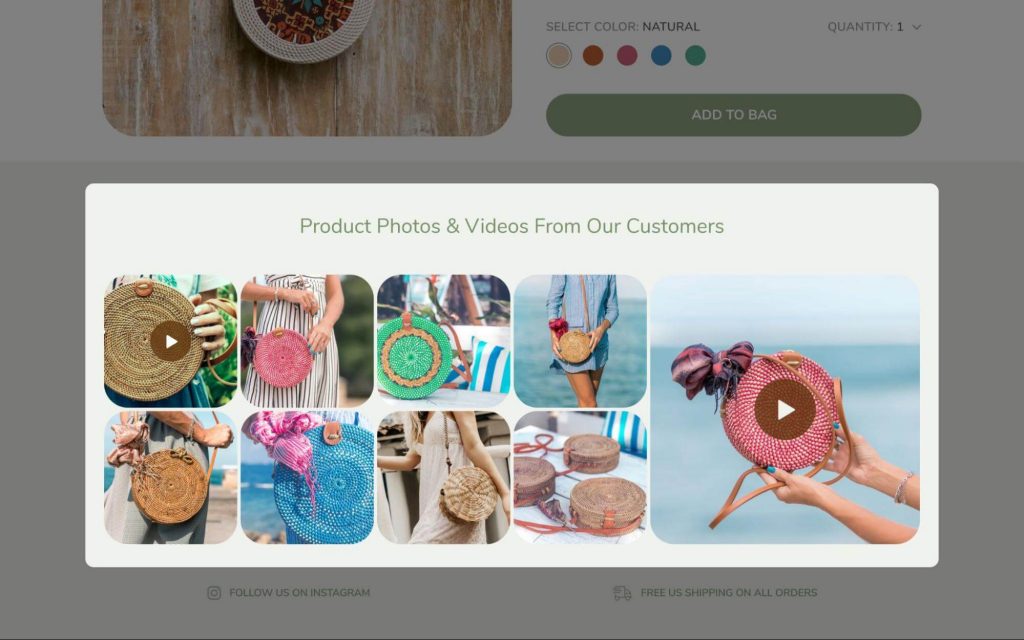 2. Display Your Reviews
Whether positive or negative, you should be proud of the reviews and display them on your Shopify store.
Preferably, you should place them below the product or service section. With Fera.ai, one of the most popular review apps, you will be able to easily show great-looking customer review lists, ratings, photos/videos & more in your storefront.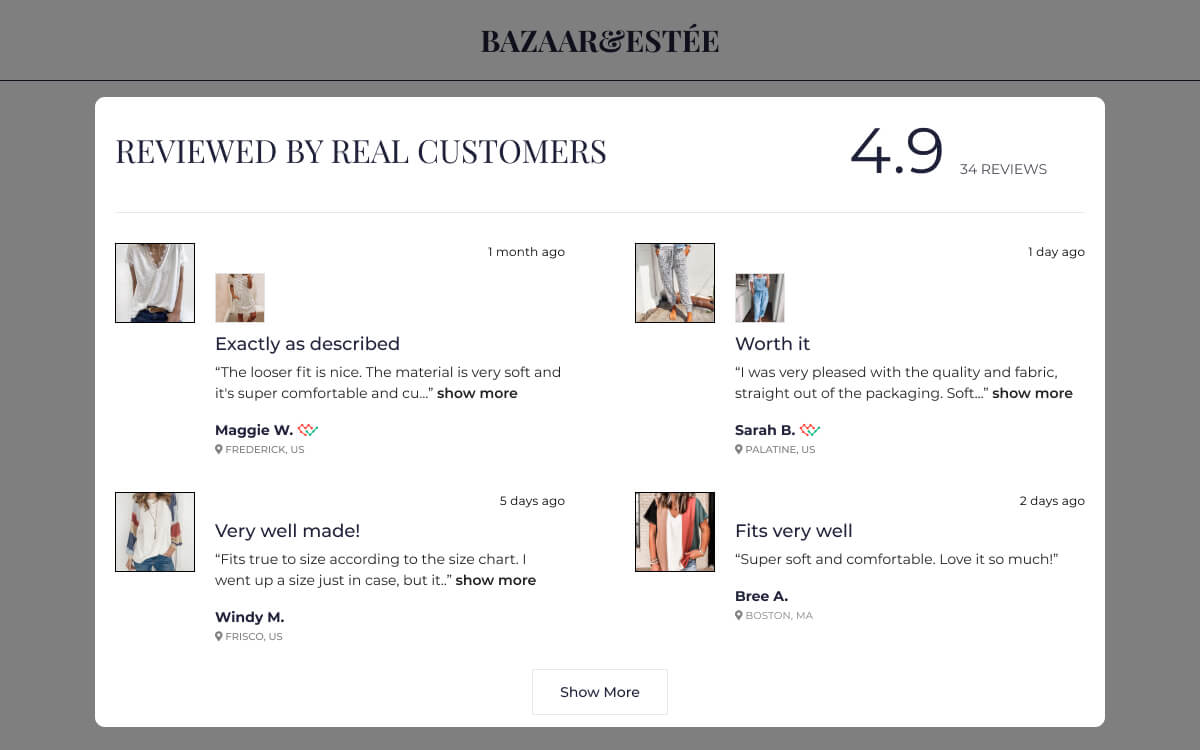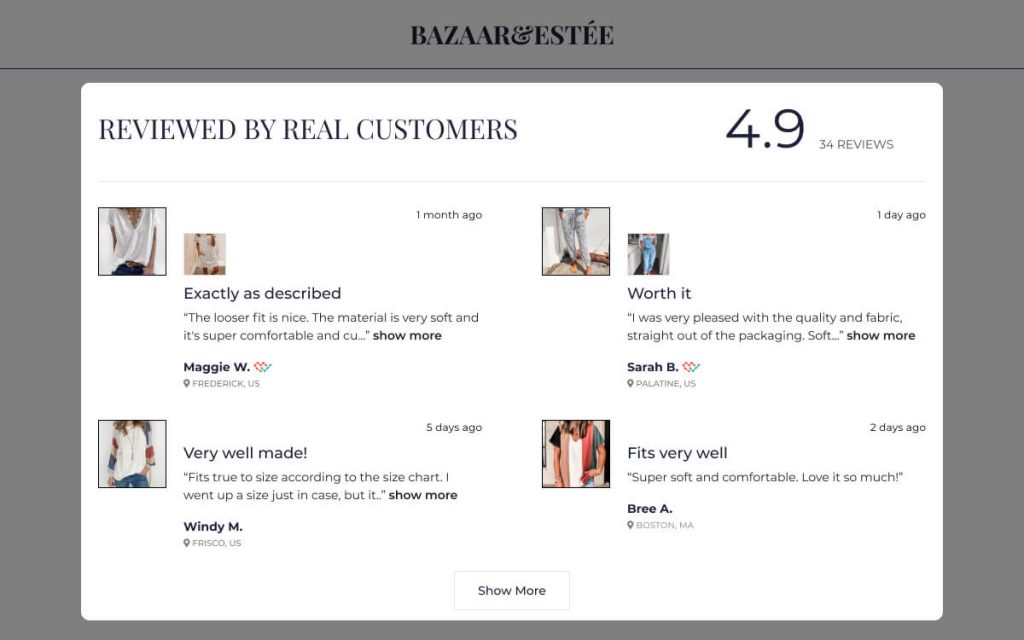 Display Customer Reviews On Shopify Store
3. Respond To Reviews
You should monitor your customer reviews regularly to see what buyers think about your store/brand and products.
That's because customers expect your brand to be engaged. The stats show that 53.3 percent of customers expect businesses to respond to their negative reviews!
Along with that, you can even reply to the reviews in public. This will show future customers that you actually take the time to go through their reviews and value their opinions.
Therefore, they are encouraged to post a review about the product or service, as well. Your customers will also understand that you are willing to take negative feedback into consideration and make the customer experience better.
4. Ask Buyers For Reviews
Don't be scared to reach out to your customers and ask them if they have the time to post reviews about their experience with your product or service – the worst that can happen is no action is taken or they say no.
To make the whole thing a lot easier, you should set up automatic request emails that go out to customers after they make the initial purchase.
This will significantly reduce the time and effort in sending out an email request one by one.
Furthermore, you should take the time to send emails at the right time.
Try sending email requests at a time when you know your customers will have their product in hand.
Depending on the review app you use, you can set a specific date when the email should be sent and enable or disable "second-attempt" emails.
You should also take care to customize the email's body style and color to keep your brand experience seamless.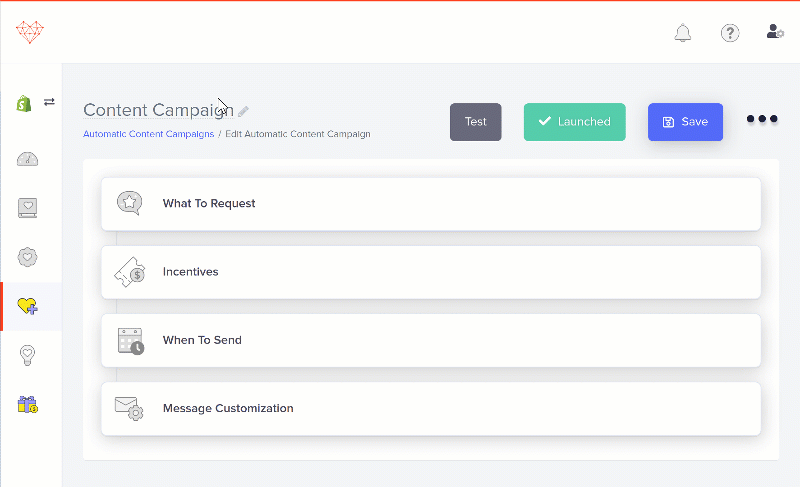 Automatic Email Request
5. Offer Rewards
Simply asking for reviews is great, but some buyers will need a little more extrinsic motivation to invest the time required to write up a review. And, the best way of doing this is to offer an attractive reward, such as coupons, discounts, and loyalty programs.
I mean, really, who wouldn't want to make a bargain in exchange for a few words?
Best of all, incentives can also encourage repeated sales which is a huge bonus in terms of sales.
For example, if you offer your customer a $20 coupon to put towards their next sale, not only will you get a review from them but also an additional sale!
So, it's really a win-win situation for both you and the customer.
If you don't want to wait until after the sale to offer a reward, you can give your shoppers the chance to win a coupon code. Use Tada for upfront incentives that tap into your visitors' psychology and motivate them to buy instantly and buy more.
Conclusion
There you have it!
These were the top 5 ways that you can use to your advantage and gain more customer reviews for your Shopify store.
Fera makes it easy for you to receive more authentic reviews, leverage them in marketing, and practice them to improve online sales conversion rate, SEO, and more.
If you have any type of questions or concerns regarding this topic, feel free to reach out to us by email or on social media!