You have finally laid the groundwork for your Shopify store by stocking inventory and integrating traffic-driving mechanisms. By now, you should expect customers to purchase your items by the hundreds every day. But, unfortunately, that's not how it works.
Even if you've put in some significant hardwork in creating your Shopify store, getting customers to click the 'buy' button is a challenge in itself. On top of that, with the US eCommerce sector reaching around $4.8 trillion in value, the competition is only increasing.
So, is selling on Shopify still profitable in 2021? If so, how do you increase your Shopify sales and store conversions? Read through this article to find out.
What Does Conversion Rate Mean?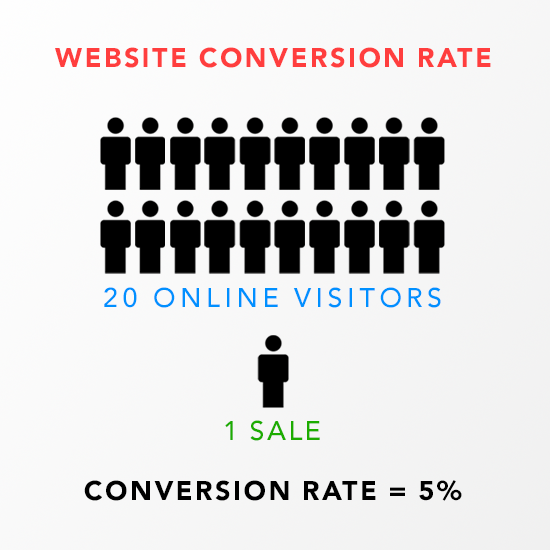 To check your Shopify sales metrics, all you have to do is access your store's analytics dashboard. Here, you'll see your visitors divided into three parties according to the pages they reached on your store.
This information can help you track the deviation point of potential customers and devise a mechanism to increase your Shopify sales.
Should You Be Concerned About Your Conversion Rate?
To be honest, no matter how much effort you put into refining your product, you won't earn any substantial profits until you work on your conversion rate. Increasing your Shopify store conversion rate is one of the most cost-effective ways to improve your revenue in a short period.
Apart from that, there are numerous other reasons you should pay attention to your conversion rate. Firstly, it gives you insight into your customers' behavior.
Using this information, you can tell whether the audience visiting your store receives the value they hoped for when they landed on your page. Secondly, it tells you crucial facts about your overall user experience.
For example, if your landing page is confusing your visitors or if your product descriptions are causing ambiguity, conversion rates are the best way to know for sure.
Thirdly, you can use your conversion rate to rope in previous customers and generate more revenue. This concept is also known as remarketing. It involves targeting interested individuals, turning them into customers, and streamlining your marketing techniques for future sales.
These factors imply that simply using your conversion information can help you sell your products in a better way and pile up your profits on Shopify.
What's The Ideal Conversion Rate on Shopify?
Now that you know how increasing your conversion rate can make your business profitable, you're probably wondering if your current rate is good enough. Well, it highly depends on your product range and your target audience.
However, according to data collection reports, a conversion rate of 3.6% puts you in the top 20% of all Shopify stores worldwide. This means, if you have a conversion rate of 3.6% or higher, you should work on other tactics like marketing and reducing delivery costs to increase your profits.
But, if your conversion rate is lower than that, it means that your store is only able to turn 1-2% of your total visitors into actual buyers. In this case, working on your conversion rate is one of the easiest ways to hike up your profits.
So, are you planning to increase your store conversion on Shopify and earn more money than you currently do? Then, check out this list of tricks below to start working on your motive right away.
Top 10 Tricks to Increase Store Conversion in 2021
1. Optimize Your Product Display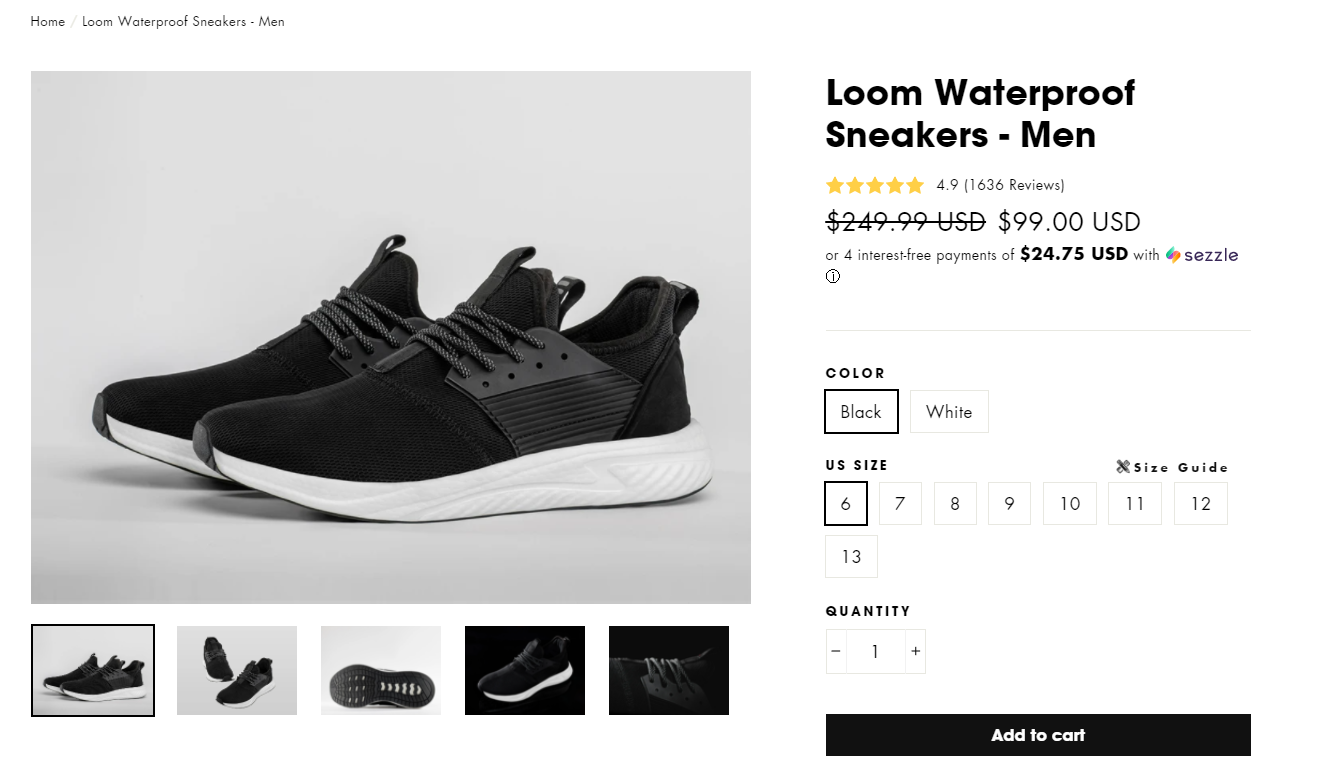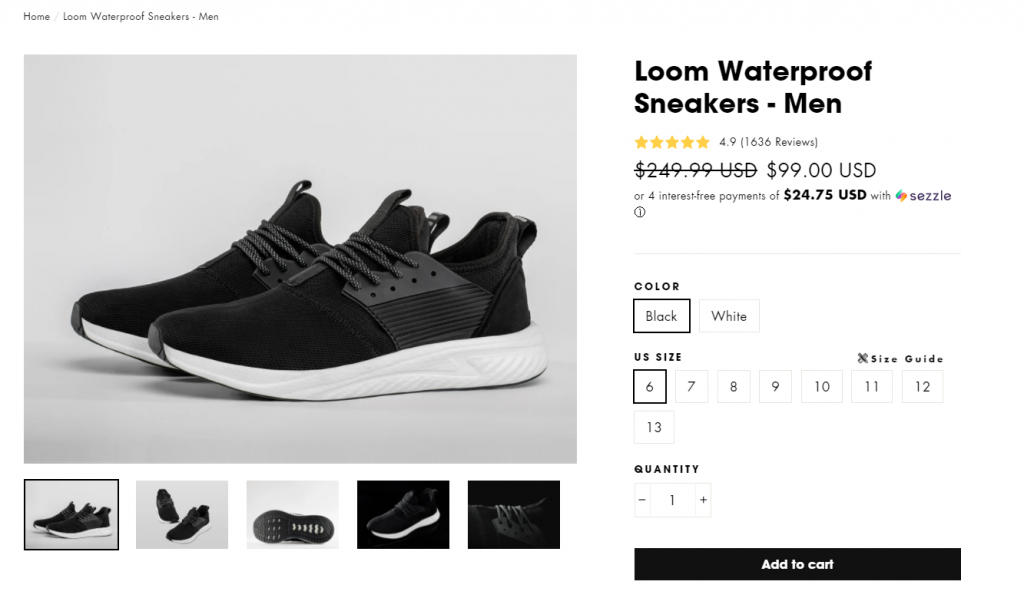 Your products might be the best ones in the league, but your visitors don't know that. That's why you need to make sure your products are the stars of your Shopify store by optimizing the way you display them.
First of all, use nothing but high-quality photos of the products on your Shopify store. Lousy product photographs and good ones can make all the difference for whether the visitor moves towards your check-out page or not.
Most importantly, make it a point to include pictures of your product from multiple angles. This helps the customer get a clear idea about their purchase by touching or feeling a product in a physical store.
Additionally, you can add a zoom-in feature to let them examine every detail of your product.
Similarly, adding an informative GIF or video to your main product page can do wonders as well.
You see, customers looking to buy stuff online can never be too sure about the product quality. In this case, if you go the extra mile to explain your brand and product in detail, it helps build trust and increases your conversion rate.
Apart from these, there are various types of videos you can add to your product page. These include user demos, tutorials, and customer testimonials. Besides that, research shows that 72% of all visitors would prefer to watch a video rather than read text descriptions.
2. Add Meaningful Content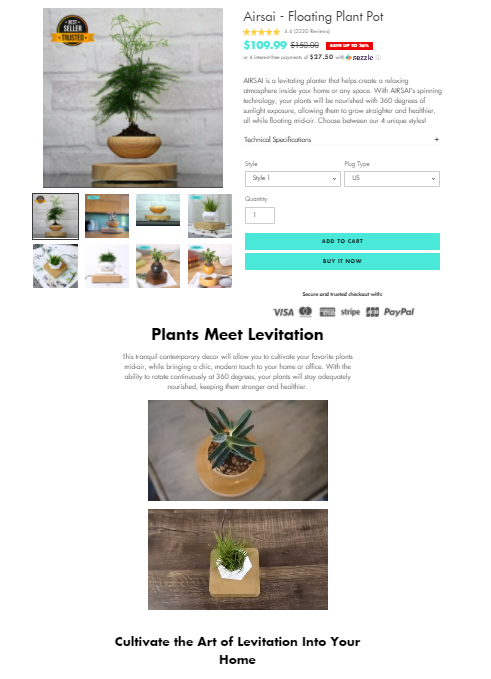 Including images and videos on your product page does not mean you should skip adding content altogether. Whether you are using your Shopify store for dropshipping or selling your products, you should include a useful and valuable description to increase sales.
Apart from product descriptions, make sure the content on your landing page reflects your brand identity. Remember, the more information you share, the more customers will trust you and buy your stuff.
You can even think about using content marketing to leverage your Shopify sales. These include publishing newsletters or blogging about your products or industry.
Another beneficial aspect of meaningful content is that it helps generate organic traffic on your page. This means more visitors looking for products like yours will be able to view your page online and reach it to make a purchase.
3. Create Targeted Email Campaigns
Email campaigns and pop-up ads can be pretty annoying for customers. However, if you use this technique effectively, you can bring back customers who were previously interested in your products and services.
The best part is, you can find many online platforms to devise the ideal email and pop-up ad strategy for your brand. Websites like Tada analyze your brand and products to produce the perfect email campaigns worth every penny.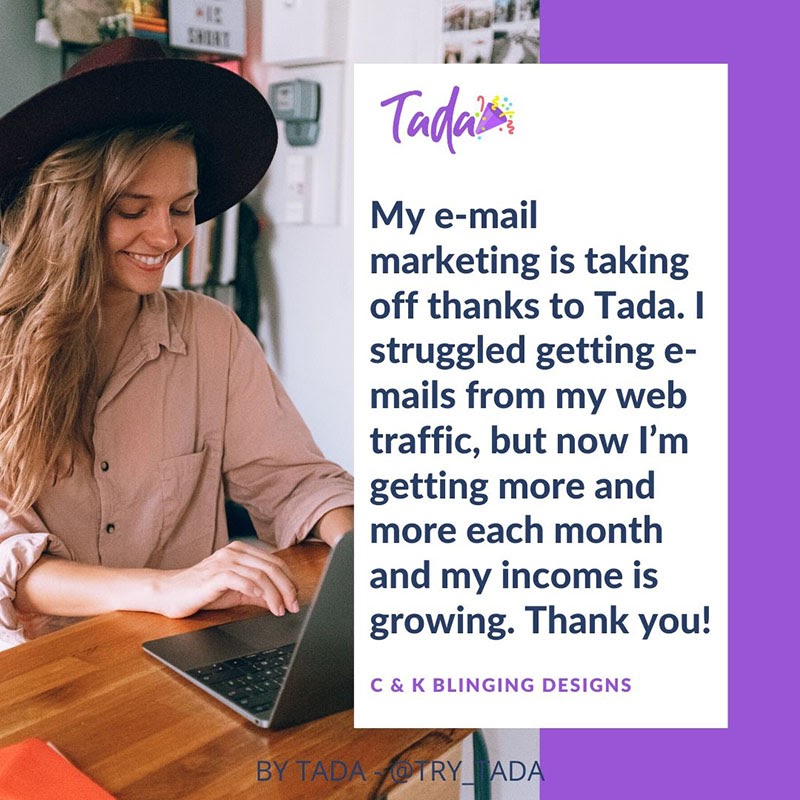 Yes, you'd be investing into these campaigns from your pocket, but they have quite a high return as they bring in more conversions.
These campaigns collect crucial information about the behavior and intent of every visitor who reaches your store. After that, you can divide these visitors into categories and send them emails related to their actions on your page.
For example, customer categories would include frequent buyers, first-time users, and cart abandoners. Similarly, your email content could range from promotional, greeting, cart reminders, remarketing, and product recommendations.
4. Bring Back Cart Abandoning Customers
With the increasing competition in the eCommerce sector, only a handful of your target audience will reach your Shopify store. The organic traffic you generate depends on your product range and the relatability of your brand, but once a visitor is on your page, it is on you to turn him into a customer.
There are many reasons customers abandon carts without completing their purchases. These include lengthy checkout procedures, long loading periods, incoherent checkout terms, and high shipping costs.
Attributing to these reasons, the cart abandonment rate has reached around 77% since 2016. But don't worry; simply figuring out the explanation for this phenomenon can help you rope in your potential customers again.
For example, if your customers leave because of high shipping costs, you can offer a percentage off for first-time users or even provide free shipping.
Similarly, ads with reward notifications and loyalty programs make customers stay for longer and complete their purchases. You can check out websites like Tada to get more options for exit-intent pop-up ads.
5. Focus On Your Landing Page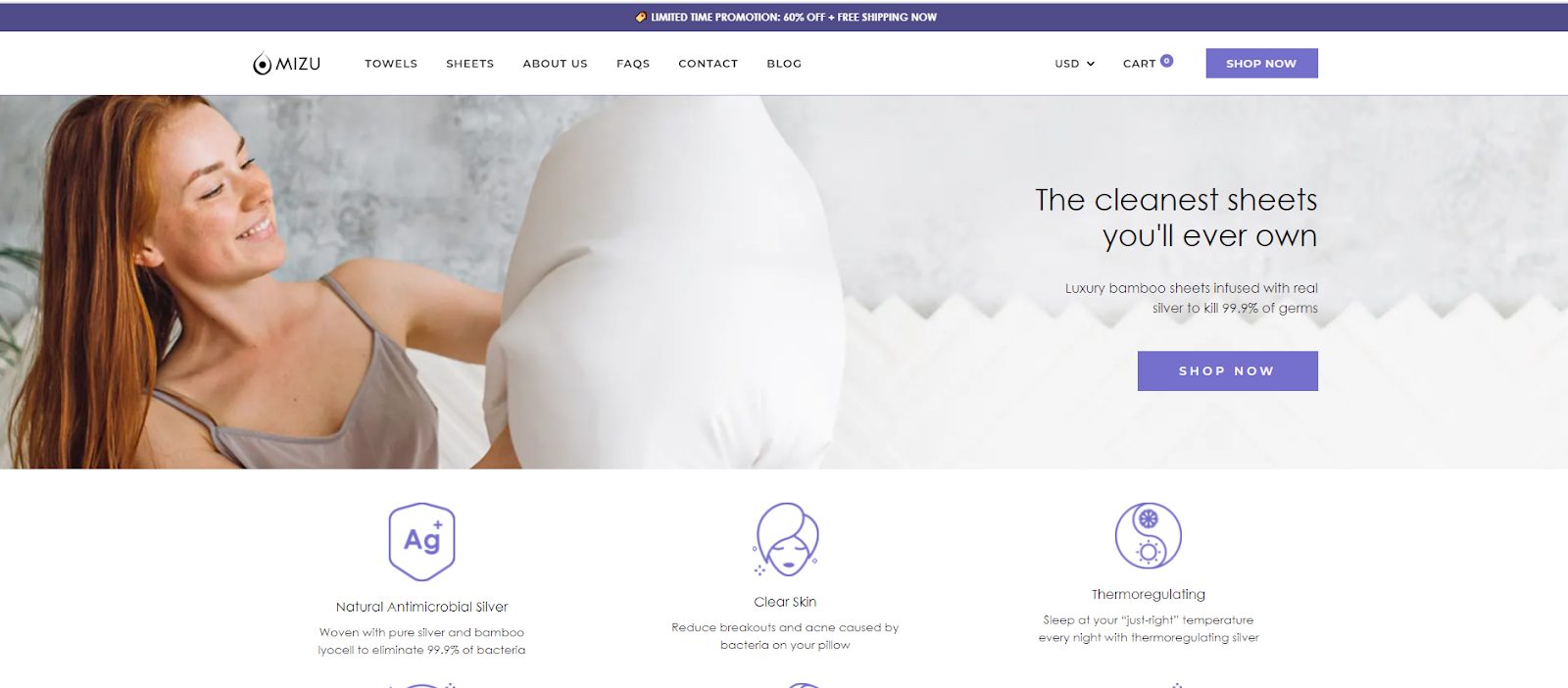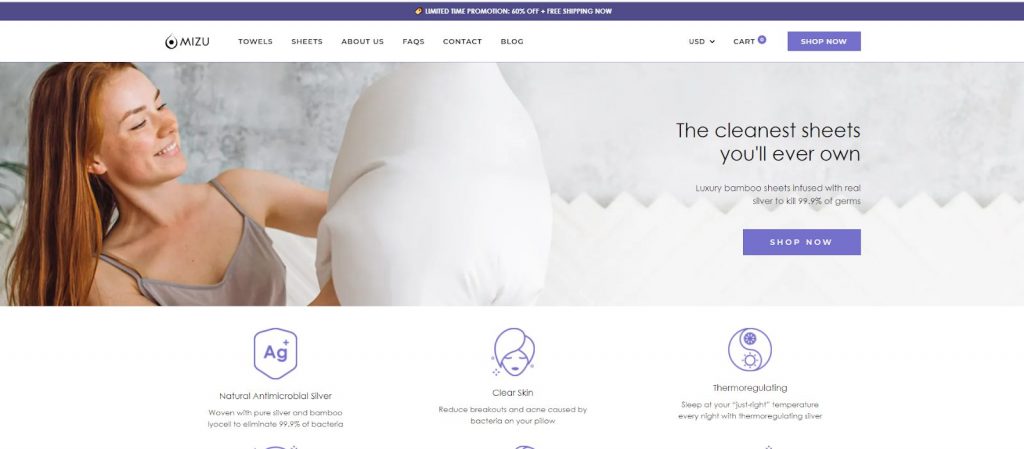 Nothing turns a potential customer away faster than a cluttered landing page. So, a remarkable landing page could easily change visitors into customers and increase your conversion rates.
Apart from showcasing your brand identity, the page should include compelling call-to-action and engaging taglines. Avoid overloading the first page with information.
Instead, focus on adding features like visually enticing images, customer reviews, testimonials, and attractive promotional offers. Furthermore, make sure your product categories are organized logically. For example, if your product range has multiple categories and sub-categories, you should manage them separately and visibly to avoid confusion.
6. Build Trust
This is perhaps the most crucial aspect when it comes to increasing your store conversion. If you have lots of organic traffic reaching your store, but very few of them buy your products, it is probably because they find your brand shady.
You can combat this problem by building trust through actual social proof. For example, include customer reviews and testimonials on your landing page and product description pages. Besides that, advertise your community-level reach so first-time visitors can gauge your popularity among other users.
Another method to build trust on your ecommerce website is by displaying on-site videos where you welcome customers and give them additional information. The more authentic the video (few edits, with a person, recorded in an intimate setting), the more trustworthy you will look!
Similarly, you can use trust badges to increase the credibility of your eCommerce store. These include PayPal or McAfee security badges, SSL certificates, and reputable payment options.
Such badges help customers perceive you as a legitimate brand and finalize their purchases to increase your profits. Most importantly, adding a proper refund and claim policy will reassure customers that you won't abandon them after they part with their money.
7. Add Value And Urgency
Remember, there are hundreds of other fish in the pond, no matter what you're selling on your Shopify store. That's why your customers need to know the exclusivity of your products and services to confirm their purchases.
Integrate elements that motivate your customers to make swift decisions. You can do these by answering questions like, why should they purchase from you and not your competition? Or, why shouldn't they delay this purchase?
Other interesting tricks include organizing limited-time sales and setting deadlines for potential purchasing. Also, you can display an inventory evaluation to show customers that their product is selling out fast.
8. Ease Up the Process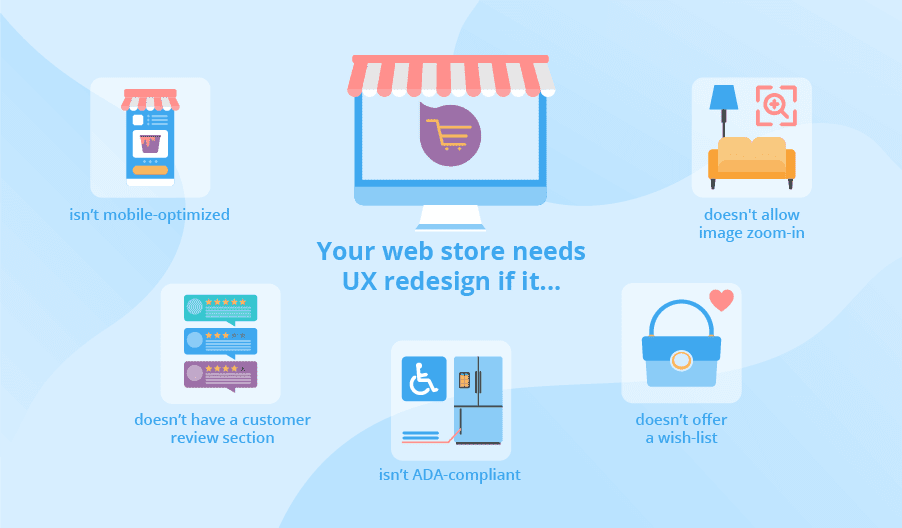 Do you know why most people choose to purchase from eCommerce stores over physical ones? Simply because it is easy.
Now, if the purchasing process on your Shopify store comes with obstacles and intrusions, your audience won't be inclined to purchase at all. These intrusions create something called buyer-friction. When this friction transcends the motivation to buy, the customer will simply leave your page.
To minimize these obstructions, keep your landing page simple and organized. Similarly, make all the sections visible and accessible so the visitors can navigate through the store effortlessly.
Furthermore, try to improve your page loading speed.
For example, just a second's delay in your page loading time can reduce your page views by 10%. You can find the necessary metrics to improve this aspect on the Shopify store analytics page.
9. Use Remarketing to Target Specific Customers
Remarketing is another technique you could use to bring in customers who have already shown interest in your store. However, this is a paid technique where you'll have to purchase cookies to collect information about your visitors' activities.
Through these cookies, you will know exactly when a user left your store. For instance, if a person went away while checking out a particular product, you could recommend similar products or give discount offers.
The best way to use this technique is to personalize your offers to increase conversions. In addition, you can download a remarketing app from the Shopify store to make things easier for yourself.
10. Reward Loyal Customers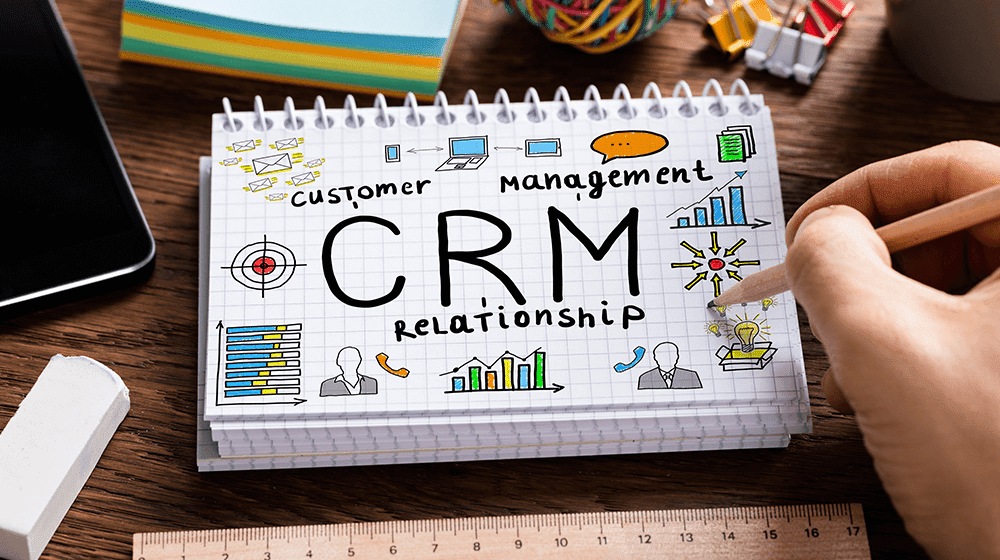 Another way customers will feel a solid connection to your brand is by getting reasonable reward offers. Once a visitor purchases and receives an unexpected benefit, he is bound to return to your store with more business later.
In the eCommerce world, acquiring a new customer is costlier and more challenging than simply retaining an existing customer. This makes loyalty programs a cost-effective way to increase your store conversions.
Most importantly, the incentive in your loyalty program does not have to be material rewards. They can range from charity participation and contributions to causes that align with your brand.
The motive is to help the customer relate to your brand and keep coming back, whether to receive a material advantage like points and discounts or contribute towards a cause they believe in.
Conclusion
Whether you're dropshipping or advertising your products, selling on Shopify is a profitable venture. However, the increasing competition in the sector has made it difficult for brands to stand out.
In this case, even after building a reputable brand offering quality products, you might need some tricks to increase your store conversions and Shopify sales. If you have visitors reaching your site but leaving without buying anything, try out these techniques to increase your profits today.