Email marketing is incredibly effective at generating sales. So much so that, on average, every dollar invested in email returns $38 in sales.
Despite its effectiveness and its ability to let you reach customers directly (without worrying about any social media algorithms), many merchants are put off setting up an email marketing strategy.
Why? Because they think sending emails requires too much time and effort.
But while it might be true that your weekly or monthly newsletters require an ongoing commitment, the same can't be said for automated email campaigns.
Email automations only have to be set up once, after which they'll continue sending automatically to the right customers at the right time. This means they don't require any ongoing effort.
The problem, however, is knowing which email automations are worth setting up. That's why we've created this list of the top five automations every merchant should set up.
Essential Email Marketing Automations
1) Welcome Email
Chances are you already know what a welcome email is. It's the email you receive immediately after signing up to someone's email list.
This makes them one of the most common email automations, not just in ecommerce but throughout all the different types of email marketing.
Because of their ubiquity, three-quarters of people expect to receive a welcome email after signing up to an email list. So if you don't have a welcome email set up, you're giving your customers a bad first impression.
In terms of what your welcome email should look like, you should make sure it covers the following points:
Thank your new subscribers for signing up to your email list
Let customers know what to expect from your future emails
The example below Starbucks is a good example of a welcome email.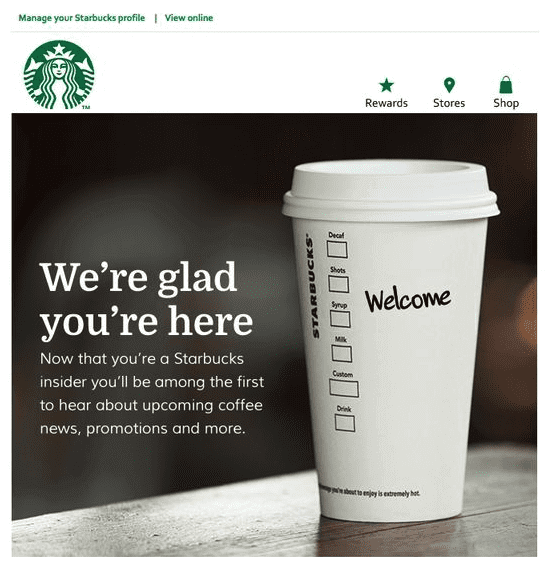 2) Abandoned Cart Emails
Abandoned cart emails are a type of email automation unique to ecommerce as they address one of the biggest problems faced by merchants: cart abandonment.
On average, for every three customers who add products to their online cart, only one will complete the checkout process. That's where abandoned cart emails come in.
Abandoned cart emails are triggered whenever a customer adds items to their cart, but then doesn't check out after a certain time period (usually 30 minutes or an hour).
The emails themselves serve as a reminder prompting people to come back and complete their purchase. If the first reminder doesn't work, most merchants will automate a couple of follow-ups, often with an incentive like a coupon code to sweeten the deal.
The email below from Moment is a good example of a typical abandoned cart email.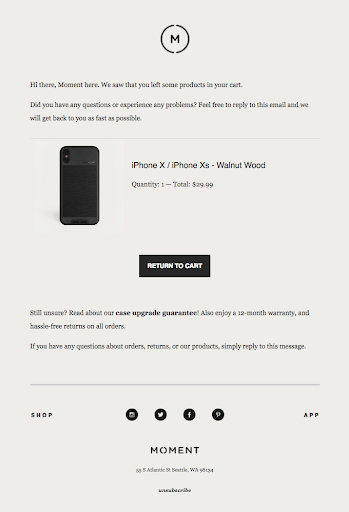 3) Thank You For Your Purchase Emails
Too many merchants think that their job is done once a customer makes a purchase.
In reality, the customer journey does not end at purchase. Smart merchants know they should continue to nurture customers so that they become loyal, repeat customers.
One of the best ways to do this is with a simple thank you email.
This email automation is dedicated to simply thanking customers for their purchase which while might not seem like much, can go a long way to making customers feel appreciated which builds customer loyalty.
The email below from Abercrombie & Fitch is a good example of this in action.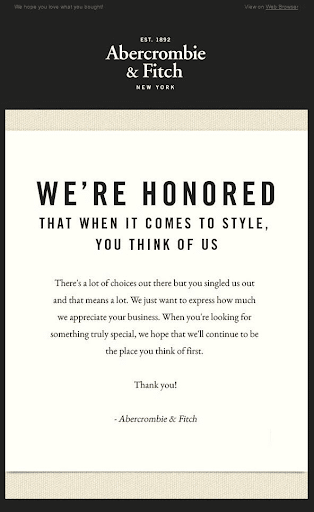 4) Birthday Emails
Another great way of building loyalty is by sending customers an email on their birthdays. This is also a great way of generating additional sales.
Compared to regular email marketing campaigns, birthday emails have a 481% higher transaction rate, generate 342% more revenue per email sent, and enjoy a 179% higher click rate.
As their name suggests, all you have to do with them is wish your customer a happy birthday and include some kind of special offer (it is their birthday, after all).
The example below from wine.com is a good example of a birthday email.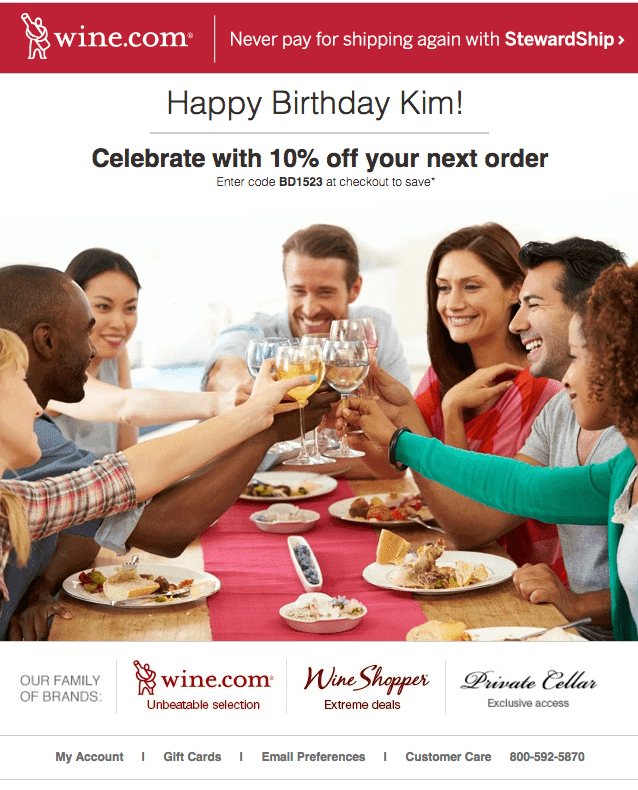 5) Win-back Emails
It doesn't matter how great of a job you've done at building customer loyalty, even the most loyal of customers will go cold over time and stop purchasing from your store.
This is where win-back emails come in.
These triggered emails are sent as soon as a customer hasn't purchased anything for a certain period of time. As their name suggests, they then attempt to win the customer back, usually with a special offer.
The win-back email from Sephora below is a good example of this type of campaign.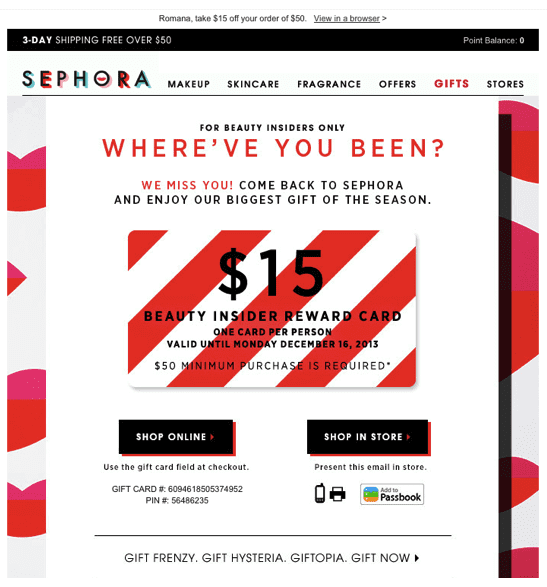 Summing Up
Email automations are not only easy to set up but continually generate sales with minimal ongoing effort required.
So if you haven't started sending automated emails for your store yet, it's time to get started setting up the ones on this list!