Having an e-commerce store isn't something that easy these days, do you know how many e-commerce websites are out there?
Overall, there are around 20 million online stores on the internet. One wrong, and you will lose business to your competitors in no time. 
Fortunately, e-commerce platforms like Shopify offer heaps of smart apps to help you stand out from the competitions!
From intelligent web designs, SEO content to gamification apps, you can always do more to keep your e-commerce store one step ahead of the competition. Some very creative apps, like TADA, offer gamified lead generation pop-ups! Interactive and very elegant, they help you increase your e-commerce sales and subscribers.
To make things easier for you, we have listed just the best Shopify exit pop-up apps that'll help you spark!
What's a Pop-Up?
Before we jump to discussing the best Shopify pop-up apps, let's find out what they are. Now, most of us who have used internet browsers would know the term in the technical sense, of course. 
So, a pop-up is generally a browser window that 'pops up' from nowhere while you are on a website. These windows can be both welcome and annoying for the users, so it comes with their own set of pros and cons. 
Most commonly, pop-ups have some message for the visitors. In addition, there may be ads, promotional offers, forms, etc., so it depends on the website that you are surfing. 
Pop-ups are pre-programmed, and developers want them to be as intuitive as possible. That way, there are more chances of users clicking or taking the intended actions from the pop-up. 
Aren't Pop-ups Annoying?
We know what you're thinking – pop-ups are supposed to be annoying, aren't they? You're not entirely wrong, but when used intelligently, pop-ups can be fun for the users. 
This is why ecommerce stores use a pop up app which allows them to engage customers and tempt them into buying more products from their online stores. 
The Most Engaging Pop-Up Types
Pop-ups have various types, and that's why E-commerce stores must use them intelligently. Here is a look at the most commonly used classes that you would get in almost any pop-up app. 
1. Exit Intent Pop-Ups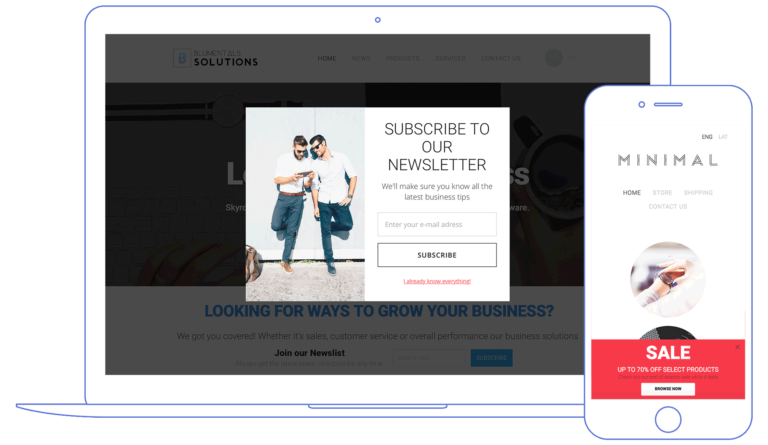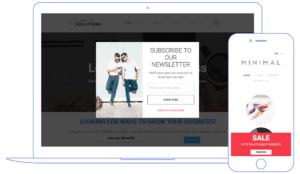 Exit-intent popups appear on web pages when the user leaves the page. So, when the user navigates their cursor to close the tab, the exit-intent popups appear to take one last shot at marketing a product or service. 
For instance, if visitors go through your product page, they may want to close the page if the product is not exciting or there is no particular reason to buy it.
So, when they are about to close the page, it will trigger an exit-intent popup to attract the customer's attention for the last time. 
Understandably, the pop-up must have an attractive offer, or else, the user was leaving the page anyway. Therefore, exit-intent pop-ups usually have a discount offer, coupons, or buy-1-get-1 free offers to ensure the customer stays. 
So, when you're using a Shopify pop up app to integrate exit-intent popups, focus on the following aspects to get the best results out of your efforts:
Popup Design –

Remember that the customer is already leaving. So, your popups must have an engaging factor in them. And it all starts with the popup design. Use bold fonts, photography, and high contrast buttons, to create more engaging popups.

Easy to Close –

It may sound counter-intuitive, but you must make it easy for the user to close the Shopify pop-up. Small and hard to see close buttons can negatively impact the visitors, and they may never come back to your store. 

Optimize –

Popups don't contain too many words, so make sure each word has a meaning. Adding an emotional aspect is also a good idea, but make sure your content is simple to understand.
2. Gamified Popups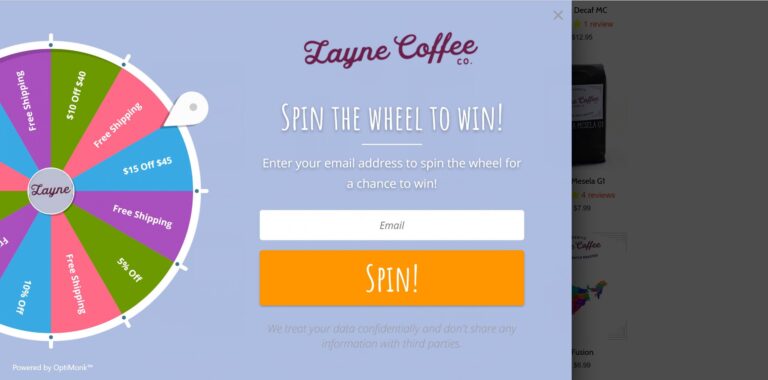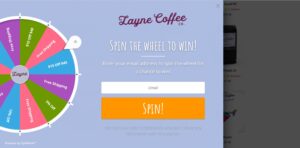 Gamification is an intriguing way to get your customers to buy from you. It's a fun way for the customers to engage with your website and gives them a chance to win prizes, coupons, etc. 
For instance, you can use a quick pop-up quiz to interact and earn a chance to win a lucky draw. Likewise, you can offer a 'Spin the Wheel' pop-up to give away prizes to your customers.  
Gamified pop-ups are great for winning new customers through email marketing. You can get leads to more prospective customers by offering them small gifts through the gamification of your pop-ups. 
A quality pop-up app gives you several gamification options, which are great for generating online sales.
Gamified popups should be simple. You don't want the customer to get confused and leave.

Use gaming terms like coins, points, etc., to reward your customers. It creates a more fun element and keeps the customer interested.
Moreover, remember why you are gamifying. A user will participate in the hope of winning something so that you can offer small prizes like:
Purchase discounts

Free shipping for first order

Free digital product subscriptions
3. Multi-Step Popups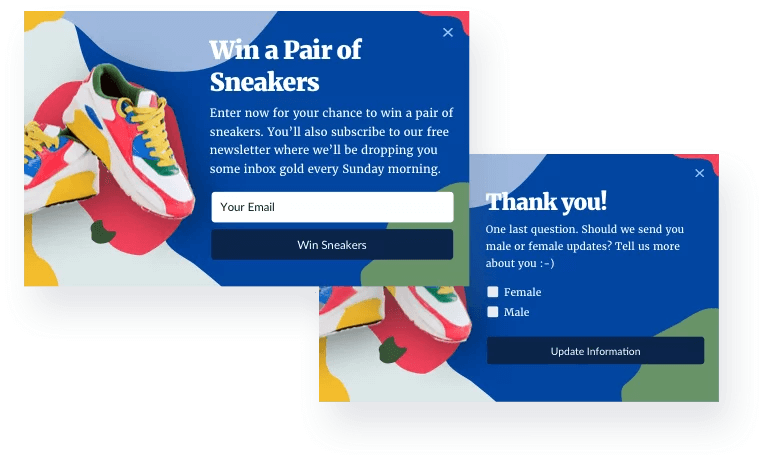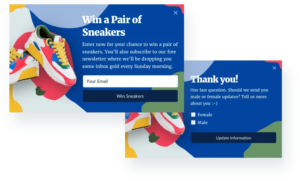 Multi-step popups are used to enhance customer engagement. You present the customers with two or more steps to get to the next step in a single pop-up. Then, based on the user's choice, the popup will show a different interface. 
For instance, your Shopify pop-up may ask the user if they are interested in a special deal. If they click yes, the pop-up will present the agreement next. 
Because these pop-ups are choice-based, you can do virtually anything with them. But generally, multi-step popups are used to acquire email addresses and phone numbers.
So, these are great if you want to expand your email marketing campaigns. 
4. Discount Offers and Incentives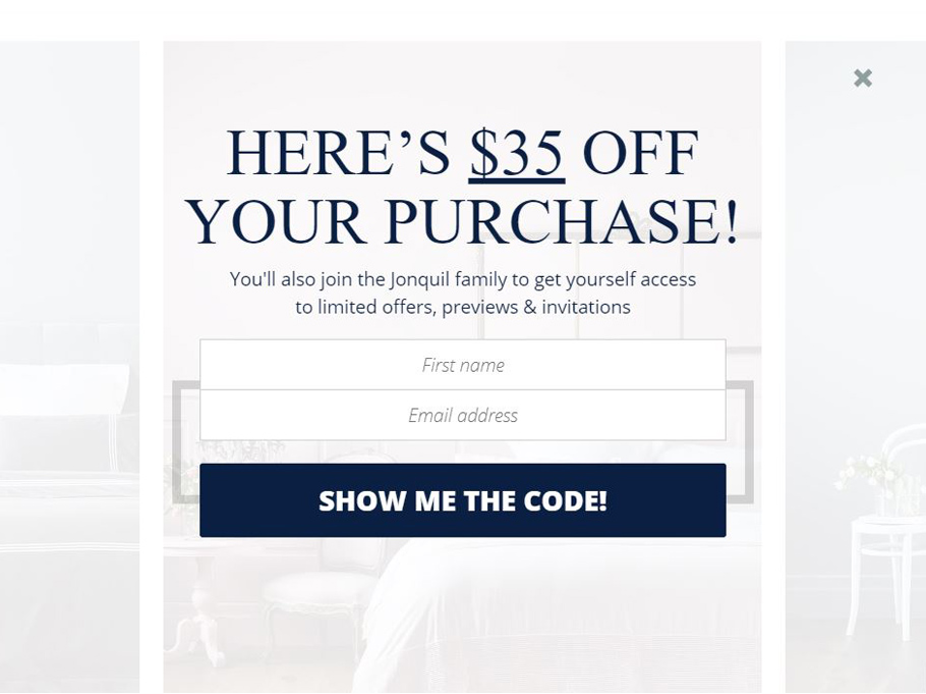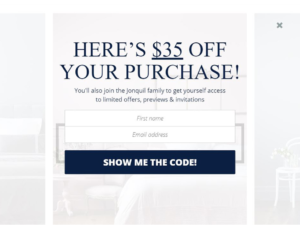 Most Shopify pop-up apps are designed around providing customers with discounts and attractive offers. Of course, we already saw these while discussing the exit-intent pop-ups. But let's take a closer look. 
Every time you offer something unique to the user, it must stand out from your regular content. It's one of the reasons why discount and coupon pop-ups do so well on e-commerce websites.
From a business point of view, discount popups are essential for any online store. Since users get special offers where they eventually pay less, they are more likely to click and continue their purchase through the pop-ups. 
But it also brings one critical question to the table- How much can you incentivize? Generally, online stores are comfortable with a 10 to 20 percent discount. Nevertheless, it's more of a choice how much you are willing to let go. 
Incentives can come in different forms like:
Free Shipping –

Works well if your profit margins are considerably large. So, letting go of shipping charges won't affect your business too much. More importantly, free shipping will bring more email subscribers to your website because you need contact details to ship the parcels. 

First Timer Discounts –

Give something to your customer who buys for the first time. It could be a few bucks off or a free shipping option.

Gift Cards –

Offering a gift card will potentially bring more customers to your website. In addition, you can incentivize your customers to share the gift card with their friends, and in return, you get more customers and business for your online store.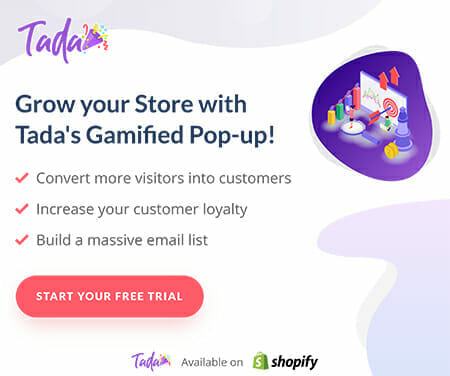 The 10 Best Shopify exit pop-up apps:
Here are 6 Shopify exit popup apps to boost sales online:
1.     Tada, elegant interactive pop-up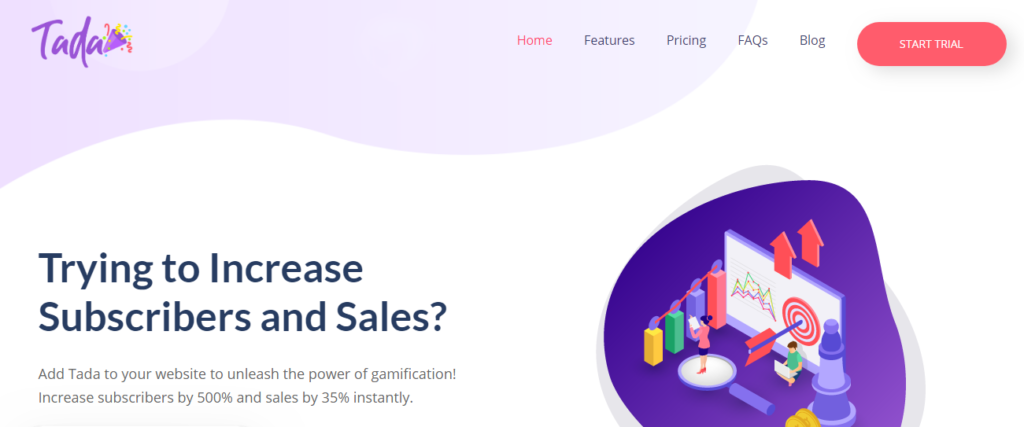 Do you want to enhance the number of subscribers, grow your email list, increase your e-commerce sales, and reduce the number of early exits? Well, every e-commerce store wants the same.
Fortunately, all this is possible with Tada gamified pop-ups.
So what is Tada and how does it achieve promised results? Tada is the best Shopify pop up app that allows Shopify merchants to collect emails and increase subscribers with ease.
The best thing is, the tool allows you to customize the pop-up in any way you want. Tada leaves it all to your creativity with plenty of customization options to choose from. For example, you can either choose to offer discounts to your website visitors through fun game pop-ups or elegant full-screen pop-ups.
You can also design an exit pop-up where users provide their email address in exchange for a coupon code.
Here are three popular options:
Wheel of Coupons: Tada's most popular game, the wheel of coupons allows your visitors to spin a wheel and get a coupon or a gift. What a fun way to do shopping?
Pick a Gift: Give your visitors the choice and let them pick and unwrap a gift with an offer inside!
Full Screen: If small pop-ups are not working for you, why not bring your intended message to a bigger screen in a more convincing and elegant way? The full-screen feature does exactly the same for you.
Another excellent feature is its easy integration with other third-party tools, like Klaviyo and Mailchimp.
Simply put, Tada is a perfect and innovative pop-up app that helps you not only with website engagement, keeping visitors happy and converting visits rapidly, but also with email collection, which results in higher sales and profits for e-commerce owners down the line.
Key Features: 
A perfect tool for email marketing as it allows you to collect emails, and integrates easily with popular email marketing tools like Mailchimp and Klaviyo.
It also allows you to validate emails to avoid fake and spam.
E-commerce gamification
Customizable interactive pop-ups. 
Reduces bounce rate and early exits significantly.
Easy to use dashboard with real-time data and reports on subscribers, revenue and other key indicators of your e-commerce store.
Price: Start with the free plan!  
2.     ReferralCandy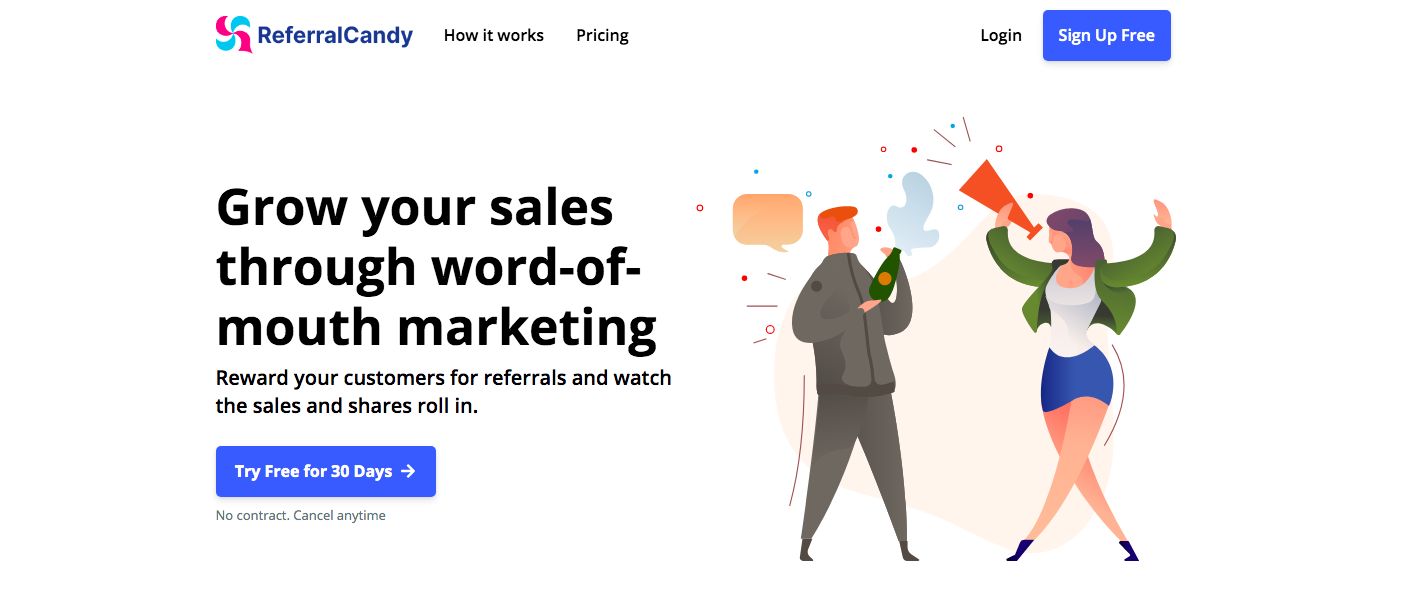 Word of mouth has been a trustworthy format of marketing for centuries. Translating it online, ReferralCandy is a popup that is trusted by over 3000 online stores. Once a customer makes a sale, the pop up gives the customer a coupon code for sharing with friends.
In case a friend purchases something from the store, then the former customer receives a referral reward. With unlimited templates and the ease of use and implementation adds to the popularity of this exit popup Shopify. The best part is that the business owners can choose the rewards that the customer will genuinely prefer making it a highly customized option.
Key Features: 
Detailed dashboard.
Works with multiple platforms and third-party tools like Shopify, MailChimp, BigCommerce, Magento, Google Analytics, and WooCommerce.
Easy to customize reward options.
24/7 chat support.
Price: From $49/month + commission
3.     TrustPulse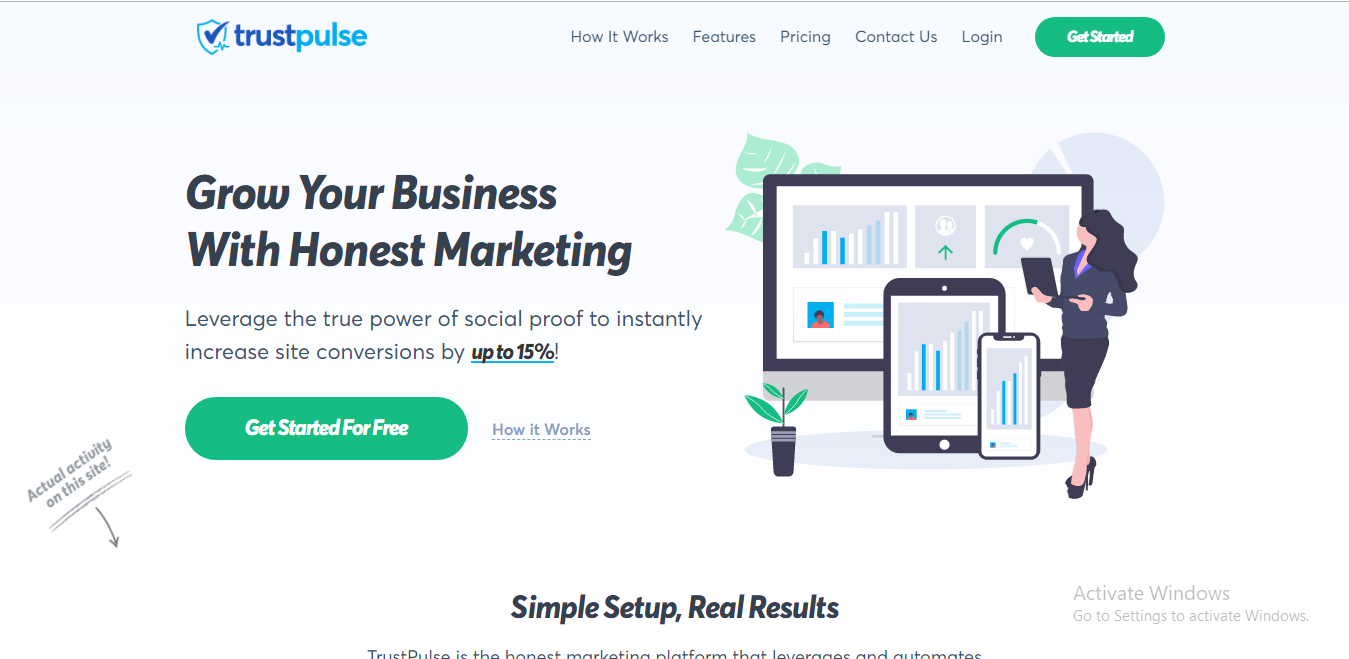 Real people make for the best advertisers! TrustPulse makes use of real-time data of the activities of real customers on the website and uses the same to attract new customers. Whether it was interacting with Shopify popup signup form, or making some purchase, or even attempting to register, the app monitors the information and displays the same to new customers.
In addition to this, it shows the number of people taking the same action over a particular timeframe. TrustPulse has multiple design options that can suit a variety of web sites and their themes and is easy to incorporate as well. The best part is that the customers can quickly implement it without any coding experience and can enjoy the benefit of it being free for up to 500 sessions. Beyond the free period, the plan customizes according to the needs of the business owners.
Key Features:
Real-time tracking on easy to use dashboard.
It allows you to customize and target a specific segment of your audience.
Easy to design and customize.
Easy to install and set-up with your Shopify e-commerce store.
Price: From $39/month
4.     Privy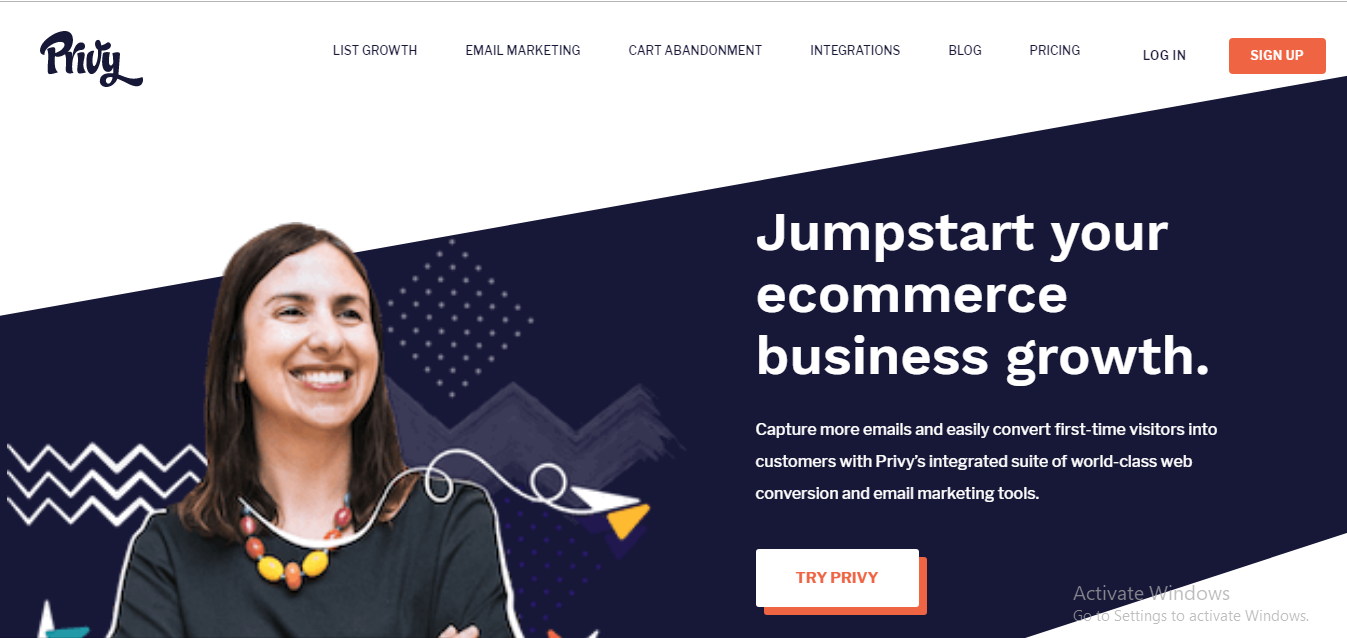 Another popular option for an exit pop-up Shopify is Privy. Privy is easy to install and extensively. The app offers a wide selection of pop-ups without the need for any coding knowledge to work on. With so many templates and themes to work with, You can use Privy on multiple websites for targeting messages towards your visitors.
It is available on a free trial with only $24 per month subsequent fee. Moreover, Privy offers constant support to the users and is always available to answer any queries. This is another app that works on drag and drop principle, which makes it so much success among the users.
Key Features:
A good tool to reduce cart abandonment rate.
A good option for email marketing and for quick growth of your email list.
Multiple design options (bar, banner, pop up, landing page, and many more).
Easy Shopify integration.
Price: Free under 5 000 visitors
5.     Pixelpop
Image source: https://apps.shopify.com/popups-promos-banners-pixelpop
Pixelpop is an excellent way of adding exit popup Shopify features to your e-commerce store. It has endless templates for adding a popup exhibiting special discounts, offers, free shipping and other offers on your website to visitors. The popups are made exciting enough to convert more and more visitors into regular customers.
In addition to converting and driving in more sales, PixelPop is also free of cost for new business owners. The subsequent plan is also priced minimally at $12 per month. It easily captures mails and syncs them to the mailing lists in MailChimp, Klaviyo, ConstantContact or Conversio, making it a versatile app for use by business owners.
Key Features
Easy integration with Shopify and BigCommerce.
Easy to customize, with options to time and target your pop-ups precisely.
The basic plan is free but allows only 500 pop-up views a month.
Multiple pop-up options to choose from.
Price: Free under 500 pop-ups/month
6.     Sumo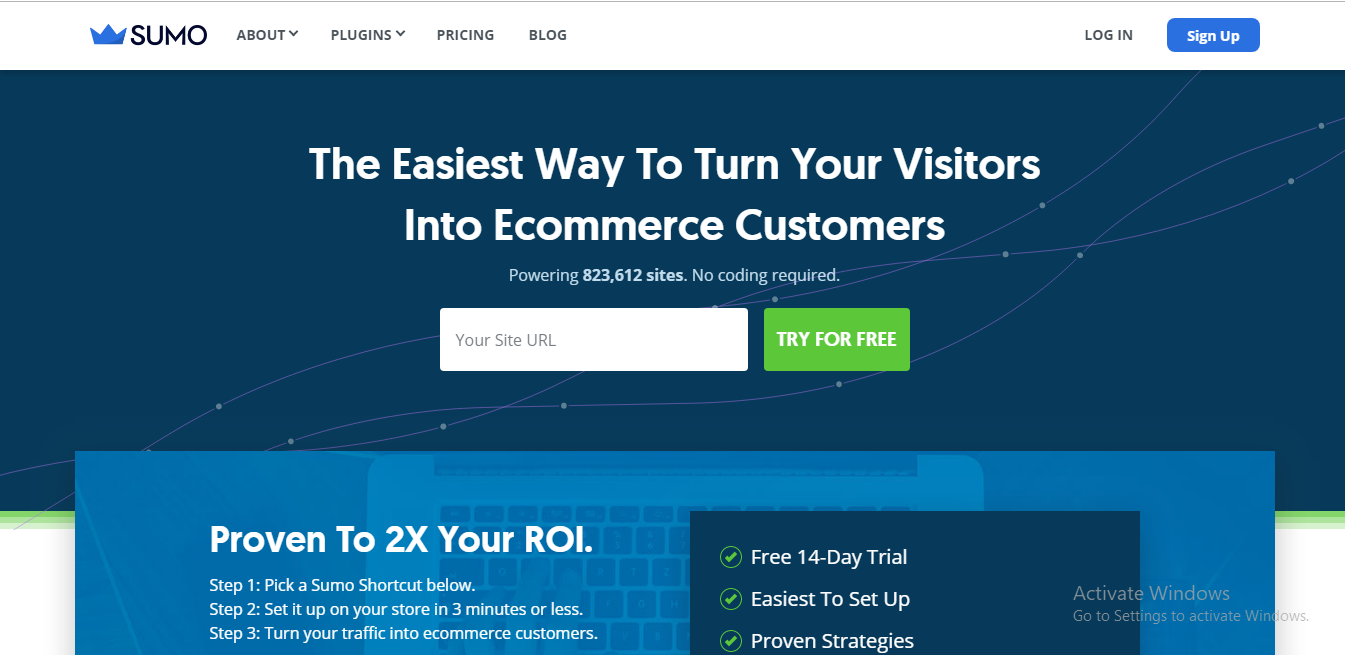 Another versatile exit popup Shopify is Sumo, which can be easily integrated with MailChimp, Klaviyo, ConstantContact, Zapier, Emma, ActiveCampaign, Infusion soft, Campaign Monitor, and Hubspot. The app has been extremely popular owing to its proven results in the reduction of cart abandonment, growing mailing lists for the business owners, and offering discounts in highly customized design templates.
More features include establishing marketing strategies, increasing the average order values, in addition to providing a free trial for 14 days. Sumo is being used by some of the biggest names in the market and is indeed a trustworthy solution. Moreover, it is easy to set up, which makes it a highly favored option.
Key Features:
Easy to integrate with Shopify, WordPress, and Google Tage Manager.
One minute set-up to your e-commerce store.
Perfect for collecting emails for email marketing.
Price: Start with the free plan!
7. Pop-up Window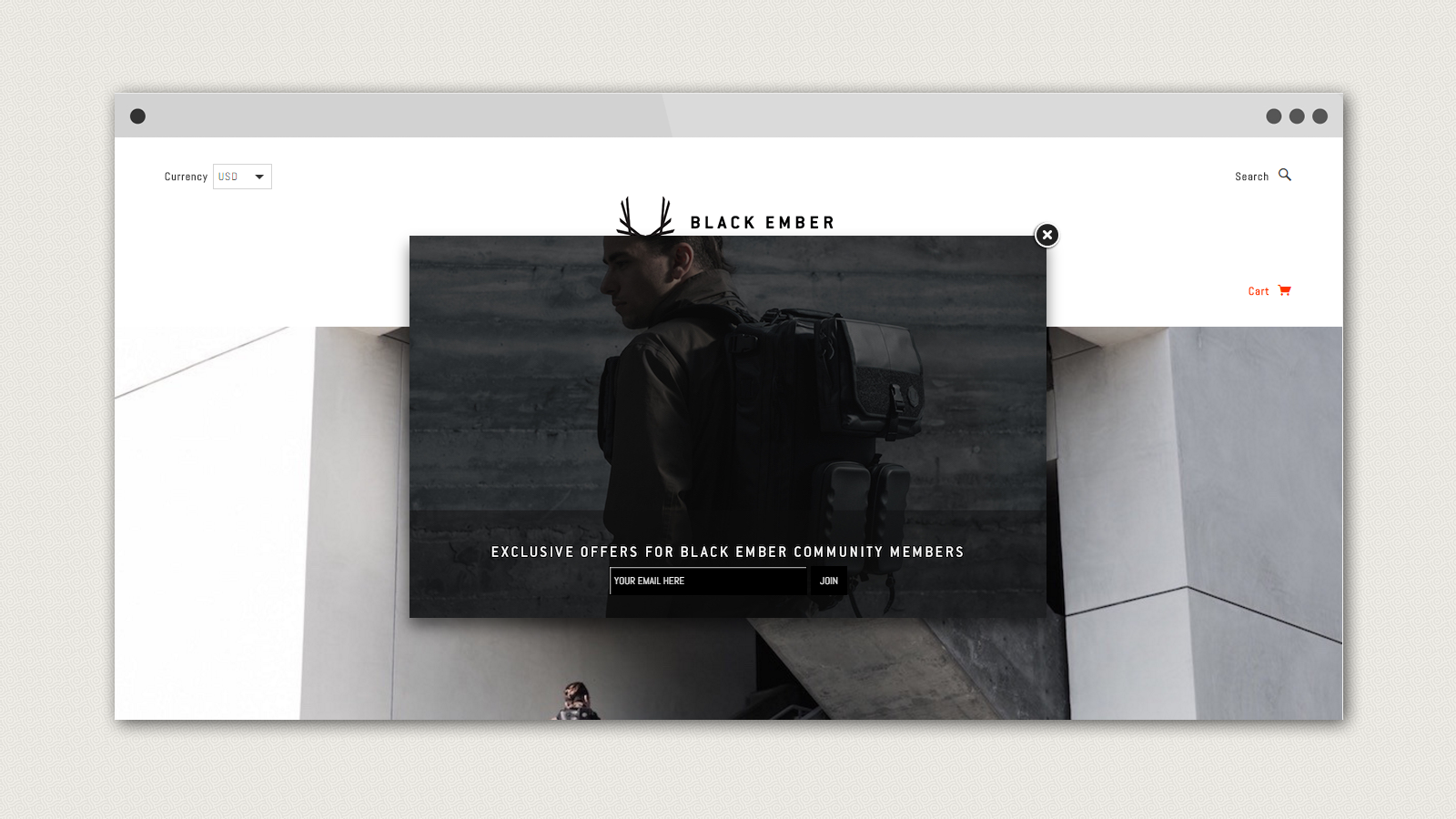 Image source: https://apps.shopify.com/pop-up-window
The next app on our list comes from Lifter Apps. The simple and easy to use-app enjoys a 4.8-star rating on the Shopify app store for all the right reasons.
Just like Tada, the Pop-up Window tool can also integrate easily with popular email marketing tools like Klaviyo and Mailchimp. It is also easy to set-up with a drag-and-drop editor, allowing you to add pop-up anywhere on your Shopify e-commerce store.
Key Features:
Comes with 7-days free trial
Responsive
Customizable
Allows you to adjust pop-up window delay
Price: Starts at 5.95/month
8. Smart Pop-up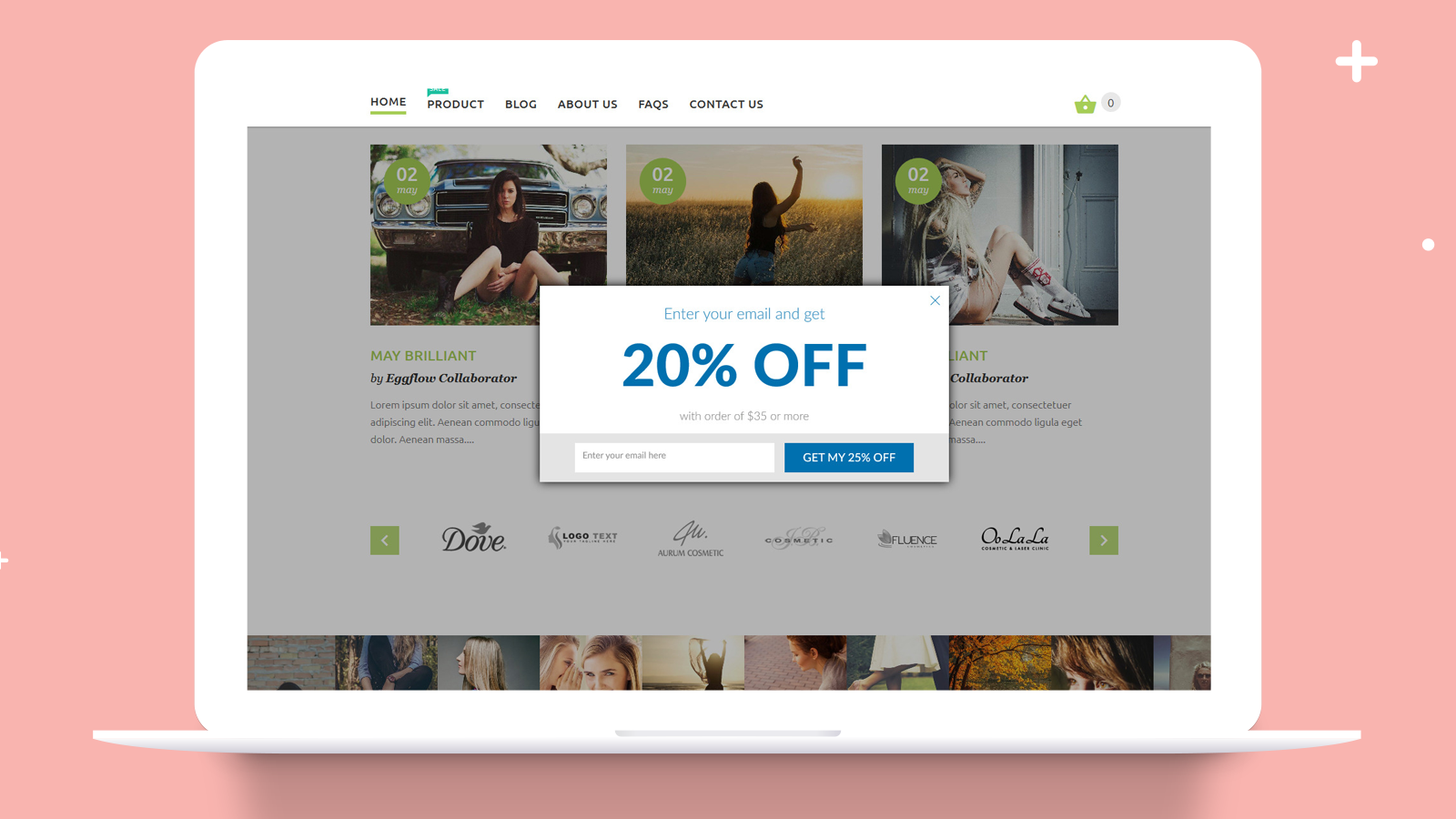 Image source: https://apps.shopify.com/eggflow-marketing-automation
The Smart Popup is another easy to use Shopify exit pop-up that allows you to offer your customers a discount right when they are exiting your store. This way you can reduce the bounce and exit rate for your store.
The popup app is designed by Eggflow, a well-known company with several other pop-ups for Shopify and other e-commerce platforms. The Smart Popup allows you to customize your pop-ups with ease, adding form, design, and call-to-action according to your needs.
You can add pop-ups like call-to-action popup, coupon popup, exit intent or exit popup, and several more designs and styles. One of the best features is its A/B testing, allowing you to test multiple popups and choose the best performing among them.
Next, what about integration with other popular marketing apps or tools? Well, Smart popup integrates easily with Sendy, Hubspot, Instant Traffic, Instant Buy, Instant Upsell, and Mailchimp.
Key Features:
Easy to use a popup for growing your email list.
Integration with several other marketing tools.
Easy to customize
Price: Starts at 9/month
9. Email Pirate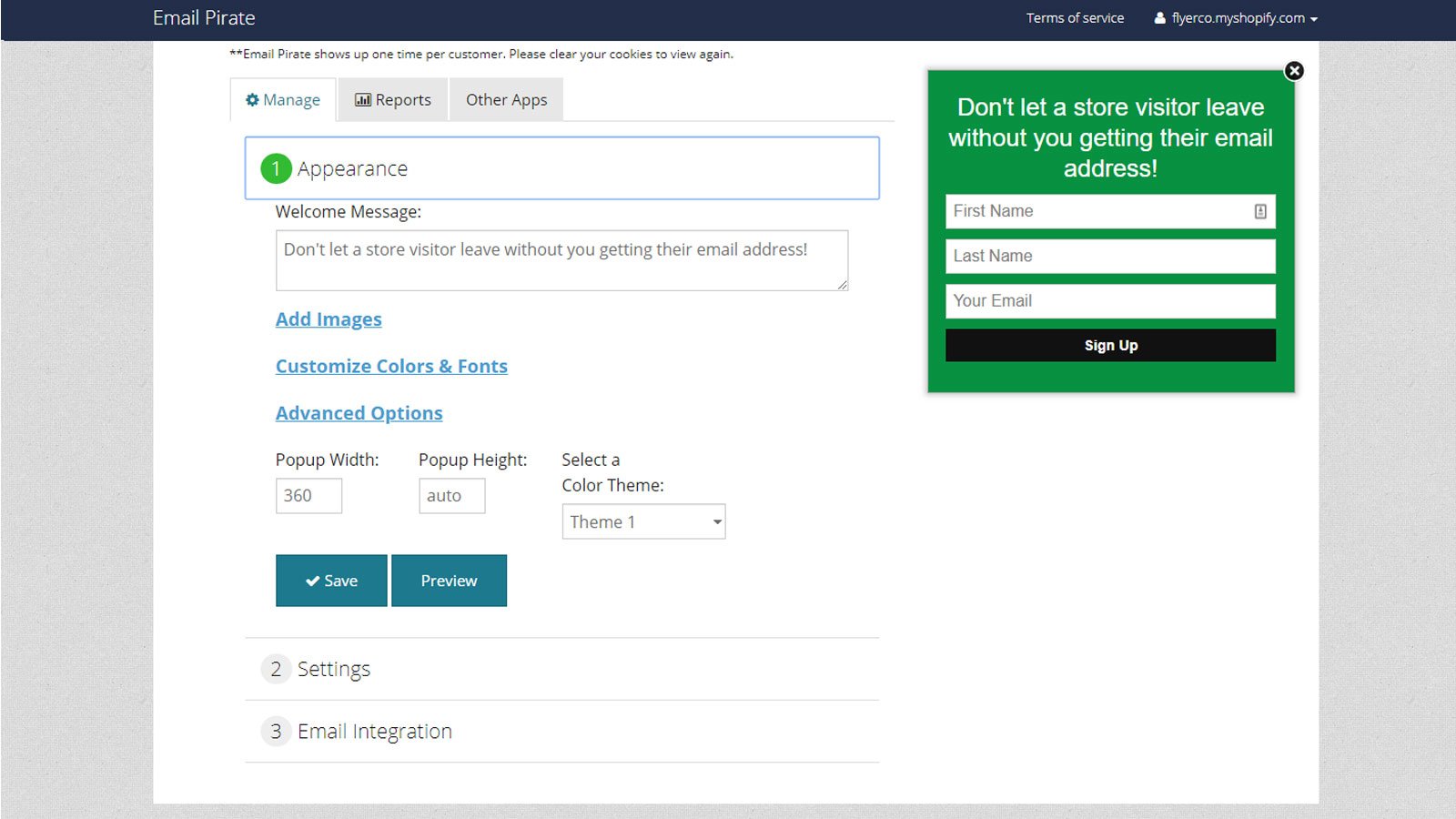 Image source: https://apps.shopify.com/email-pirate
Looking to invest in your email list? Want to grow it for your next targeted marketing campaign? Email Pirate app may help. As the name reflects, Email Pirate allows you to use pop-ups to create email lists.
The tool features easy to use dashboard, analytics, exit popup option, and Smart Builder. With advanced features like Smart User Targeting, you can further customize your pop-ups to target a specific segment of your online visitors.
Similar to Tada, the pop-up allows you to offer customers discounts and coupons in exchange for their email.
Key Features:
Easy to customize and design with the Smart Builder tool.
You can also choose from pre-designed popup templates.
It allows you to target individual categories, pages, and visitors according to user behavior.
Price: 4.99/month
10. Exit Offers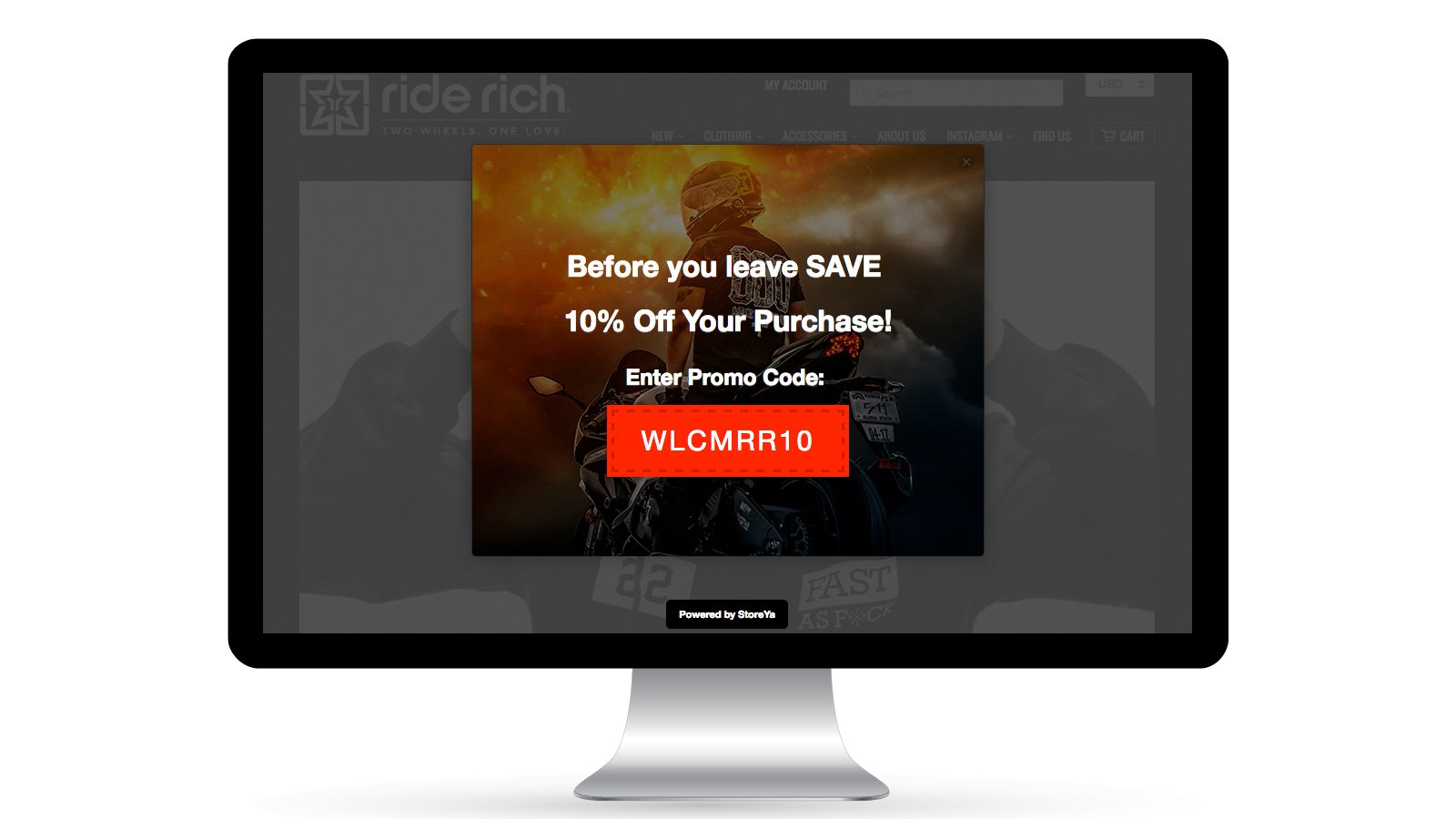 image source: https://apps.shopify.com/exit-pop
As the name reflects, the last on our list is another popup app that allows you to offer your store visitors with something right before exiting. This will not only keep the bounce rate low (which is always better for great SEO results) but also increases website engagement, improves sales and conversion.
You can choose between different exit offers that include free shipping, discounts, support, and coupons. The customizable pop-up allows you to come up with your own designs, content, offers, and the frequency of the pop-up.
The tool also features an easy to use dashboard that allows you to keep track of the results generated by your exit pop-up. However, this is probably not a good option for people looking to
build an email list.
Key Features:
With features like A/B testing, you can choose between the best performing pop-ups.
Allows you to market your products to your store visitors in different ways.
Easy to customize.
Price: 9.99/month
Final Words
No matter if you want to control a high bounce rate, improve sales, expand your email marketing list, or just want to improve website engagement, the best Shopify exit popup apps like Tada can do wonders to your e-commerce store. The only thing that matters is, are you working with the right tool?
For further recommendations, we advocate checking out this solid article featuring the best Shopify email pop-up apps!