According to Forrester's research, the ecommerce industry loses about $18 billion in sales revenue annually due to cart abandonment!
One of the best ways to ensure that cart abandonment from your store is not contributing to this staggering amount is to give customers incentives to check out.
Wheel of Fortune and Spin to Win email popups give customers a reason to stay. It's a win-win situation: they win an attractive prize like a discount, and you win their email addresses, more sales, and engagement.
Here are some of the best Spin the Wheel popup apps for building your email list and decreasing cart abandonment.
I- Tada, Games & Wheel of Fortune Pop-ups

If you're having trouble interacting with your customers through popups, it's time to Tada them! Tada gamifies the popups, making them more exciting and reward-based.
The app does wonders for your online business. Psychologically, customers are more likely to engage if they win a product rather than getting it for free without doing anything. Tada uses this approach to reduce cart abandonment and increase sales.
With their newly-won coupon codes and discounts, customers are likely to buy from your store almost instantly. Moreover, Tada allows you to set up a Repeat pattern. If you're satisfied with a popup, you can set it on repeat and let the app handle it from then on.
Apart from Spin the wheel, the app also offers other games like the Pick a Gift pop-up. Your customers can select a wrapped gift of their choice to win great discounts and make instant purchases.
Scared to get tired of gamified pop-ups? Tada also offers elegant full-screen pop-ups to enhance your brand image. These pop-ups aren't gamified but they look really attractive on a website!
The most distinct feature of the app is email validation. An invalid email only corrupts your email marketing strategy, so Tada weeds them out, ensuring you only have valid emails to work with.
Once everything is looking well in place, you can analyze your strategy in real-time on the built-in dashboard. Keep track of everything from revenue to click-through rate.
Features:
Wheel of Coupons and Pick a Gift popups
Wide full-screen pop-ups option
Smart dashboard with Real-time data analysis
Email validation
Multiple popup customization options
Klaviyo and Mailchimp integration
Price:
Tada's free plan includes a dashboard, email validation, and other basic features.
To get dedicated support and higher impressions, buy the Premium plan for $9.99/mo or a business plan for $29.99/mo.
II- Spin a Sale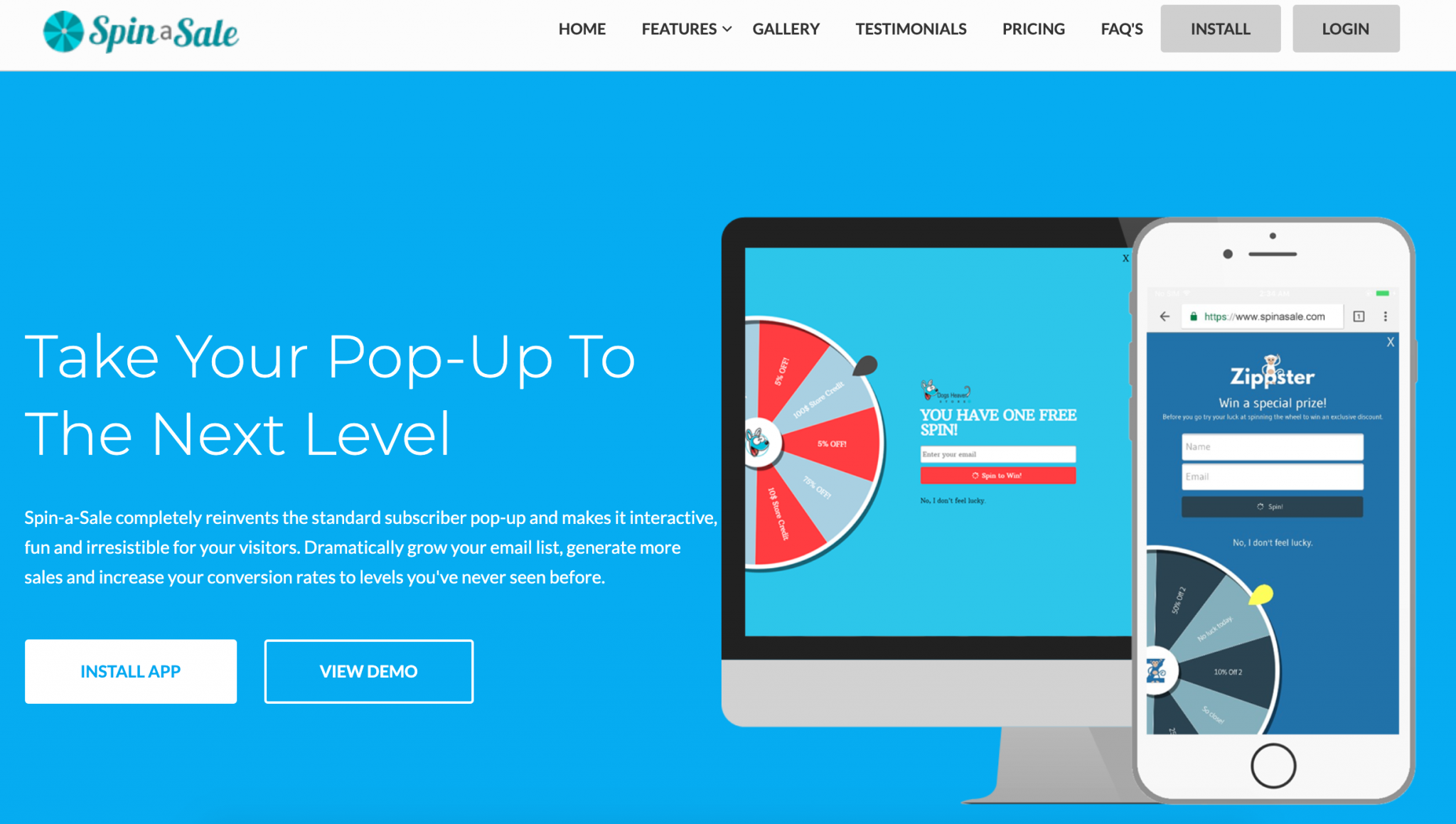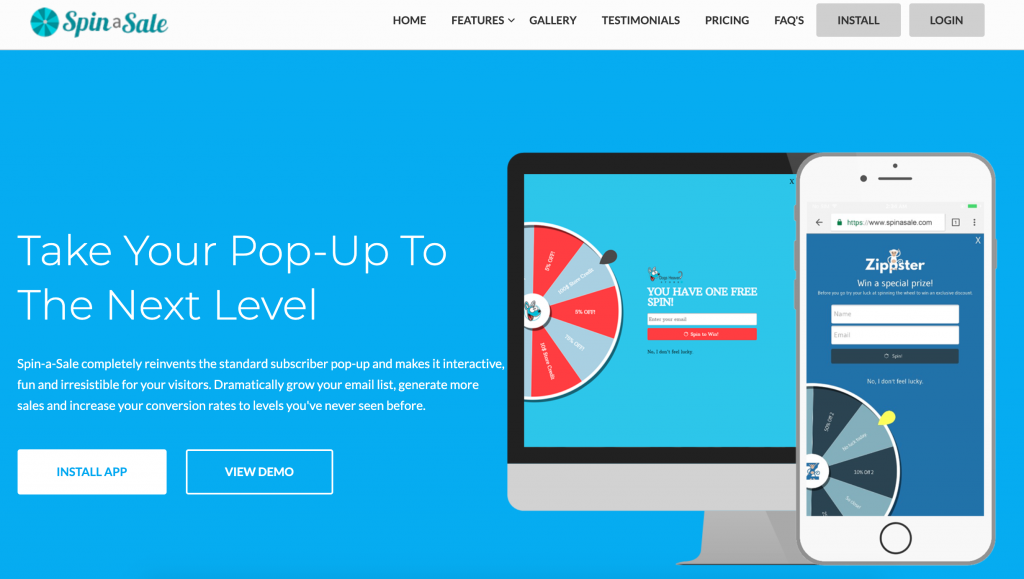 As the name implies, Spin a Sale makes popups interactive and fun to engage the visitors.
The app allows you to grow your email list, increase conversion, and sales revenue. By using gamification as an attractive tool, the app brings in more engagement and enhances customer loyalty. According to the developers, their app's popups boost conversion rates by 6% higher than regular popups.
You can choose the prizes your customers win. From free shipping to unique discount codes, there are many options to attract customers. Moreover, you can restrict coupons for specific products to boost their respective sales.
No matter which country you're operating from or your target audience, you can translate text accordingly.
Using the Probability settings, you can set how many times a specific reward is given to a customer. Also, you can choose the pages on your website where the popups should appear.
The Desktop Exit Intent feature lets you display a Spin a Sale popup if it seems like the visitor is about to leave. In most instances, visitors tend to stay when they see a Spin to win opportunity.
Features:
Text translation
Specify prize type and frequency
Page targeting
Clickable Tab to launch Spin a sale
Desktop Exit Intent for desktop and mobile
Klaviyo and MailChimp Integration
Price:
Although Spin a Sale has a demo option, there is no free plan.
The Pro plan costs $9.99 a month and includes desktop exit intent, analytics, and email support. If you want to generate unique coupons and prevent email duplication, opt for the Premium plan at $24.99/mo.
III- OptinSpin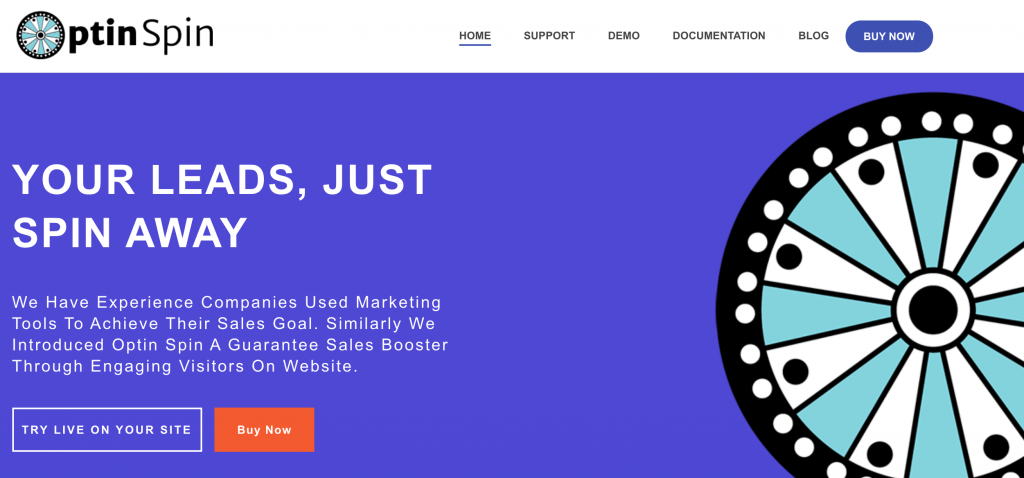 OptinSpin is a popup app that helps you generate leads, build a valid email list, and keep your customers engaged. One of the features that make OptinSpin stand out is that the app emails coupons to customers. If visitors do not want to use the popups urgently, they can avail the discounts later on.
Along with keeping them engaged, this also gives visitors a reason to come back to your website.
To customize the Wheel of Fortune to your website's theme, you can change anything from the font size to the background color. It's also a remarkable way to brand your business.
If email marketing is not doing the trick, get your customers back through Facebook. OptinSpin offers Chatchamp integration, allowing you to retarget customers through Facebook Messenger.
Additionally, the Time Delay feature lets you choose when the Spin the wheel popup appears.
Just like Spin a sale, this app also lets you trigger popups if it seems like the visitor might leave soon.
Features:
Clickable Tab for triggering popups
Mailchimp and Chatchamp integration
Coupons emailed to customers
Extensive customization options
Desktop and Mobile Exit Intent
Price:
OptinSpin is priced at $99 for WordPress. For an additional $35.25, you can get extended support for up to 12 months.
IV- Wheelio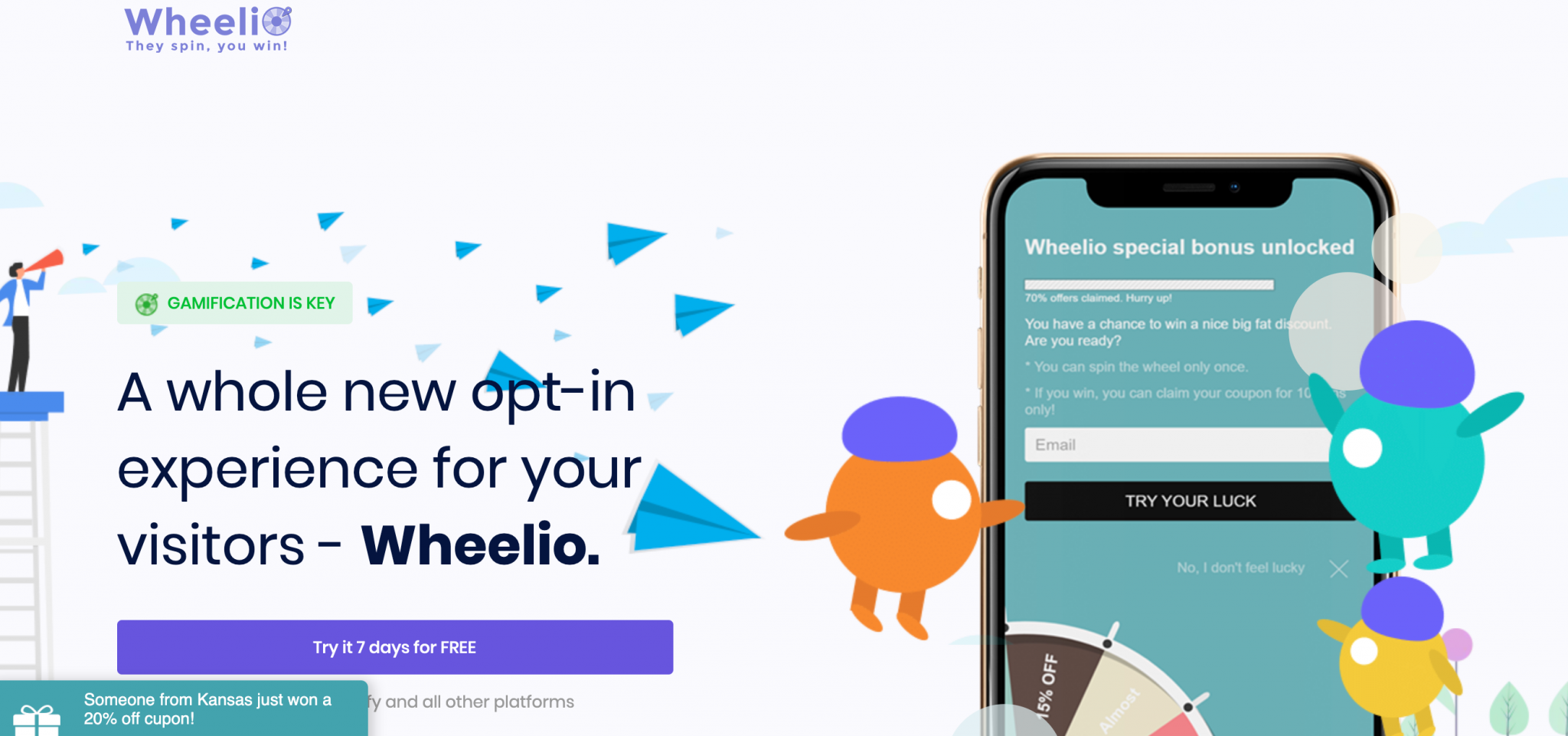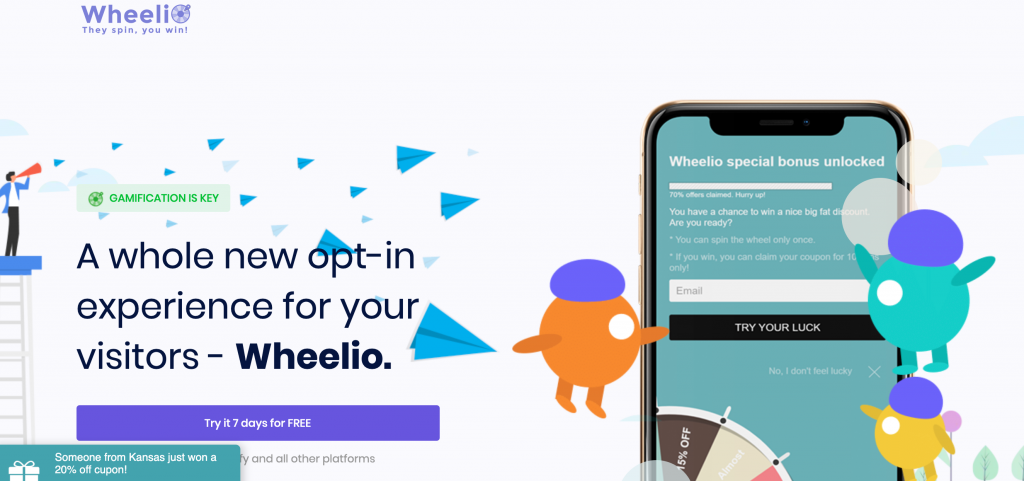 Wheelio claims to be the first popup app in the world with time trigger and exit intent.
Depending on your brand's theme, you can customize the Wheel of Fortune accordingly. Choose colors, fonts, font sizes, and triggers that suit you best.
As soon as you collect emails through the games, you can start building your email marketing strategy. To make things easier, the app has an in-build advanced analytics dashboard. Here, you can monitor your campaign and manage it to reach full efficiency.
Along with emails, you can also collect Messenger subscriptions through Wheelio. It has Messenger Subscription Opt-in, allowing you to target customers via Facebook.
You can display different games, including scratch cards, Rollie slot machine, and Spin the Wheel.
Features:
Exit Intent popup triggering
Messenger Subscription Opt-in
Mailchimp, Recart, Sendlane, and Remarkety integration
Works with Active Campaign
Multiple Gamification options
Price:
Wheelio offers a 7-day free trial. The Basic plan costs $14.92 per month and allows up to 30,000 impressions.
You can level up according to the number of impressions, with 250,000 impressions at $109.92/mo being the highest. The features remain the same for each plan as the pricing is usage-based.
V- Lucky Spin Wheel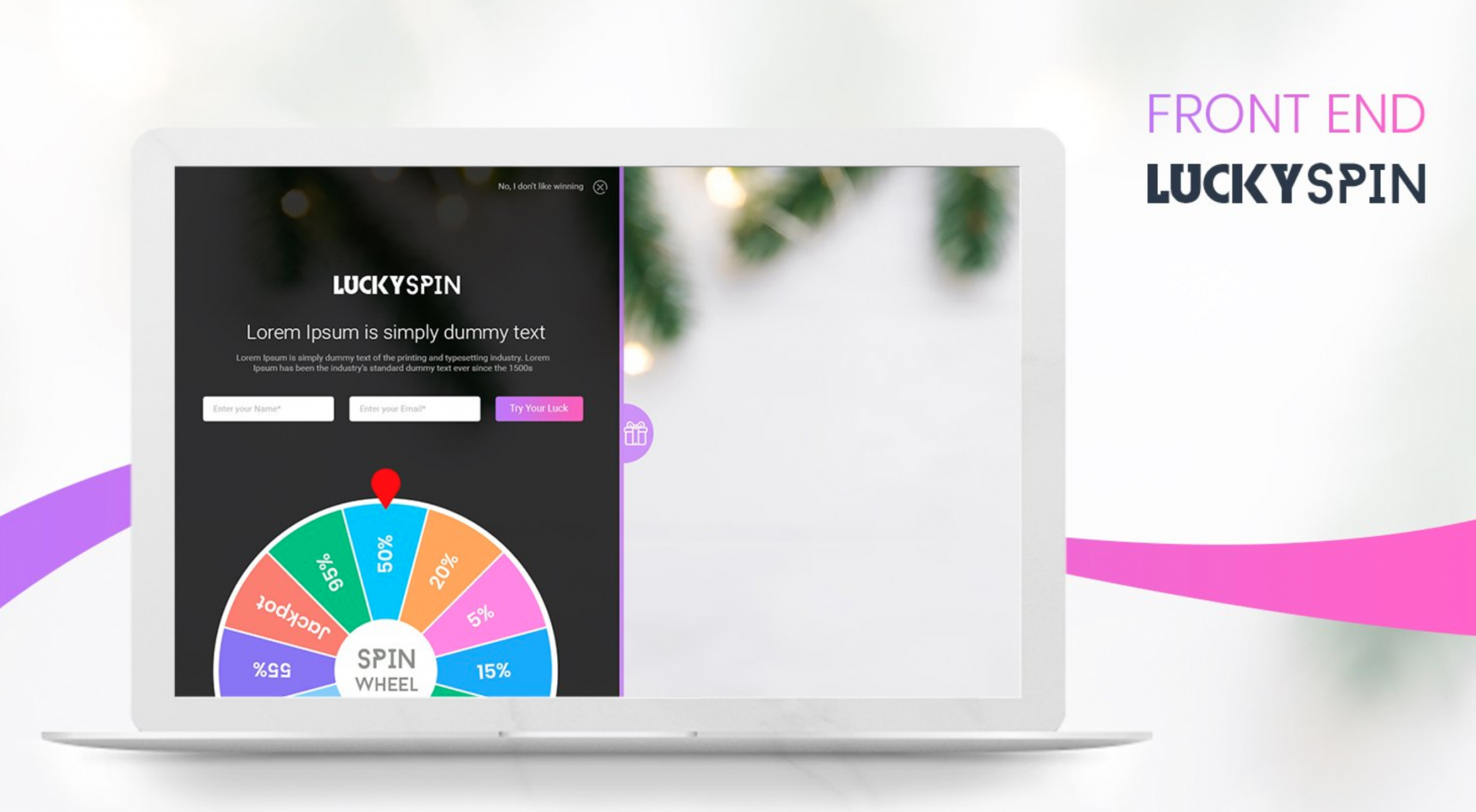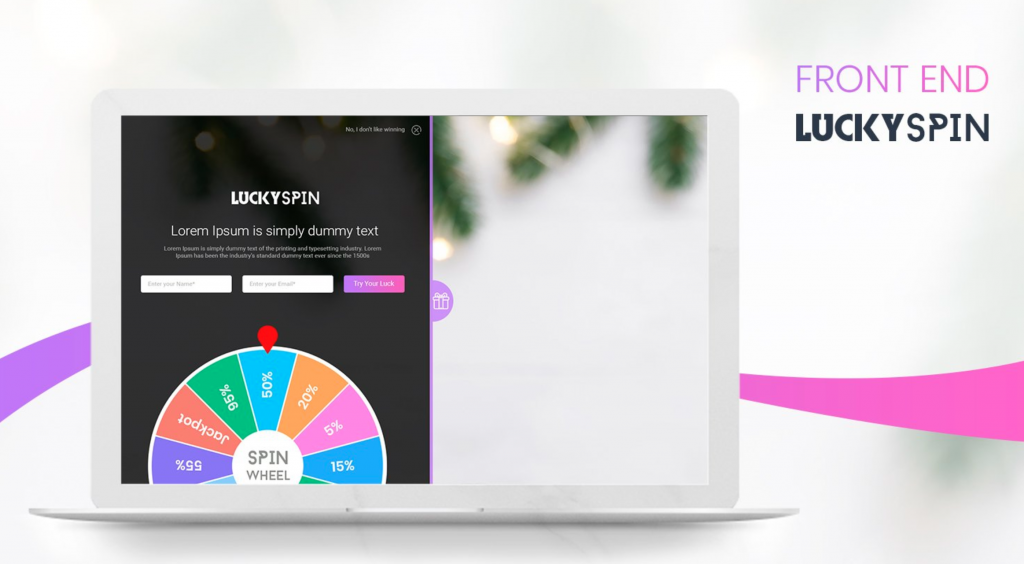 Lucky Spin Wheel helps you in creating an interactive user experience through gamification.
The app is an ideal choice for users who rank the liberty of customization as their top priority. You can completely customize the Wheel of Fortune as you want.
Furthermore, manage the speed and discount offers given to the visitors. You can set how the coupons are given out and how frequently someone wins the same prize. If you don't want the visitor to win every time, there's an option to do that too.
Since it works equally well with mobile and desktop, Lucky Spin Wheel lets you cater to visitors from different platforms. For efficient targeting, you can divide the visitors into segments. Then, choose their prizes based on the segmentation to give them what they are looking for.
The app monitors your visitors' scrolling to determine if they're about to leave. At the right instant, it will show the visitor a popup, forcing them to stay. Similarly, you can decide to trigger popups if visitors spend a certain amount of time on the website.
Features:
Unlimited segmentation options
URL filtering
Exit Intent trigger for mobile and desktop
Time on Sit Trigger
Customization options
Price:
After the 7-day free trial, you can buy the Pro plan for $3.99 per month. It offers automated integration and exit intent triggers. The plan is billed annually at $39.99.
VI- Spin to Win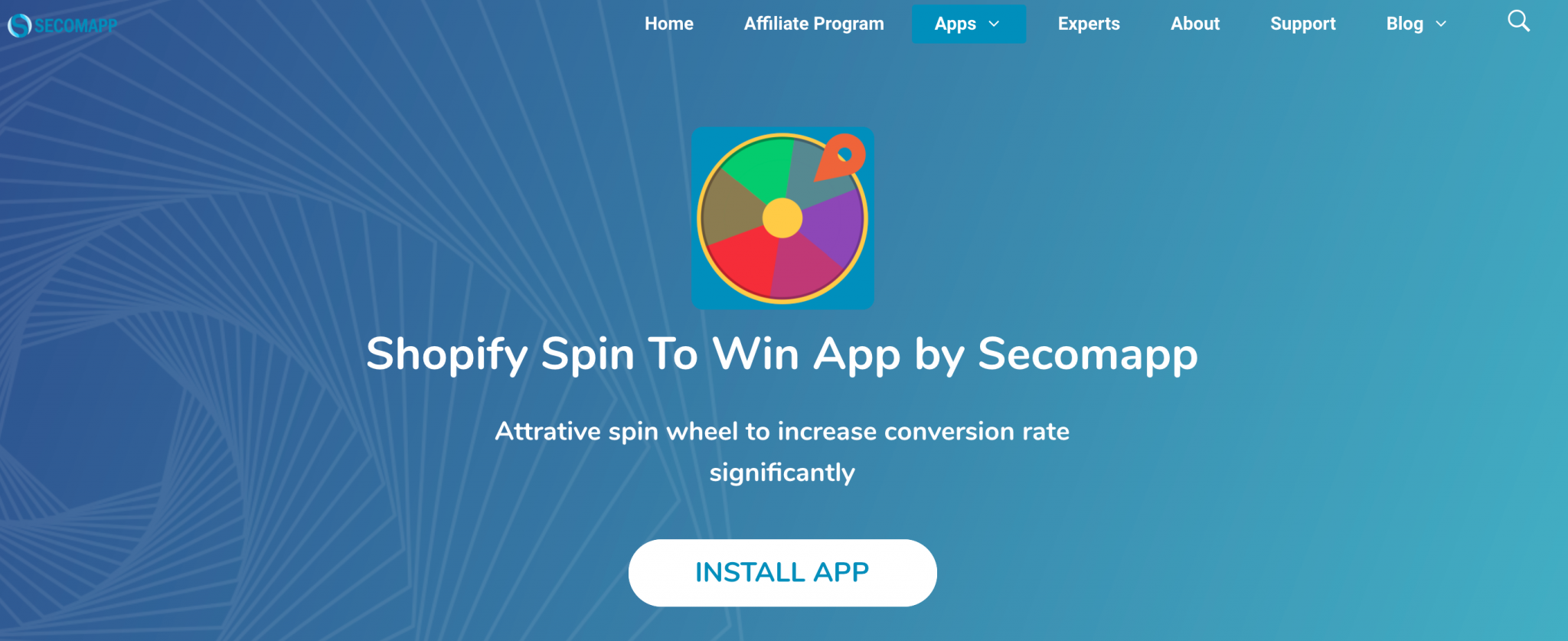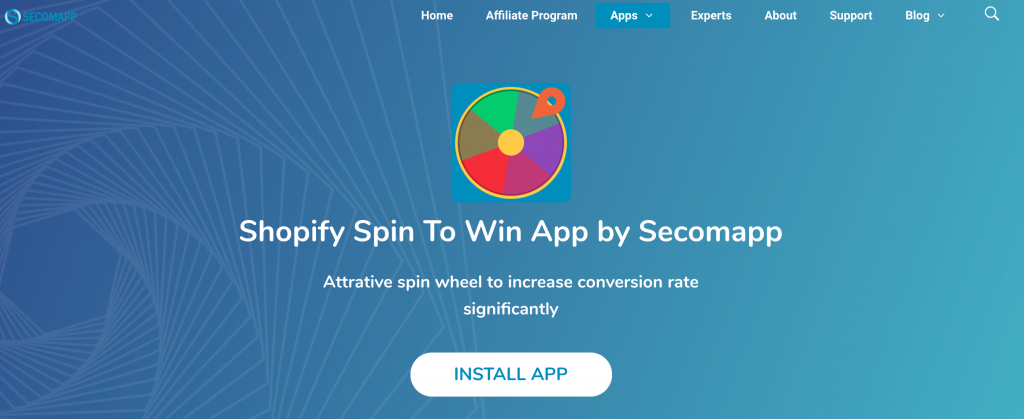 Spin to Win lets you create a Wheel of Fortune with ten slices, giving the visitors a chance to win a wide range of discounts.
The visitors enter their email address to enable the wheel, getting prizes in return. With these emails, you can build an email marketing strategy based on customer behavior. Additionally, you get visual reports on how well the wheel popup is doing.
You don't need any coding or complex configuration to use the app. With easy to use in-built customization options, you can set up a wheel in minutes.
Since Spin to Win is compatible with all devices, it lets you attract more customers. To understand how the app works, you can see its functioning in an example store.
Features:
Vast customization options
10-slice Wheel of Fortune
Visual reports on performance
Compatible with all devices
Upfront email collection
Price:
Spin to Win is free to install, with the free version having all features. You can buy the professional plan for $9.99 per month to get dedicated support.
VII- Spin Wheel Pop Up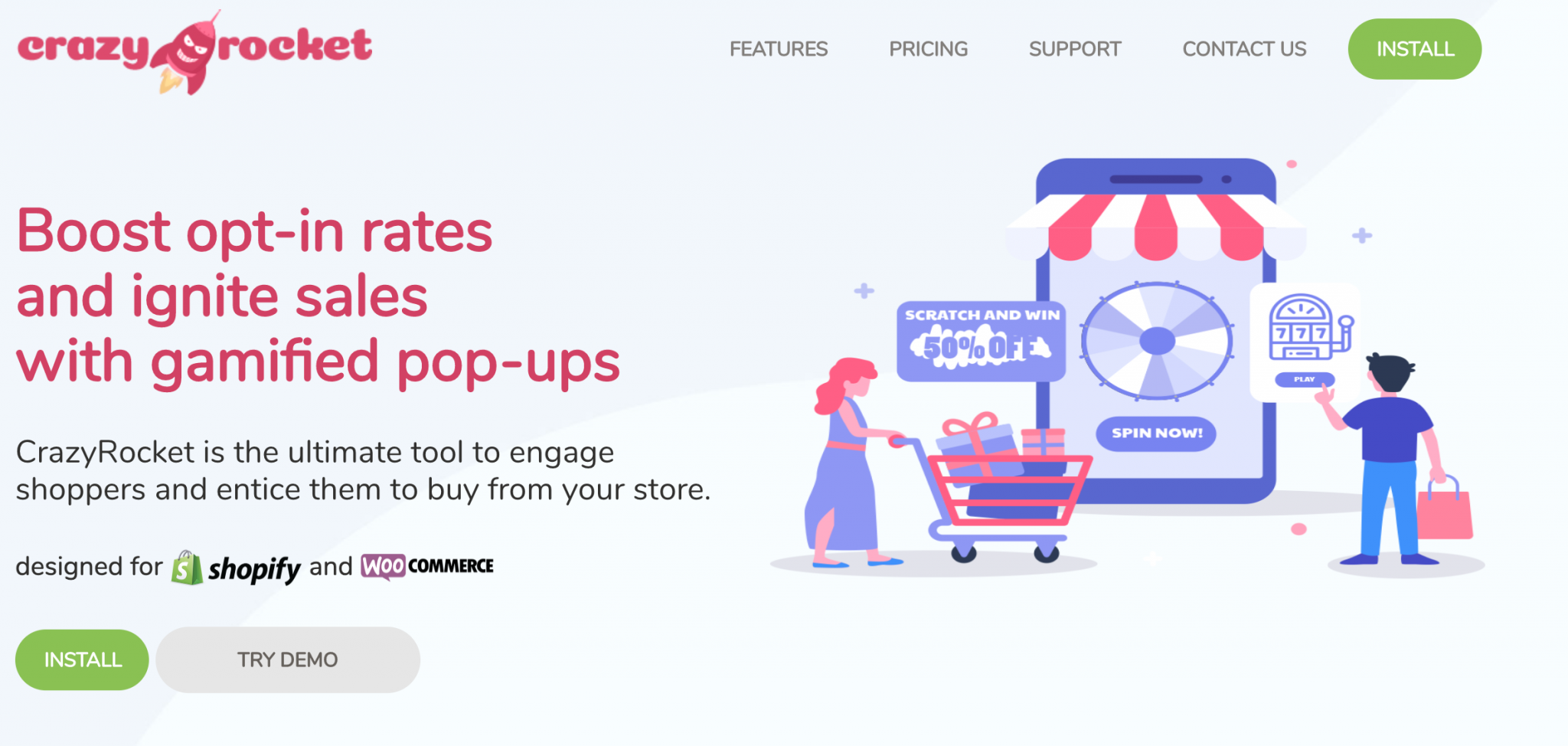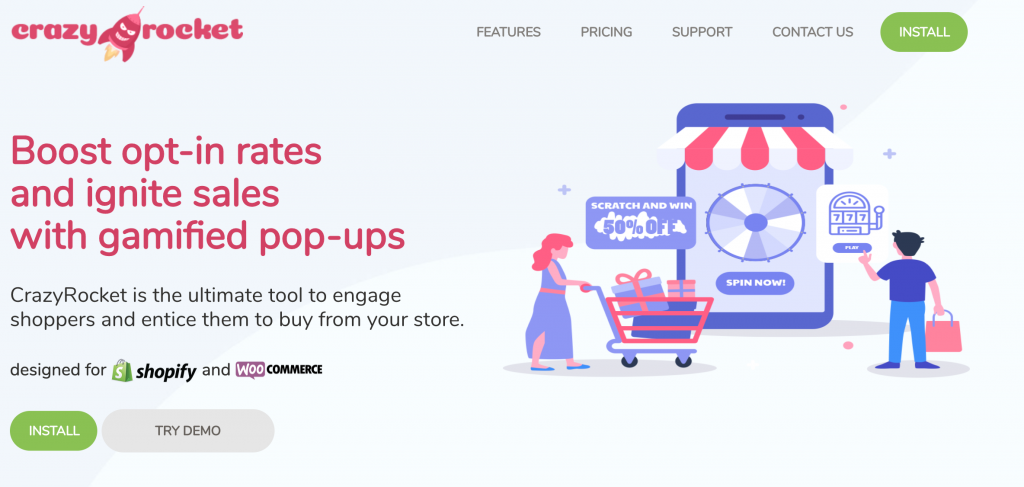 Spin Wheel Pop Up allows you to collect emails and boost sales through scratch cards, slot machine, and Spin the Wheel popup.
With so many options, visitors are bound to stay for at least one game. If the visitor is about to leave, exit-intent popups will appear. The chance of winning a discount coupon will make the visitor stay and possibly make a purchase.
You can also generate a unique coupon for one-time use, giving your customers a better incentive to make an instant purchase. If your audience comes from a different country, translate the text into their language. Similarly, you can show different popups for specific countries or URLs.
A successful marketing strategy requires you to meet every customer's individual needs. The segmentation feature of Spin Wheel Pop up allows you to do that.
Features:
Mobile-ready popups
Segmentation and page targeting
Text translation
A/B test
Google-compliant popups
Unique coupon generation
Price:
After a 7-day free trial, you have to pay $4.90 per month for the Starter Plan. This plan offers core features and up to 1000 monthly popups. The Growth Plan is priced at $9/mo and comes with A/B testing.
VIII- Arch Spin Offers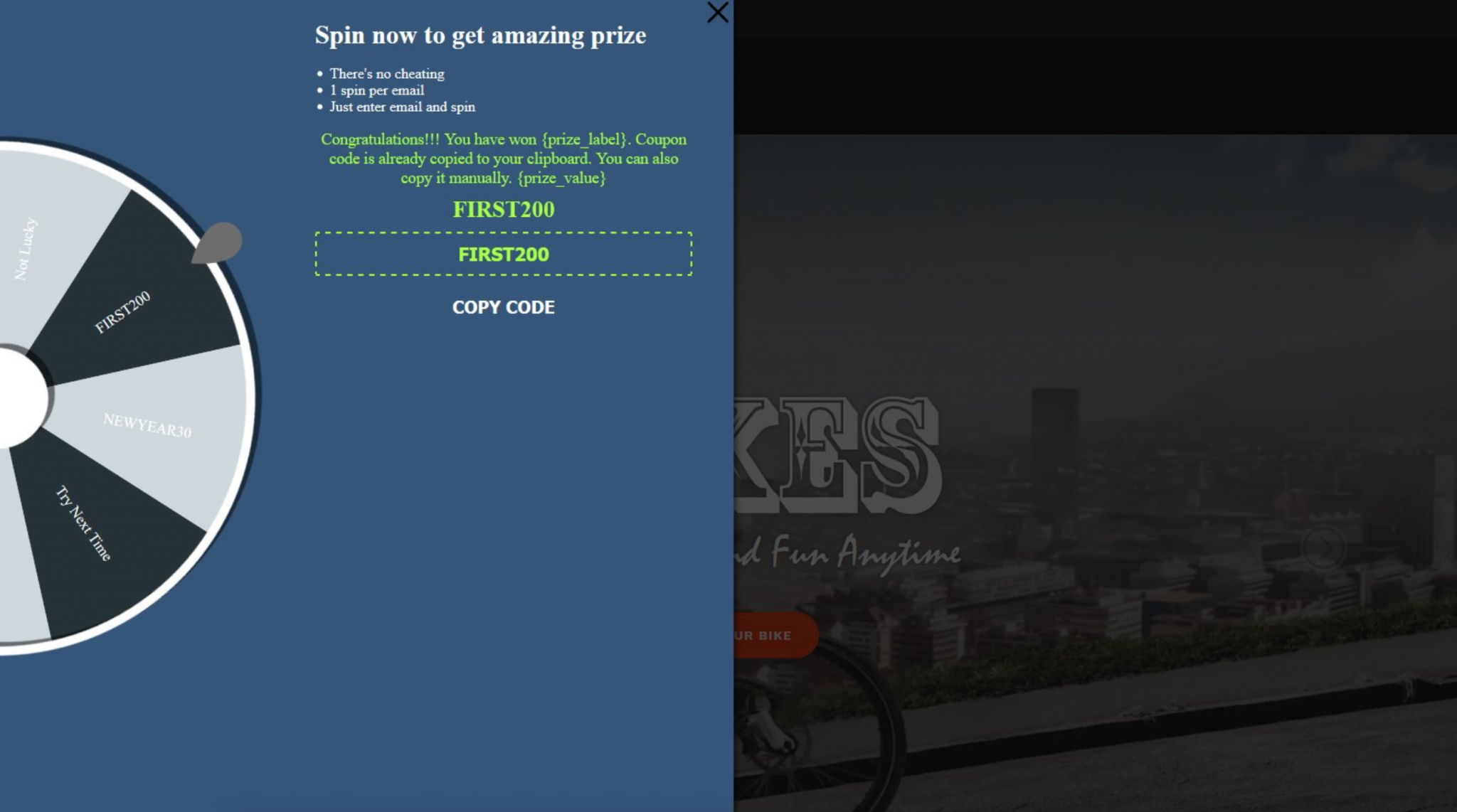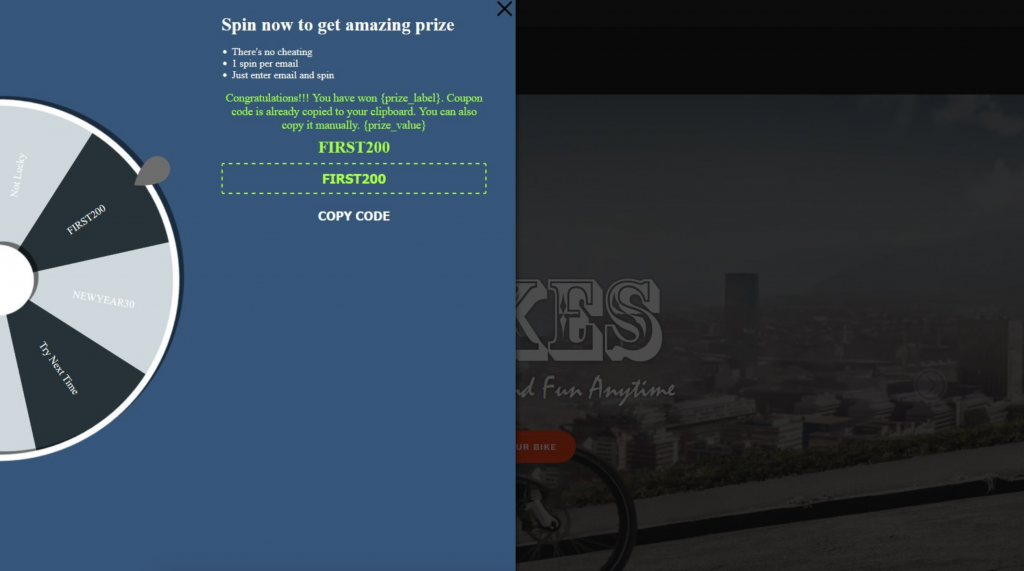 Although lacking a few advanced features, Arch Spin Offers is a free popup app, making it a suitable choice for startups.
As soon as a visitor lands on your page, the app shows them a popup to try their luck.
Since 93% of the US buyers use discounts throughout the year, it's highly likely that your visitor will immediately use their prize to make a purchase.
You can choose the slice and the background colors, along with changing the text to suit the store's theme. Additionally, you can decide where the wheel icon should appear in your store.
Features:
Background and color customization options
Multiple texts
Change icon location
Choice of prize and probability of winning
Price:
The app is free of charge.
Final Words:
Companies have used gamification to engage customers and boost sales for a while now. With 7/10 of us using emailed discount offers, it is evident that email marketing, coupled with discounts, increase sales revenue.
Apps with popups such as Spin to Win or slot machines let you offer discounts to visitors, converting them into leads.
Since they also grow your email list, gamification popups have double the benefit of regular popups.
You can use these apps to grow your online business by generating leads, building email marketing campaigns, reducing cart abandonment, and improving user interaction.