Your friend is about to leave your home, but you want them to stay. Maybe ordering their favorite food will encourage them to spend another hour with you.
But how will you motivate your visitors not to leave your site and stay there a little longer? Maybe another minute on your website will draw their attention to a product, and they'll make a purchase.
Brands go above and beyond to keep their visitors from leaving the website.
For this reason alone, they design a creative and attention-grabbing exit pop up to encourage visitors to sign up.
If you are uncertain how to implement this strategy for your business, a look into some of the best examples will help.
What Is an Exit Popup and How Does It Work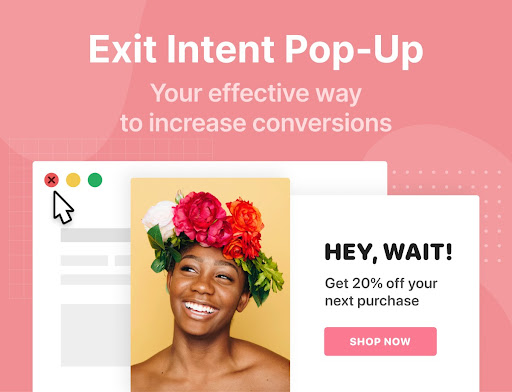 You keep track of metrics to see where your business is heading and what you need to do to improve it.
Therefore, you may check Google Analytics regularly to determine the results. But wait, around 6,000 people visit your website every day, and only 20 of them buy your product.
These metrics will make you question your business practices, "Am I designing substandard products, or does my customer service lack support?"
Before you feel discouraged and throw in the towel, let's see why your guests might be leaving:
They are window shipping.
Your products are too expensive.
You do not have the item they want to purchase.
Note that this list isn't exhaustive and numerous reasons contribute to their disinterest in your brand. But before they leave, you have a chance to grab their attention by directing them to a different page.
This page is where the story begins; it's the page that gives you access to their email address.
Now, you can retarget them in the future because you gained entry into their inbox.
But, how can you gain their attention to redirect and retarget them? An exit pop up is the answer. It refers to the overlay that appears before the visitors "intend" to leave your website.
The exit intent pop-up appears as soon as they move their cursor to the browser viewport.
Top 10 Exit Intent Popup Examples
Regardless of the dividing opinions regarding pop-ups, one thing is certain: they work. A well-crafted exit-intent popup can be a game-changer, from boosting conversions to allowing segmentation.
Data reveals that 10-15% of lost visitors can be regained using exit pop ups. Let's look at a few inspiring examples without further ado.
1. Xero Shoes
Xero shoes designed their pop up strategically. To begin with, the guy in the picture is posing like an X – as in the brand's name. Besides, the pop-up isn't your typical middle screen, half-sized exit-intent popup. Instead, the full screen quickly draws the visitor's attention.
What's more, it has an irresistible offer, "Do you want a $100 Xero Shoes Gift Certificate?" I mean, who wouldn't?
While the theme is fairly simple, another feature upgrades the popup: the countdown. Visitors only have 3 minutes to decide whether they want the offer.
The limited time often compels them to press the "Yes, please" button. Eventually, the brand fulfills its purpose and successfully gains more subscribers.
2. Roadside Vapes
Roadside Vapes takes marketing to the next level with its appealing popup. Yes, its design isn't snazzy, but the minimal popup conveys an emotional sense.
The brand features a picture of a lion hugging a man with the caption, "Can't you stay a little longer?" I bet you'd be intrigued to "stay a little longer" even if you don't vape because of the sentimental value the company offers.
Apart from that, it doesn't miss out on offering a 10% deal. While this is the second-best thing that'll catch anyone's attention, it will nonetheless.
3. GQ
GQ excels at creating relevant exit pop ups. Their pops are designed well and include an image of Ryan Gosling conveying a message that you can be as classy as him but only if you subscribe to the newsletter.
Note that the brand also includes the magazine's privacy policy at the bottom to ensure user data security. Another noticeable feature of GQ's popup is that it has blogs in the background – an excellent way to segment subscribers.
If you're looking to target your visitors by interest, you can draw inspiration from this popup example.
4. Zodeys
Zodeys managed to pique visitor interest with a gamified exit-intent popup. Not all website visitors are interested in discounts and deals. An enticing game might, however, draw their attention.
What's more, adding a price with it can be an icing on the cake, and Zodeys didn't hold back. Yes, the brand might not be precisely accurate about its $500+ prize daily, but the novelty and curiosity encourage users to "spin."
If you plan to execute this exit pop up on your website, make sure you do not repeat it for the same visitors. Besides, if you're uncertain how to go about it, try Tada. This handy tool allows you to design gamified and captivating exit-intent popups seamlessly.
5. Social Triggers
A contrasting element is an excellent way to deliver your message – and make it more understandable. The Social Triggers site is proof that contrast makes things more prominent and triggers action.
First, the bold font questioning if anyone would want to know ways to gain 5000 subscribers is directed to two options. Both differ in font and color.
A single glance helps you understand that if you want to learn how to gain more subscribers, you have to get the free ebook; otherwise, you can reject one.
6 HidrateSpark
HydrateSpark packed all the elements of goodness in a single popup. Naturally, a 10% discount is the first thing that captures a visitor's attention. However, this fantastic deal is followed with a sense of urgency, "If you sign up now!"
Simply put, you might not get the offer if you subscribe later. This encourages visitors to act promptly so they do not miss out on a fantastic discount that might not be available later on.
The company also includes a positive call to action pointing towards the offer for the subscriber. Lastly, because testimonials speak volumes about a brand's authenticity, HidrateSpark features one at the bottom. It naturally reminds users of the product's pros, and they'll likely make a purchase.
7. Timothy Sykes
Timothy Skyes, a penny stock trader, is known for turning a $12,415 Bar mitzvah gift into $1.665 million through day trading. He strategically used his fame story in his popup to attract visitors.
Generally speaking, numbers and facts draw more attention because they depict authoritativeness. Perhaps this explains why companies often depend on the number of followers to express their credibility.
Timothy played this strategy pretty well by mentioning, "Learn how I turned $12,415 into $4,838,00 trading stock."
The call to action button in sky blue makes it stand out on the whitish-grey background. Further, the light grey, less noticeable "I'm not interested" was smart on his behalf.
If you have a success story about your brand, do not hesitate to pull it off in your exit pop up!
You may also like: Must-Have Shopify Apps For Ecommerce 2022 | Boost Leads & Conversions
8. Spoiled Brat
Spoiled Brat features a funky purple and pink exit pop up – perfect for capturing any women's attention. While the pop-up doesn't include a special offer, it does feature a prominent-looking girl's face. Anyone would want to stop for a moment and see the picture.
In fact, data reveals that human faces can significantly boost conversion rates. So you can take inspiration from this brand and include a perfectly captured human face.
Note that the face will complement the discount, so you do not need to go the extra mile for coupons; focus on the image instead.
9. Kettlegifts.com
Kettlegifts.com takes the exit-intent popup game to the next level by asking for feedback from the customers. While it does sound straightforward, it actually isn't. In fact, it's a marketing tactic to make visitors feel valued.
When users feel brands are willing to take steps to upgrade their experience, they wouldn't mind subscribing. Besides, it also gives companies a chance to determine their shortcomings and see what they can do to improve them.
You can also design a minimalist exit-intent popup asking for feedback from your website visitors.
10. Green Mountain Mustard
Humor works where all else fails, and Green Mountain Mustard didn't miss out on an opportunity to pull it off. "You are leaving without your mustard," followed by a 10% discount, would intrigue any visitor.
What's funnier is the refusal link below the discount coupon offer. "No, thanks. I'd rather go buy ketchup," would make anyone want to question their choices.
It offers an excellent way to recover an abandoned cart. As soon as the visitor is about to leave the website, a quick pop-up will instantly grab their attention. You can also use humor and align it with your brand's tone to make it distinctive.
Wrap Up
Your website visitors are like the guests you definitely don't want to leave – not without making a purchase. A well-designed exit pop up is your chance to ensure they stay and complete the desired action.
Different brands have implemented this strategy to gain visitor attention and boost sales. You can draw inspiration from any top brand and execute it to reap its benefits.
However, note that the ideas aren't restricted to those shared above; if you have an offbeat plan, you are free to implement it.
Also read: 5 New User Engagement Strategies for Shopify Growth in 2022